The discussion about the latest product of the Subaru Forester SUV does not stop. After thoroughly discussing the product, now the discussion is about the comparison with its rivals.
From we records, there are indeed several rivals in the Subaru Forester class. This is commonplace because the five-passenger SUV product at a price of Rp. 500 million is being filled with various products.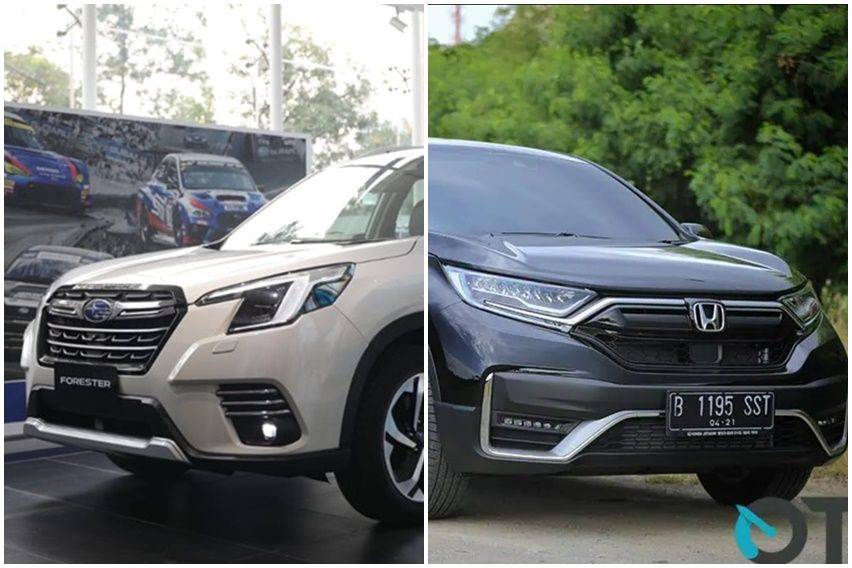 The most visible is actually the New Honda CR-V. Some of the criteria that make this product a head to head rival with Forester include the ability to carry five passengers and a price in the range of IDR 500 million. As a medium SUV, the CR-V can be said to be one of the best-selling models in this class. What are the comparisons? Let's discuss them one by one.

The first language is what is offered from the exterior. About the design can be said to depend on each taste. But some things are certain, among others, about the dimensions and also what features are on the exterior.
First from Subaru Forester. This latest model offers dimensions of 4,640 mm in length, 1,815 mm in width and 1,730 mm in height with a ground clearance of 220 mm. The main lights already use LED projector technology with adaptive driving beam and responsive steering headlight. As for the legs, this model uses 17-inch two tone wheels with 255/65/17 tires for the 2.0i-L variant and 18-inch 5 spoke wheels with 225/55/18 tires for the EyeSight top variant. Consumers can choose from eight exterior colors, namely horizon blue pearl, crystal black silica, crimson red pearl, crystal white pearl, magnetite gray metallic, autumn green metallic, ice silver metallic and brilliant bronze metallic.
Switch Honda New CR-V. This model offers dimensions of 4,623 mm in length, 1,855 mm in width and 1,657 mm in height with a wheelbase of 2,660 mm. Like the Forester, the lights already use LEDs with auto leveling equipped with a sequential LED turning signal as an update from the previous model. Regarding the size of the legs, the CR-V uses a two-tone 18-inch alloy wheel. There are four color choices, namely platinum white pearl, lunar silver metallic, meteoroid gray metallic and crystal black pearl.

Looking at the dimensional data above, Forester and CR-V are slightly different in terms of dimensions. The Forester is longer and taller while the CR-V is wider. Its approach for the Forester is towards a pure SUV while the CR-V takes an urban SUV approach.
Enter the matter of the interior which also offers a variety of features. First, the Forester offers a luggage capacity of 500 liters to 1,740 liters when the rear seats are folded. In addition, passenger comfort comes from the 8-inch head unit, the Harman Kardon 9 speaker 576 watt audio system, the use of nappa leather, front side view monitor and sunroof as an offer for potential customers.

There is also the Subaru All Round Savety feature which consists of auto vehicle hold, vehicle dynamic control system, hazard avoidance, responsive steering headlight, 6 SRS airbags, high beam assist, and rear vehicle detection. Don't forget the Subaru EyeSight technology, which is the latest ADAS feature on the Forester. It features a pre-collision braking system, lane keep assist, adaptive cruise control, pre-collision throttle management, and lane departure prevention. A distinctive feature for modern vehicles.

New CR-V also does not want to lose. Comfort comes from the panoramic power sunroof, 5-inch TFT meter cluster screen, and dual zone auto AC. Entertainment comes from a 7-inch head unit with 8 speakers throughout the cabin, remote engine start, and a multi angle view camera.
The safety features consist of driver attention monitor, electric parking brake with auto brake hold, hill start assist, emergency stop signal, walk away auto lock. Not to forget the CR-V has Honda Sensing features which consist of the Collision Mitigation Braking System, adaptive cruise control with low speed follow, lane keeping assist system, road departure mitigation and auto high beam.

Regarding the interior and this feature, it seems that both provide various advantages in terms of entertainment and security. It's just that these complete features can only be felt on the top variant of each model.

The next discussion is about the machine and technical. Each model is confident with excellence in this section.
Subaru Forester, for example, believes in offering one engine choice, namely the FB20 Boxer Engine, 4-cylinder, 2.0L Naturally Aspirated. This engine produces 156 ps of power at 6000 rpm and up to 196 Nm of torque at 4000rpm. The engine uses a 7-speed Lineartronic CVT transmission and Active Torque Split AWD. This is for smooth power distribution and gearshift can also be done manually using the paddle shift. The Subaru Forester is also equipped with X-Mode aka driving mode to optimize the engine for various road conditions. In the EyeSight variant, there are various driving modes, namely Snow/Dirt and Deep Snow/Mud.
New Honda CR-V comes with two engine options. The first 1.5L VTEC Turbo engine with Earth Dreams Technology. This engine produces a maximum power of 190 ps at 5,600 rpm and a maximum torque of 240 Nm at 2,000 to 5,000 rpm. The second variant is a 2.0L engine that comes with SOHC i-VTEC technology which produces 154 PS of power and 189 Nm of torque. This engine is mated to an Earth Dreams Technology CVT transmission. The paddle shift feature is also present for the practicality of driving in transmission shifts. There are ECON and Eco Assist modes for fuel-efficient driving.

Seen in this section, in terms of power, the Forester engine is not as dominant as the CR-V engine. However, Subaru offers AWD drive with a variety of driving modes. Something that is quite luxurious in this segment. For consumers who want a large power intake, the choice of course looks to the Honda CR-V turbo engine.

Last discussion about price. This fifth generation Forester in Indonesia was introduced with 2 trim variants. First, there is the Subaru Forester 2.0i-L which is offered at a price of IDR 579.5 million and the Subaru Forester 2.0i-S EyeSight is offered at a price of IDR 659.5 million. Both are on the road status in Jakarta.
All of the all-new Subaru Foresters marketed through PT Plaza Auto Mega, are offered with a 3 year / 100,000 km warranty, 3 years / 50,000 km free service (depending on which one is reached first), as well as a 3-year Subaru Roadside Assistance, assistance service. 24/7 emergency by Atlas Indonesia.

Glancing at the New Honda CR-V. This SUV is offered in several variants starting from the 2.0L i-Vtec engine variant at a price of IDR 515.9 million, the 1.5L Turbo variant at a price of IDR 590.9 million, the Honda Sensing Prestige Turbo variant at a price of IDR 651.4 million and finally there is a 1.5L variant. turbo black edition at a price of Rp. 666.4 million. Honda offers an economical package for aftersales which consists of 4 years / 50,000 km, 8 years / 100,000 km periodic maintenance and free periodic maintenance services for 4 years / 50,000 km.

It can be seen that the placement of the Forester price is in the middle between the CR-V, the lowest variant of the 1.5L Turbo and the top variant with a touch of the Black Edition. Both can be said to be on the same level in terms of features and comfort, although it is worth admitting that the offer of AWD drive is one of the interesting points from Forester.
But for potential customers who want to get Forester in their garage immediately, they have to be patient. The reason is that Subaru Indonesia said that the distribution of units to consumers takes up to four months. This is around August 2022. The reason is none other than the semiconductor chip crisis which hampers production. Meanwhile, Honda has not announced whether the reason for the chip also affects the CR-V pivot as is also felt in the new models, namely the BR-V and HR-V.

For potential customers with funds of Rp. 500 million to Rp. 600 million, it seems that there is no need to worry about the features offered at this price level. Back to the matter of taste and the funds available to bring home one of these two models.