The latest UD Quester truck with Euro 5 standard has just been released in Indonesia. This standard actually has a higher qualification than Euro 4 which is being promoted by the government. However, Quester does not have a problem if using cheap diesel, aka biodiesel.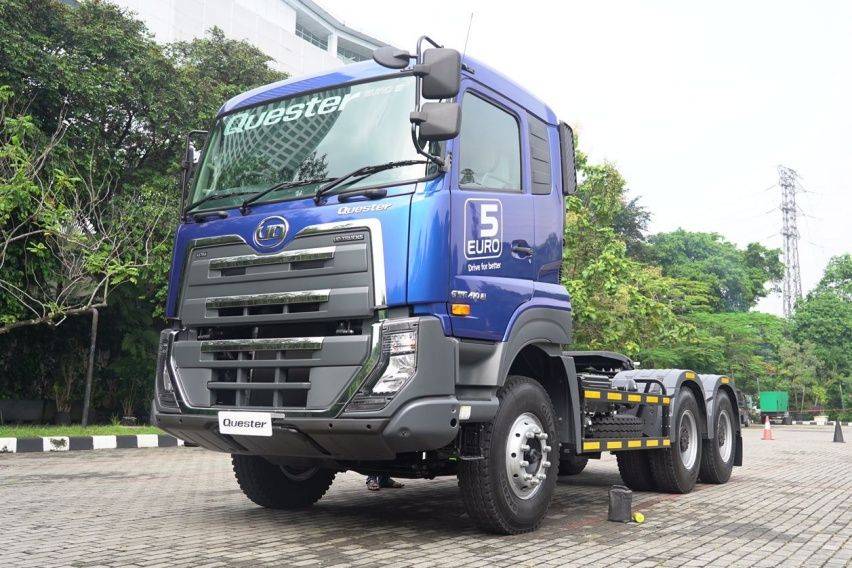 As explained by Astra UD Trucks, as the producer and distributor of UD in Indonesia, the use of biodiesel and trucks still has good emissions, made possible by the application of the SCR model exhaust gas treatment system.

SCR is an acronym for Selective Catalytic Reduction, which is an emission control system located outside the engine, precisely in the exhaust gas channel. The way it works is by utilizing a liquid urea spraying system (AdBlue) to reduce the levels of nitrogen oxides (NOx) in the catalyst tube.
The new system, combined with the commonrail engine that has been in use since 2015, allows the latest generation of UD trucks to run normally even if they use low-quality B30 diesel fuel. As is known, biodiesel B30 has a cetane number 48 and a sulfur content of 2,500 ppm. Due to the low quality, the selling price is also the cheapest (Rp 5,150) compared to higher quality diesel types (Pertamina Dex Rp. 13,700, Dexlite Rp. 12,950).
"SCR technology is a very appropriate solution, because truck operators are not charged with high fuel costs while the government is also happy, because the Euro 4 emission standards are met, we even provide a better one, namely Euro 5," said Chief Executive Astra UD Trucks, Winarto Martono when introducing the UD Trucks Quester Euro 5 technology in Jakarta, Tuesday (12/4).
The condition for the Quester Euro 5 can use cheap diesel, is the SCR system that needs to be filled with other liquids. It is AdBlue, a urea-based liquid that is the emission-neutralizing material in the new truck's catalyst tank. This liquid is priced at IDR 10,000 per liter, and each liter can be used to cover a distance of 75 km. Although there seems to be an additional cost, UD Trucks claims that economically, their trucks are more cost-effective than Euro 4 trucks that have to use low sulfur diesel fuel such as Pertamina dex.
As an example of the economic value of using the Quester Euro 5 truck, which is halal to drink diesel, UD Trucks describes the comparison. In the picture, it is stated that the additional AdBlue per month is only Rp. 800 thousand. Meanwhile, if you choose a Euro 4 truck fueled by Pertamina Dex, it can reach IDR 17 million per month.

Astra UD Trucks has also prepared various steps to ensure that the emission control process is carried out by truck users. For example, by giving away 800 liters of AdBlue in the vehicle unit purchase package. Later, AdBlue will also be distributed to their service network that has spread throughout Indonesia, also through Shop and Drive, as well as online shop portals.
Not only that, to overcome the potential for delinquency of unscrupulous drivers who are reluctant to fill out AdBlue, a 'penalty' system is also prepared on their trucks. The penalty system will significantly reduce the truck's performance. More clearly about this penalty system, we will describe in the next article