Starting from the Honda PCX 160 which uses the new engine ESP + 4-valve, then followed the Vario 160, Wednesday (2/2/2022). Then whether to follow the next Honda ADV 160?
This is interesting, because all three have the same engine platform. In fact, it is not impossible that the Honda ADV will also use the eSAF frame, which makes it even better in terms of performance.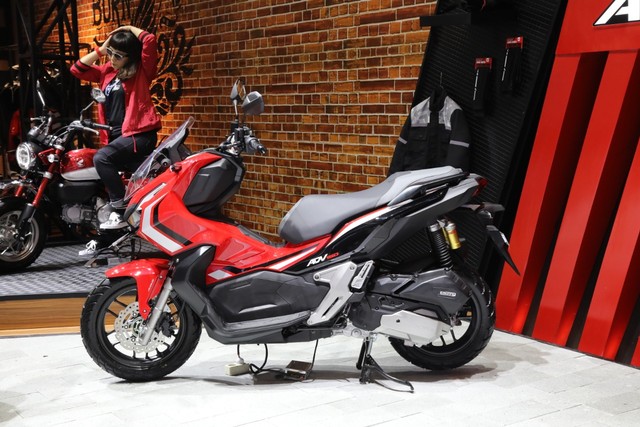 Then is there any potential for the Honda ADV 160?
In passing, we asked AHM President Director Keiichi Yasuda that question during the photo session, and he seemed to open up the opportunity.
"Anything can happen"

Responding to the conversation, Marketing Director of PT Astra Honda Motor (AHM) Testsuya Komine said, before the arrival of the ADV 160, it is best to try the 150 version first.

Unfortunately, both of them closed the information tap, about when the presence of the Honda ADV 160 with the eSP + engine platform will be.

However, if you follow the timeline for the launch from Honda PCX 160 to Vario 160, it only takes about 1 year. It's not impossible that it will happen to the Honda ADV 160. So it's most likely next year in 2023.

After all, from the life cycle of the Honda ADV, there will be enough engine changes next year, which is already 5 years old. The first time this off-road style automatic motorbike was launched in July 2019.
Honda ADV 150

Regarding the engine specifications, the Honda ADV 150 carries a 149.3 cc SOHC 2-valve engine, liquid-cooled, and injection misting.

Based on technical data, this motor is capable of producing 14.4 hp at 8,500 rpm and a peak torque of 13.8 Nm at 5,000 rpm.

This figure is more or less the same as the performance of the old Honda PCX 150 and Vario 150. Now, after the two colleagues received the update, it is not impossible that the Honda ADV will also follow suit.

We look forward to further news.