www.informationautomotive.com - Various vehicle segments are present in Indonesia following the needs of the community. One that has many fans is the hatchback that is now offered by various brands.
Many hatcback enthusiasts choose this model because of its smitten sporty and modern design as well as its ease of driving in urban areas thanks to its not too large dimensions. In addition, the 1.5L engines that are mostly offered become the right choice of machines for daily or used occasionally out of town.
Try to summarize the most popular hatchback models in 2021 from data from the Indonesian Motor Vehicle Industry Association (Gaikindo). The figures are taken from wholesale sellers From January to November 2021. What are these popular models?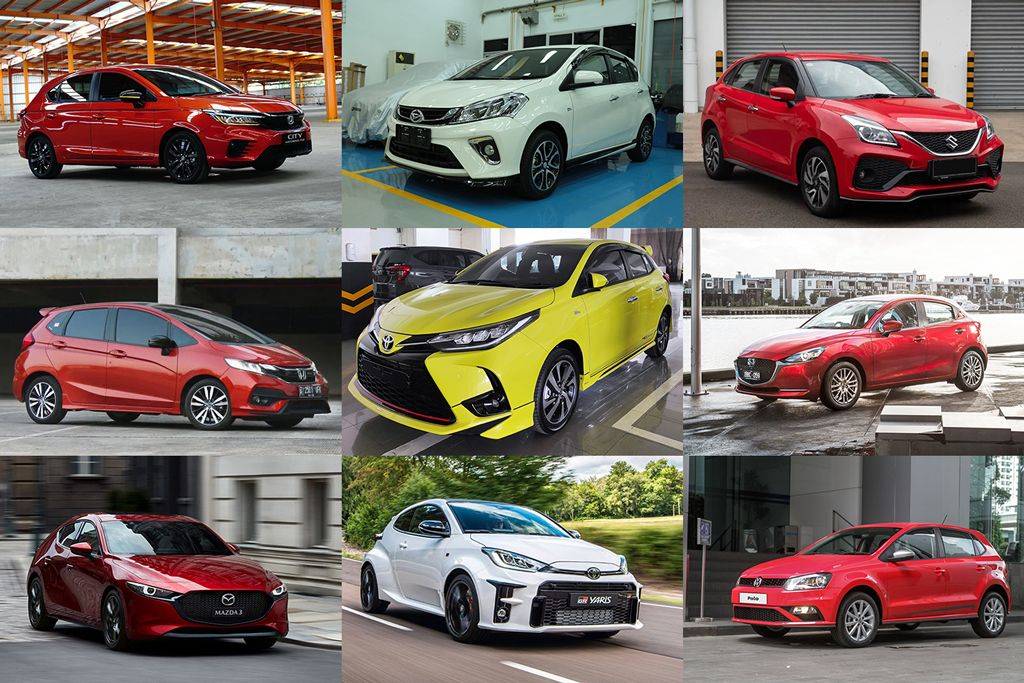 Kaleidoscope 2021: Popular Hatchback Row Throughout the Year, Honda Jazz Still On The List
Honda City Hatchback

This is one of Honda's newest models in 2021. The model that comes to replace the Jazz immediately became the best-selling hatchback with a record wholesale sales since its launch until November 2021 as many as 8,515 units. As a new model, the Honda City Hatcback offers a wide array of sporty features and designs. Features include a remote engine start, 8-inch touchscreen, paddle shift, 8 speakers and multi angle camera. The engine uses 1.5L DOHC i-VTEC powered by 121 ps and 145 Nm of torque. City hatchback RS is offered with two variants namely manual transmission and CVT transmission. The price tag is Rp 292 million and Rp 302 million. This model is also included in products that get PPnBM waivers.
Toyota Yaris

The Yaris hatchback gets an update with the presence of a line of GR Sport products in the middle of the year. From January to November 2021, yaris sold 6,616 units. Yaris is offered with a choice of G and S GR Sport variants as well as a choice of three airbags and seven airbags as well as manual transmission and CVT options. The price tag starts from Rp 248 million to Rp 284 million. This model also gets PPnBM waivers.
Suzuki Baleno

This is a Suzuki hatchback model produced in India aka CBU status. Baleno managed to sell 2,512 units during January to November 2021. The look is modern with a design refresh in the form of LED projector headlamp, sporty grill and foglamp bezel that makes it look more sporty. Baleno uses a 1,373 cc engine, comes with a touch screen head unit, auto climate, Audi steering switch, start stop button and color MID. Baleno is offered with two variants, namely manual transmission for Rp 250.4 million and AT transmission at a price of Rp 263.9 million.
Daihatsu Sirion

Daihatsu also contributes models in this segment, namely Sirion. Throughout 2021, until last November, Sirion managed to sell as many as 900 units. The model, which gained All New status last year, offers a new model aerokit, digital features AC, MID, engine start stop, keyless entry, front corner sensor, parking camera and airbags front and side. Sirion uses a 1,329 cc engine with 95 ps of power and 12.2 kg of torque.m. Sirion is offered with two variants, namely AT transmission for Rp 223.1 million and manual transmission Rp 207.8 million.
Honda Jazz

The presence of City Hatchback RS cut off jazz sales in Indonesia. The legendary hatchback, which comes in three generations, closes 2021, its last year of sales, with sales of 897 units. This hatchback comes with a 1.5L engine and sporty design. The fans are quite a lot and had been the best-selling hatchback in Indonesia for some time.
Mazda2 Hatchback

This is mazda's cheapest model in Indonesia. This product managed to sell as many as 390 units from January to November 2021. Mazda2 offers Mazda's modern Kodo design, combined with several safety features such as blind spot monitoring, rear cross traffic alert, dynamic stability control, traction control system and Mazda Connect features. About the engine, Mazda2 uses a 1.5L Skyactive DOHC 1,496 cc engine powered by 111 ps and 144 Nm of torque with i-Stop features. Mazda Indonesia only offers one variant, the New Mazda2 GT with a 6-speed automatic transmission. This model is offered with a price tag of Rp 327.7 million.
Mazda3 Hatchback

Mazda offers Mazda3 Hatchback models with sedan models. This hathback model managed to sell 292 units from January to November 2021. About the design, still using the kodo design language, Mazda3 comes as a hatchback with a futuristic shape. This model gets complete active safety features such as adaptive front lightning system, high beam control, smart city brake support, forward obstruction warning, radar crusie control, blind spot monitoring, rear cross traffic alert, lane departure warning, lane keeping assist and driver attention alert. This hatchback uses a 2.0L engine that produces 155 ps of power and 200 Nm of torque. Mazda3 is offered in one variant with a price tag of Rp 519.9 million.
Volkswagen Polo

This German brand offers Polo hatchback models in Indonesia. Throughout the year, until November 2021, Polo managed to sell 66 units. This model offers a 1.2L TSI engine with 105 PS of power and 175 Nm of torque and paired with a 7-speed transmission with DSG technology. About the price, this hatchback is priced at around Rp 315 million.
Toyota GR Yaris

This is one of the new models that are present in Indonesia and immediately grab the attention of automotive enthusiasts. Toyota GR Yaris based on wholesale sales records sold as many as 64 units. This model was originally offered at a price of Rp 850 million with limited units, when it was about 126 units only. Now the price of the former penetrated up to Rp 1.5 billion. The specialty of this car is made with world rally championship (WRC) race specifications. Unlike the standard Yaris, the GR Yaris engine uses the G16E-GTS 3 Cylinder DOHC which produces 261 hp of power and 360 Nm of torque. There are as many as 25,000 GR Yaris units worldwide and are incorporated in the Toyota Motomachi factory by selected HR who have been assembling cars for 60,000 hours.