www.informationautomotive.com - Motorcycle type skutik dominated by body panels with plastic material must actually get special care.
Due to the age of use usually occurs in color or also called oxidation. This is because it is often exposed to sunlight and UV. This problem mostly arises in the part commonly called orange peel or rough textured body. Generally on the deck, dashboard, footrest and rear fender.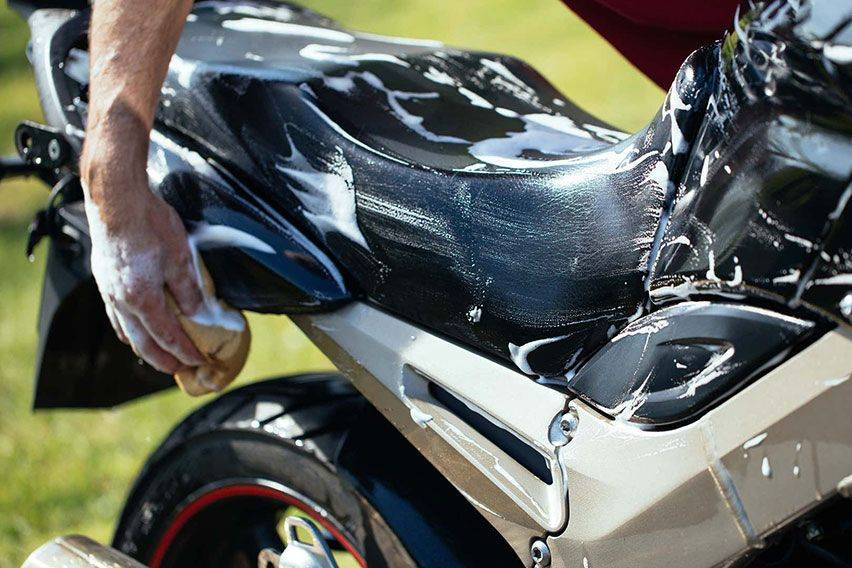 Easy and Cheap Tips to Blacken a Dull Motorcycle Rough Body
However, before we discuss how to blacken a rough body, there are some things you should do so that the part is not easily dull.
1. Avoid The Hot Direct Sunlight

Get used to parking in the shade or those that are not exposed to direct sun exposure. Because sunlight contains ultraviolet, in a certain period of time can damage the coat of motor paint.


2. Don't Let the Motor Get Dirty For A Long Time

If the motor is hit by rainwater and then left for a long time unwashed can cause rust. This is because rainwater has its salt content. The body becomes dull quickly.
3. Wash the Motor with Special Shampoo

Routinely rinse the motor with clean water, especially in the rainy season. Then dry it with a special absorbent cloth. Do not use detergent soap or other soaps, because it can fade the color of the motor body paint.
If it must be washed using soap, try to use a special shampoo to wash the motor. But it can also be risky. Avoid shampoos that contain Hcl (acid hydrochloride), NaOH (sodium hydroxide) and KOH (potassium hydroxide). Remember, these materials have a less good effect and can erode the layer of motor paint.
4. Use Full Body Skotlet

It can also be by installing a scotlet or transparent sticker. This step is considered effective enough to coat the motor body to avoid scratches and scorching sunlight that makes the body easily dull.
5. Diligently Provide compounds and Polish

If you do not want to out a lot of costs, can do your own treatment with compounds and polished liquids. Compounds whose shape resembles gel can be used to disappear fine scratches.

But remember, the process is not instant. The owner must rub the body of the motorcycle with a compound several times to be able to remove fine scratches.

Once the fine scratches are gone, use a gel or polishing liquid to restore the gloss of the motor body. In order not to be mixed by dust or dirt that can cause scratches, when rubbing the body with polished liquid, preferably after the motorcycle is washed.