Ioniq 5 is Hyundai's newest investment to play in the electric vehicle segment in Indonesia. No half-hearted, his presence was immediately responded positively to the achievement of ordering nearly 1,700 units since his presence last month.

Then speaking of rivals, the Ioniq 5 does not stand alone as an EV model in Indonesia. There are several interesting models to compare with the Hyundai product. One of them, the Lexus UX 300e. It seems there is no problem trying to look at the data on paper of these two premium electric vehicle products, which certainly invites interest for electric vehicle enthusiasts to choose each product.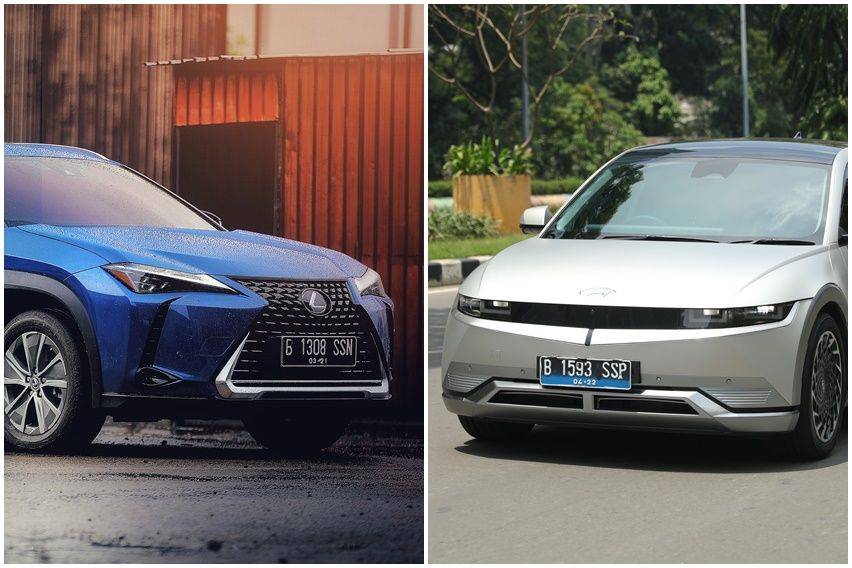 First, just about the price. Ioniq 5 cannot be said to be cheap for most of the automotive market in Indonesia. The official price starts at IDR 718 million. For the model we are comparing, this is the top variant, namely the Signature Long Range at a price of Rp. 829 million. Worth the price to get the current premium status. Then the Lexux UX 300 e comes with a price range of IDR 1.2 billion, a difference of around IDR 400 million from the Ioniq 5, the highest variant. However, Lexus carries the premium image that has been attached to the Japanese brand.
This leads us to the next discussion, namely design. Lexus still carries the design lines commonly found in modern products, such as the distinctive spindle grille, sturdy body shape and distinctive front and rear lamp designs as premium products. Meanwhile, the Ioniq 5 is said to be a revolutionary design because it is different from previous products.

Indeed, this EV still carries a parametric jewel design in some parts, but the retro impression with a square shape is Hyundai's approach to this modern vehicle. It can be said out of the box, but this is evidenced by the various design awards that Hyundai has received for its EV model. Both have their own approach and definitely have their own fans, again about this design, it's more about their individual preferences.
Still discussing the exterior, another comparison is in the size of the tires. The Ioniq 5 uses 19-inch rims with 235/55 R19 tires. The design is quite unique, namely it comes with a parametric design. For Lexus, use 17-inch rims with 215/60 R17 tires. The Lexus rim design approach is more sporty, in accordance with the sports SUV design that he chose.

In terms of color choices, the Ioniq 5 offers optical white, titan gray metallic, magnetic silver metallic, midnight black pearl and gravity gold matte as an option with one interior color choice, namely black. Lexus UX 300e comes with more choices, namely soniq quartz, platinum silver me, sonic titanium, mercury gray mc, black, graphite black, madder red, amber cs, terrane khaki, blazing carnelian and celestial blue. For the interior there is a choice of colors of cobalt, black, orcher, rich cream and white ash.
Continue to another comparison that is a matter of dimensions. The Ioniq 5 comes with a length of 4,635 mm, a width of 1,890 mm and a height of 1,647 mm with a ground clearance of 160 mm and a wheelbase of 3,000 mm. The Lexus UX 300e offers a length of 4,495 mm, a width of 1,840 mm and a height of 1,545 mm with a wheelbase of 2,640 mm and a ground clearance of 140 mm. Dimensionally, the Lexus is smaller than the Ioniq 5, but has the same carrying capacity of 5 passengers.

The interior design chosen by the Hyundai Ioniq 5 is futuristic, which represents a lounge in the cabin space for a comfortable impression. Some of the main interior features are the presence of a panoramic glass roof, seats wrapped in leather, a seat with footrests in the first row, a 12.3-inch screen that serves as a meter cluster and head unit, as well as a Bose premium eight-speaker sound system for a maximum entertainment experience. drive. The Lexus UX 300e model is still faithful to the same interior design form as other Lexus models. The premium touch comes from the stitching with the sahiko technique, the 10.3-inch head unit, 13 speakers throughout the cabin made by Mark Levinson, as well as a digital meter cluster.
The features of these two electric cars are also quite sophisticated. Ioniq 5 is equipped with Hyundai SmartSense which consists of several active safety features such as high beam assist, forward collision avoidance assist, driver attention warning, smart cruise control with stop & go function. There are still lane keeping assist and lane following assist, blind spot view monitor, blind spot collision avoidance assist, rear cross traffic collision avoidance assist, tire pressure monitoring system, parking distance warning and view monitor. The UX 300e features the Lexus Safety System+ which consists of lane tracing assist, pre-collision system, blind spot monitor, dynamic radar cruise control, parking support brake, rear cross traffic alert, head up display and view around monitor.

Go to the performance section. The Ioniq 5 uses a permanent magnet sychronous motor with a power production of 217 ps and a lithium ion battery with a capacity of 72.6 kWh. In Indonesia, the Ioniq 5 uses a rear drive with a torque of 350 Nm. The AC socket uses type 2 and the DC socket uses the CCS Combo2 type. Its charging capability is for AC charging for six hours and six minutes and DC fast charging for around 56 minutes 30 seconds, while the use of 350 kW fast charging will last for 17 minutes 16 seconds. The Long Range type is claimed to be able to cover a distance of 451 kilometers.
Regarding the advantages of the Ioniq 5 battery, Hyundai includes V2L or vehicle to load capabilities. This capability makes the Ioniq 5 an additional power generator for outdoor activities such as charging gadgets during travel. Its largest total power source is about 3.6 kW which is equivalent to the average household electricity.

The UX 300e uses a permanent magnet motor that produces 201 hp of power with a Li-ion battery with a capacity of 54.35 kWh with a current of 153 Ah. The motor located at the front produces 300 Nm of torque. The charger socket uses type 2 for AC and Chademo for DC. The charging time for the AC wall charger is about 6.5 hours, for a home charging socket it is about 24 hours and for DC fast charging it can be charged in only 50 minutes. Lexus claims this model can cover a distance of 300 km with the WLTP method.
The various advantages above are also added to the after sales program for each model. Hyundai comes with a 24-hour Hyundai Call Center offer, a basic warranty of 3 years or 100,000 kilometers, free maintenance services for up to 5 years or 75,000 kilometers, free 24-hour roadside assistance, Hyundai Comes Anywhere service program, Free 24-hour Emergency mobile charging, and free spare parts for up to 3 years or 45,000 kilometers. In addition, Hyundai includes an electric vehicle battery warranty for 8 years or 160,000 kilometers. Electric car consumers will also get a free AC Home Charger and installation fees as well as a free portable charger. Lexus also offers a warranty that is almost the same as an eight-year warranty, as well as five years of free service and parts.
Conclusion

Looking at the comparison above, the Ioniq 5 and UX 300e can be benchmarks for electric vehicles in the country. Each provides advantages that potential customers can consider. Ioniq 5 offers a fairly complete product, although with a price tag of Rp800 million. For prospective Lexus consumers, it is certain that they will get a premium image that has been built for years but now with a touch of the future through the electric motors offered.

The dominance of consumers of both products is likely to be second or third car buyers. For Ioniq 5 consumers, it could be due to novelty or already having a conventional vehicle in their garage. For Lexus, it is likely loyalists who want a different touch on their SUV. Each returned to the tastes and needs that are tailored to the needs of existing funds.