Hyundai Creta is Hyundai's newest model for the Indonesian market. The SUV, which is present at the end of 2021, is planned to be produced in early 2022 and is now ready to be shipped to various regions.
we were one of the lucky ones to try Creta for the first time in the Hyundai factory area in the Cikarang area, Delta Mas, some time ago. Then on January 26-27 2021, the second chance to ride a Creta was here and this time to feel the performance, features and control on the Bali Island highway. A total of 38 units of Creta were tested with several media with a cruising range of more than 200 kilometers.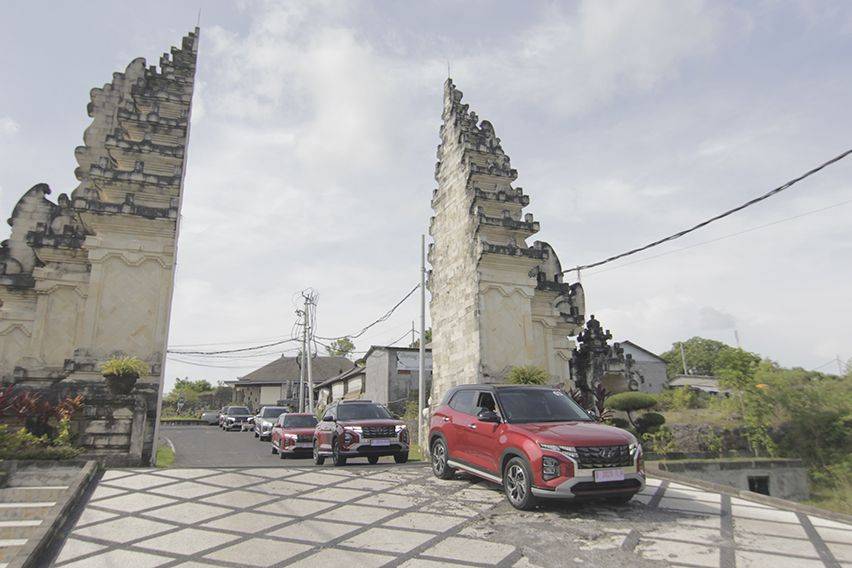 Hyundai Creta Test Drive
"Hyundai expresses its gratitude to media partners and automotive observers in Indonesia for their participation and support for the 'Creta Driving Day: Joy of Connection' activity on the island of Bali. Hyundai CRETA has received a very positive response from customers, even before they can tested and witnessed the Hyundai CRETA firsthand both at the dealership and on the streets. This enthusiasm is reflected in the more than 1,700 Vehicle Orders (SPK) that Hyundai has registered until the end of January 2022 since it was introduced last November, "said Makmur, Chief Operating Officer, PT Hyundai Motors Indonesia (HMID) in a statement, Saturday (29/1/2022)
On the first day of the Hyundai Creta test drive media activity, participants arrived at I Gusti Ngurah Rai Airport in Bali and immediately got a Creta unit that had been distributed by the committee. This Creta design, which was made specifically for the Indonesian market, comes with a parametric jewel hidden type DRL design, high mounted stop lamp and boomerang shape LED Stop lamp at the back. The impression of a dashing SUV comes from the 17-inch diamond cut alloy rims. This makes the Creta look quite striking in the midst of various other automotive products on the road.

Several comfort features are present in the Creta such as an air purifier that is integrated with the armrest, ventilated seat, and a cooled glove box for convenient storage.
The first route is to a restaurant in Uluwatu with access via the Bali Mandara toll road. This opportunity is used to test the ability of the Smartstream 1.5L engine with the Intelligent Variable Transmission (IVT) system that produces a maximum power of up to 115 ps/6,300 rpm with a maximum torque of up to 143.8 Nm/4,500 rpm. Creta is also equipped with ECO, Comfort, Smart and Sport driving modes for various driving character desires.
Hyundai SmartSense

This toll area is an opportunity to try out the Hyundai SmartSense feature which consists of Lane Keeping & Lane Following Assist (LKA & LFA). These two features will help the car stay within the road markings through visual and audio information, as well as help return the car to its ideal position when it gets off the mark.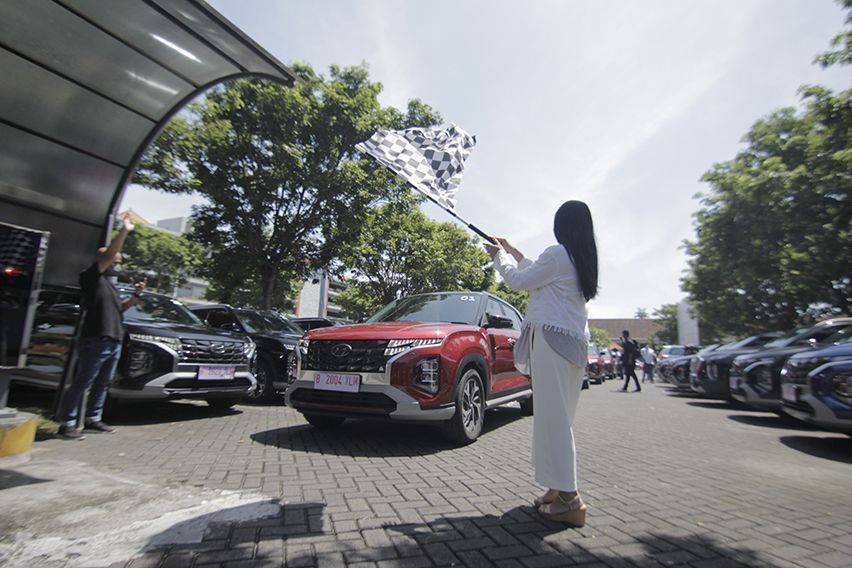 Hyundai Creta Test Drive


In the midst of a speeding car, Hyundai also equipped the Creta with a safety system called Forward Collision-Avoidance Assist (FCA), where this system automatically warns of the potential risk of a collision from the front.

On this occasion, Hyundai again shows Connected Car Service technology through the Hyundai Bluelink feature. Suprayetno, Head of Service Planning and Strategy at PT Hyundai Motors Indonesia. In this session, each participant was given a smartphone equipped with Connected Car Service technology, Hyundai Bluelink showed how to use this advanced technology.
Through this feature, participants can find Creta units that are paired according to the system connected to the smartphone and turn on/off the lights or car horn. Creta owners can also directly adjust the cabin temperature as desired and then start the vehicle. All these processes can be done only through the touch of the smartphone screen in the hand.

This technology will also provide security and convenience, because through Hyundai Bluelink, customers can gain access to various advanced features, such as Stolen Vehicle Notification & Stolen Vehicle Tracking which will operate when a vehicle theft attempt is occurring by sending notifications to the customer's smartphone and allowing users Hyundai Bluelink to identify the current position of their car.
These features are then also supported by Stolen Vehicle Immobilization, which is a service available at Hyundai Bluelink so that users can contact the Call Center and ask the stolen car to be temporarily suspended. In addition, there are also ACN (Auto Collision Notification), SOS/Emergency Assistance, and Roadside Assistance (RSA) buttons that can be used by car owners in other emergency situations, such as when they need medical assistance or when the car is damaged.
Feature Rich

The first day closed with a visit to the Pandawa Beach and Melasti Beach areas to enjoy the sunset. Uphill and downhill roads are interesting places to experience the benefits of the hill start assist control feature.

The second day of the trip started with heavy rain which made the road conditions slippery and challenging to get to the next destination, namely Kintamani. To get to the area, the participants had to pass a route of at least more than 70 kilometers with dynamic road characteristics, such as uneven, twisting, and bumpy roads. Here, participants feel the ability of the Creta engine and transmission is better with some additional features.

Even though it was only given a short time with a busy event that made the participants tired from participating in the activities, the experience of these two days was enough to feel the sensation of driving with Creta. It is better to do a more complete test when a loan unit from Hyundai is available, including to see fuel consumption and explore other Creta features.
Hyundai provides several advantages for every purchase of Creta such as a basic warranty of 3+1 years or 100,000 kilometers, free maintenance services for five years or 75,000 kilometers, free 24 hours roadside assistance, availability of Hyundai Genuine Accessories and the option to extend the warranty when buying a Creta through the platform. click to buy.

Hyundai also provides a special ownership program called the Hyundai Owner Assurance Program which consists of a Resale Value Guarantee, as well as a new Creta Replacement guarantee.