Yamaha E01 Electric Motor Can Stay On the Road with 0 Percent Battery
The Yamaha E01 concept bike can be tested by the public starting in November 2022. We have already tasted it. One of the highlights of Yamaha Indonesia's claims is about the batteries and systems that are planted on. The electric motor can still run even though the battery condition is at 0 percent.

Explained by the Aftersales Manager of PT YIMM, Hendra, the Yamaha E01 is still able to run even though the battery information on the meter panel shows a figure of 0 percent. This is because the E01 has a special backup power on its battery components.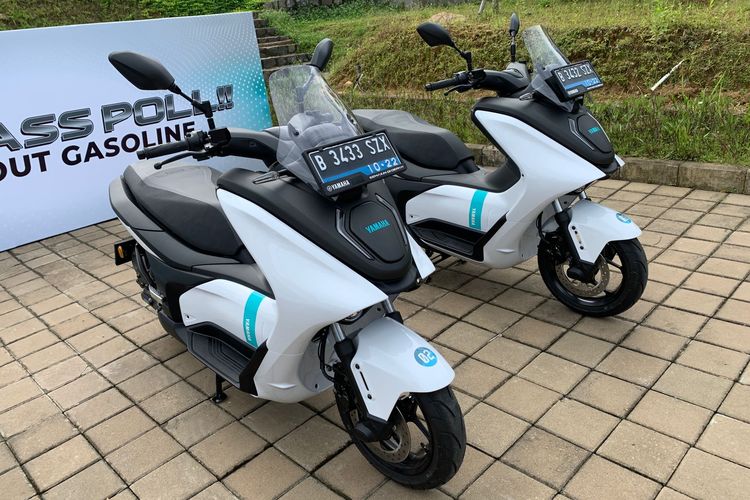 "If in normal ECO mode the speed can be up to 60 km per hour, but when the battery is at zero percent, it can still run but is limited to only 30 km / h," said Hendra, on the sidelines of the Yamaha E01 Media Test Ride, in Bogor (25/10)
YIMM doesn't have the data yet. About how long and mileage can be achieved when the motor is still used in a 0 percent battery state. Even so, Hendra did not recommend this. Then it is recommended to charge the electric motor battery to be carried out a maximum of 10 percent.

"We can't say what the range is. But use when the battery is zero percent is not recommended because it takes up battery backup power. If it is often done, then with the character of the Lithium-Ion type battery, its performance will decrease," he concluded.
The Yamaha E01 electric motor uses a Lithium-Ion fixed model battery with a capacity of 4.9 kWh plus a Battery Management System (BMS). The manufacturer claims this motorbike is capable of being driven up to a top speed of 100 km / h and has a range of 104 km with a record constant speed of 60 km / h.

This pollution-free motorbike is equipped with 3 driving modes, namely Eco, Standard, and Power. Each of the options has a different output, more details are below.

Power Mode: 8.1 kW (10.8 horsepower) at 5,000 rpm and 30.2 Nm of torque at 1,950 rpm
Standard Mode: 8.1 kW (10.8 horsepower) at 5,000 rpm and 24.5 Nm of torque at 1,500 rpm
Eco Mode: 5.4 kW (7.2 horsepower) at 4,500 rpm and 21.4 Nm of torque at 1,500 rpm.

The Yamaha E01 has 3 charging methods. Namely Fast Charging which can charge from zero to 90 percent in just 1 hour, then Normal Charging (200-240V) which takes 5 hours.
And finally portable charging which takes 14 hours to recharge the battery to the brim. According to Yamaha's description, 1,300 watts of home electrical power is also capable of supplying the E01 battery power with its striking record to the electrical contacts singularly (not using terminals or combined with other chargers).

It is believed that the E01 will become a mecca for prospective mass electric motors from Yamaha in Indonesia later. Before the E01, YIMM had brought the E-Vino for trials as well but the continuation of information about the motorbike evaporated.