Avenger, the First Pure Electric Car from Jeep
The Paris Motor Show auto show officially started on Monday (10/17/2022). This biennial auto show in Paris is an event for the introduction of a variety of the latest automotive products on a global scale. One of those who took advantage of this event was Jeep which introduced the latest Avenger product. This is the first battery electric vehicle (BEV) product from the manufacturer from the United States. The design is very Jeep, burly and distinctive all-terrain vehicles, and is also offered with a variety of capabilities, functionality and technology for enthusiasts.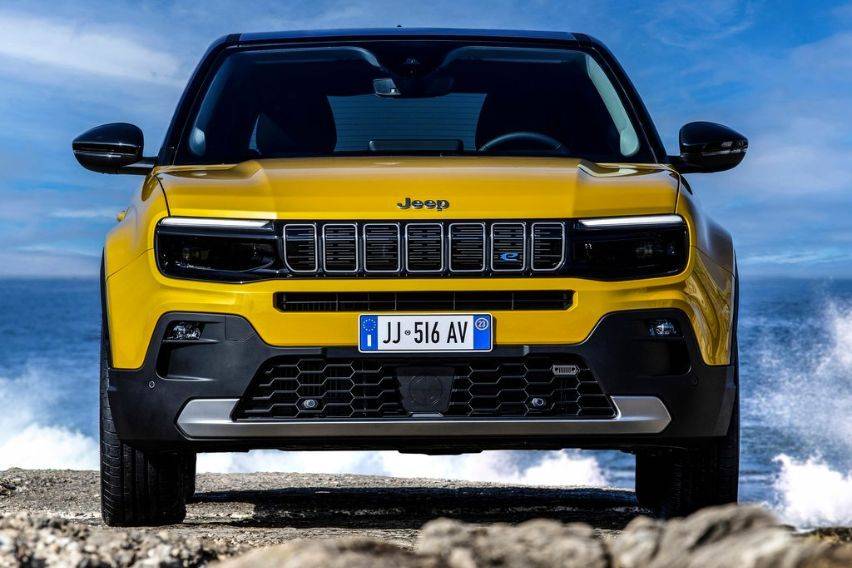 The latest Jeep Avenger shows the brand's important steps as the first product of electric vehicles to be introduced in continental Europe. This demonstrates Jeep's ability to embrace the European market and we are showing it as the greatest product from Jeep to be the choice in the B-SUV segment," said Christian Meunier, CEO of Jeep in a statement.
When it comes to design, the Avenger still carries Jeep DNA in its form. The front shows the iconic 7-line grille, now changing from vertical to horizontal as a form of functionality and efficiency. A slightly bent front grille protects against impact. The large fenders showcase classic Jeep design elements and provide an aura of power and toughness
On the side, the trapezoid wheel arch provides maximum wheel motion capability for articulation. The use of 18-inch diamond cut finish rims makes the dashing impression even thicker. At the rear, there is a stop lamp with a classic "X" design like a gasoline jerry can on a classic Jeep.
Going inside, the latest Jeep Avenger offers a clean and sturdy design inspired by the Wrangler model. The dashboard design uses one horizontal line, including air conditioning air ducts and a 10.25-inch touch screen in the middle that makes it easy for both the driver and passengers. This head unit is equipped with Android Auto and Apple Carplay mobile phone connection features, as well as the Jeep Mobile App application to be able to find out the location of the vehicle, battery level, and voice commands. This dashboard is placed a bit low to show the wide viewing space as well as the large amount of storage space.
Premium leather is used in the seats as well as some details in the interior. There are ambient lights of various colors to reduce eye fatigue during night driving as well as additional comfort from the sunroof. There is a variety of storage spaces around the cabin including 380 liters of luggage with easy access to luggage.

The Avenger uses the latest drive technology that combines an electric motor with a battery. This source of power is the product of Emotors, a company resulting from the collaboration of Stellantis and Nidec Leroy-Somer Holding. Power of 400 volts helps to produce energy of 115 kW with a power production of 150 tk with a torque of 260 Nm.
Stellantis's 54 kW battery uses NMC 811 Lithium-ion material with 17 modules and 102 cells. This battery is able to drive the vehicle up to 400 kilometers based on WLTP testing which makes it able to run as far as 550 kilometers if using urban cycle calculations. Stellantis is very proud of this battery because it has been tested for 2 million kilometers and has a compact shape and is located under the first and second row seats and in the middle of the vehicle. This battery has been protected by the bottom to be safe to carry off road activities coupled with a ground clearance of 200 mm.
Charging the Avenger is pretty straightforward. Through a power source of 100 kW Mode 4 aka fast charging, charging for three minutes can bring 30 kilometers of kendarana. For 24 minutes of charging it can charge the battery from 20 percent to 80 percent. Through the wallbox or 11 kW Mode 3 power flow, it can charge from 0 percent to 100 percent in just 5.5 hours.

Interestingly, the Avenger is not equipped with 4-wheel drive like most Jeep models. But its capabilities are guaranteed like an all-terrain vehicle. Even though it is front-drive, Jeep provides Selec-Terrain and Hill Descent Control features to make it easier to pass various obstacles. This Select-Terrain system has six choices of driving modes, namely Normal, Eco, Sport, Snow, Mud and Sand.
Regarding other features, the Jeep Avenger has been equipped with safety features such as lane centering, and adaptive cruise control. There are also traffic hour assist, traffic sign recognition, automatic emergency braking with pedestrian and cycling recognition features, drowsy driver alert, blind spot monitoring, lane keeping assist, and 360 degree parking sensors with. active park assist also 180 degree rear camera with drove view.
Jeep offers the Avenger 1st edition to celebrate the presence of the bev's first product with two colors, namely Sun with Volcano Rood and Granite with Volcano roof. The 18-inch rims are also LED lighting is one of the main points of this inaugural version. Jeep also offers more than 100 accessories for customization for consumers who want to be different.

The Jeep Avenger is planned to be produced at the Tychy Plant, Poland, which has been established since 1972. This model will officially arrive in 2023 and is eyeing the B-SUV segment of continental Europe which has increased by 2.2 million units of sales. The Avenger will be positioned under the Renegade model to complement the Jeep product selection.