Keeping it eyed, Yamaha Indonesia Motor Manufacturing (YIMM) provides new graphics and colors for the WR155R. The latest with a combination of black and blue, as well as new striping. The 155 cc dirt bike is offered for IDR 38.06 million. There is also a Monster Energy Racing Livery bandage priced at Rp. 38.66 million on the road (OTR) in Jakarta.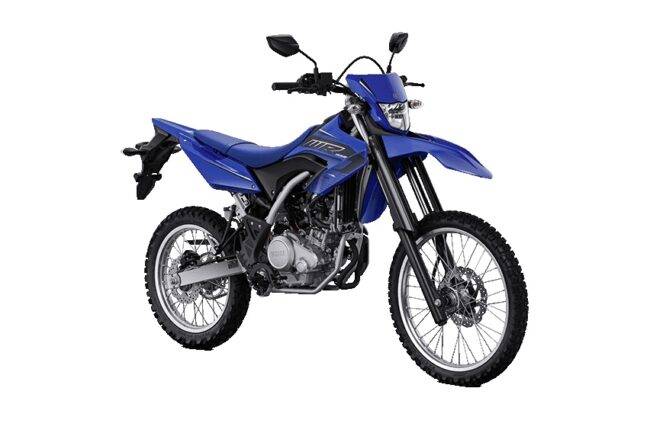 The WR155R Black version also has a new paint on the frame which is now affixed with cyan color so that it looks more attractive. While the Blue version describes a modern and luxury character. Suitable for those of you who want to look bold and elegant. The blue color was inspired by the color line up of Yamaha's larger capacity off road motorcycle. So that the off road image is very strong attached. In addition, there is also a touch of silver on the frame of the WR155R Blue, as a new color. Slightly different from before.

Yamaha's flagship trail bike, dressed up to represent the soul of a biker. As the center of attention and appear more confident when driving on the streets. Moreover, for those who like touring and other adventure activities who want to express themselves. Namely to their penchant with Yamaha off-road motorcycles.
Antonius Widiantoro, Asst. General Manager Marketing – Public Relations of PT Yamaha Indonesia Motor Manufacturing (YIMM) stated. Off road motorcycle products are increasingly in demand by the public. So that Yamaha continues to innovate and update in accordance with the latest developments in adventure trends.

"This positive response also makes us often present new colors. Including color refreshments, further increasing consumer interest in the WR 155 R. As we did with the launch of the Yamaha WR 155 R Black. It has a new color combination and the WR 155 R Blue with new graphics," said Antonius Widiantoro, in a written statement.
The pacemaker uses a SOHC 4 valve VVA type, liquid cooled (radiator). The single cylinder has a stroke diameter of 58 mm x 58.7 mm with a compression of 11.6 : 1. As a result, peak power is 16.72 PS at 10,000 rpm and a maximum torque of 14.3 Nm at 6,500 rpm. Distribution using a 6-speed manual gearbox.
For the Yamaha WR155R, a long telescopic suspension type is applied with a large diameter of 41 mm. So that it is claimed to be more comfortable for off-road activities because of the good damping ability. This model also uses dual purpose tires to increase capability in all road conditions. In addition, the YZ Series-style seat design is flat, making it easier for the driver to adjust the sitting position. Strongly supports agility when maneuvering.