Yamaha Fazzio MotoGP Motorcycle Edition Fabio Quartararo
The official Yamaha SBW dealer presents Yamaha Fazzio with a choice of colors and graphics in the style of Fabio Quartararo's MotoGP motorbike. With this touch, Fazzio looks more sporty and racy, which of course will provoke the interest of MotoGP fans to ask for his hand.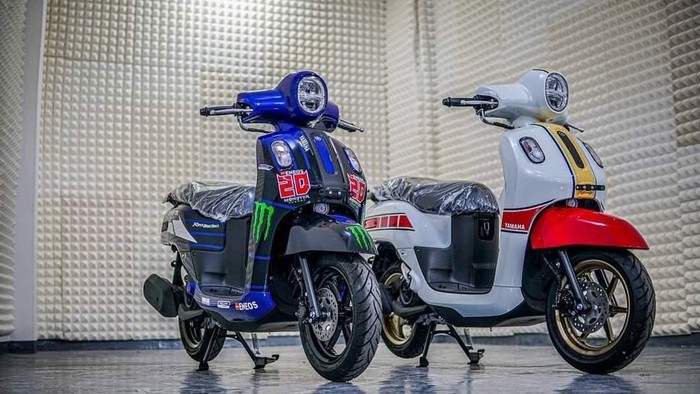 In terms of appearance, this Fazzio Quartararo edition uses a color combination that is identical to the Yamaha YZR-M1 2022 MotoGP motorbike belonging to Monster Energy. The color is dominated by dark blue and black.
The dark blue color spreads the headlamp, a little front tebeng area, a bit of the front fender area, and the body panels under the deck. The rest, the black color so dominates the retro-looking automatic motorbike.
Not to forget, several sponsor logos are also embedded, such as Eneos, Monster Energy, Yamaha writing, and of course number 20, which is the number used by Quartararo in the 2022 MotoGP. From a first glance, the paint looks premium and solid.
Because it is a special edition, the Yamaha SBW dealer, located in East Jakarta, sets the price of the Fazzio Fabio Quartararo version, which is more expensive than the usual types. The price is set at IDR 27,000,000 and can be paid in installments with a down payment (DP) starting from IDR 2.7 million.

Not only the MotoGP version, Yamaha SBW also provides an option for the World GP 60th Anniversary Livery which is no less cool. The color of this livery is predominantly white, then red and yellow accents and graphics are added.

As a comparison with the variant from the manufacturer, the price of the Fazzio Neo type is priced at IDR 21,890,000, then for the Lux model the price is IDR 22,190,000.