HJC Helmet has come up with some pretty eccentric designs over the last few years. The product line up always gives a different feel. An example is in the RPHA 11 unit livery of several DC and Marvel themed super heroes. The latest South Korean helmet brand has released Sonic The Hedgehog graphics.
One of the top helmet brands in the motorcycle industry is now partnering with Sega of America. The collaboration resulted in a unique design, featuring one of the biggest video game icons, Sonic the Hedgehog. This is not the first time that HJC has collaborated with a video game company. Previously, this South Korean brand made work with Activision and produced a helmet with the Call of Duty design.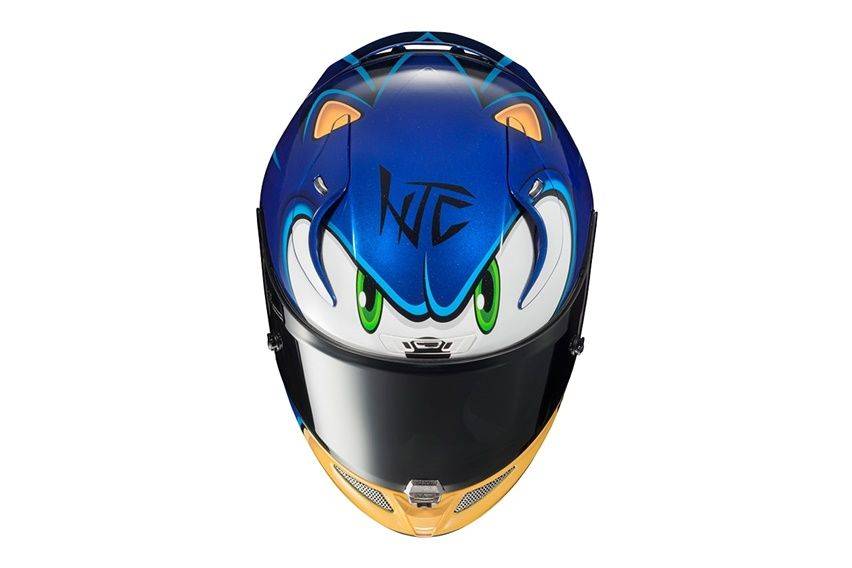 As we know, Sonic the Hedgehog is the mascot of the video game company Sega Corporation since 1991. Its presence became popular thanks to the Sega Genesis game console. Over the years, Sonic and Sega have spawned countless video game sequels. Even now, there are games based on character toy applications, animated television shows, and action films that are adapted directly from blue animal characters.
Just like other character-themed helmets, Sonic graphics are poured into RPHA 11. The entire shell is dominated by the classic blue color typical of anthropomorphic hedgehogs. The forehead to the vents on each side is filled with green eyes. Characteristics of white gloves and red shoes also appear on this helmet. While on the back there is an exclusive font according to the Sonic the Hedgehog theme.
Regarding the price, the RPHA 11 retails for €629.90 (Rp9.3 million). This price is certainly much more expensive than in Indonesia. For example, RPHA 11 DC and Mervel characters here are only sold for Rp. 7 million. While the RPHA 11 plain motif is only Rp. 4 million.

Speaking of specifications, the HJC RPHA 11 is actually included in the racing helmet category or for racing purposes. The shell is made of a mixture of carbon and carbon-glass hybrid fabric. A total of 5 layers in one, and named and Special Composite Premium Integrated Matrix (PIM Plus) aerospace standard. Claimed to provide enhanced shock-resistant performance and aerodynamic levels for extreme performance at maximum speeds.
Then he has a flat visor type HJ-26 2D, can optimize visibility and also provide UV-A & B protection up to 99 percent. The pinlock and tear off post have been attached and two visors are given, clear and dark. The feature is the Rapidfire II Shield Replacement System or a quick visor release mechanism that makes removing or installing the visor very concise and easy. At the end there is a locking visor so it doesn't open easily. Create a circuit safety standard given the DD ring model chin belt.

While the interior features Multicool Polygiene. Wear anti-bacterial cloth and provide moisture-absorbing and fast-drying functions. All parts including the cheek pad, crown pad, chin curtain and neck roll are removable and washable. Then there is the groove for riders who wear glasses.
Vents are on the front, forehead, top, rear exhaust, bottom rear. Everything has been tested in the laboratory as well as in "real life" to meet the highest quality standards. HJC is a helmet company equipped with state-of-the-art wind tunnel laboratories, to test aerodynamics, ventilation, noise and more. In addition, it can measure air power under various riding conditions to improve helmet performance.

Additional safety features include reflective material in the back neck area and an emergency release cheek pad system for safe and fast helmet removal in an emergency situation.
This helmet complies with ECE 22.05 regulations. Tests include energy attenuation, penetration resistance, chin strap structural integrity, and labeling requirements for motorcycle helmets on the road. While the RPHA 11 Pro type has an additional DOT. So a little heavier 100 grams. And if you enter Indonesia, of course, you are SNI certified. HJC offers the helmets in sizes XS-XXL, but new units will be available in late 2022.