The sunroof or panoramic roof feature in Indonesia, usually only found in luxury cars or European cars. Understandably, in Europe the sunroof is no longer a luxury feature and can be found in almost every car. Yup, in Europe, there are kia Picanto city cars that only use a sunroof.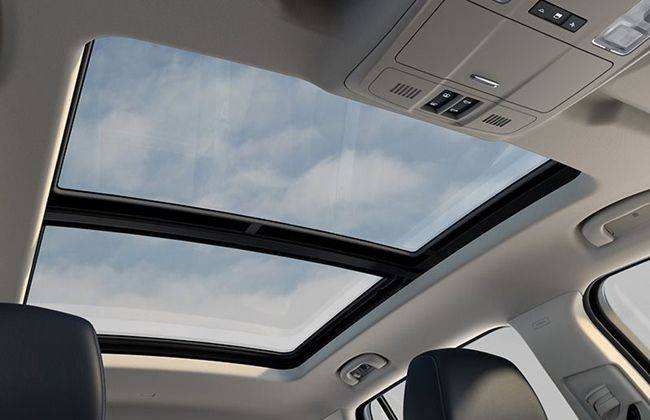 However, lately there have been several non-luxury cars in Indonesia that use sunroofs. Even the cheapest new car in Indonesia that uses a sunroof, is sold with prices starting from Only Rp. 300 million. Some Japanese and Korean manufacturers have also begun to dare to install sunroofs for their medium-sized cars in Indonesia. There are also those of the panoramic type.

Here we explain five cheap cars in Indonesia that already use sunroofs.
1. Chevrolet Trax 1.4 LTZ AT Rp 305 million


Chevrolet Trax is probably one of the cheapest cars in Indonesia with the most modern technological innovations and features today. Try it, Trax is the cheapest turbo engined car in Indonesia. In addition, this crossover SUV is also the cheapest new car in Indonesia that is equipped with an electric sunroof.
This car just changed its face and was introduced last February. The design now looks more modern because the front grille is no longer large. The headlights are now squinted and already projectors with LED Daytime Running Lights (DRL). As a crossover, as usual, the side fenders use black garnish and the roof also has a roof rail.

The cabin is even more luxurious. The new Trax dashboard looks sweet because there is a touch of leather material. The stir has also been wrapped in leather. The features are also advanced. There is a start-stop button, smart entry, electric folding mirror, parking camera, to the power plug of the house 230 V. Great right? So you can charge your laptop or clean the car carpet using a vacuum cleaner, to shave your beard using electricity in the cabin.
Chevrolet Trax uses a 1.4-liter turbocharged engine powered by 140 PS with a peak torque of 200 Nm. One more advantage of this car, the Trax is only sold in a 6-speed automatic transmission whose gear can be moved manually (tiptronic). There are two variants, namely Trax 1.4 LT AT for Rp. 279 million and Trax 1.4 LTZ AT for Rp. 305 million. The sunroof feature exists only for its most expensive type.
2. Mitsubishi Outlander Sport PX Rp 370 million


Mitsubishi Outlander Sport is indeed not a new car. The car, which is also sold in Europe under the name Mitsubishi RVR, was first introduced to Indonesia in 2010 but was only sold in 2012. It was rejuvenated in 2014, it is reported that even this year the Mitsubishi Outlander Sport Indonesia wants to be played once again. His face will use Mitsubishi's new design language similar to the Pajero Sport.
Although it is not a new car, the design of the Outlander Sport is not yet obsolete. Moreover, the features cannot be said to be left behind. Just look at it, the headlights of the projector and the transmission are CVT. And most importantly, the cabin has a panoramic roof. Yes, not a sunroof but a panoramic roof. Indeed, the roof cannot be opened tilt and sliding like a sunroof. But this panoramic glass roof extending backwards is the only one in its segment.

The features in the interior are also quite luxurious. There is a keyless operating system feature with a start-stop button. Then there is also magnesium paddle-shift.

The Mitsubishi Outlander Sport uses a 2.0-litre petrol engine that powers 150 PS at 6,000 rpm with a peak torque of 197 Nm at 4,200 rpm. In addition to the CVT transmission, there is also a choice of 5-speed manual transmission. This crossover SUV is sold in three types, namely GLX for RP 330 million, GLS for IDR 345 million and PX for IDR 370 million. Panoramic roof is only available in the highest variant.
3. Honda HR-V 1.8 Prestige Rp 377 million


First introduced in Indonesia in 2014, the Honda HR-V is a car that revives the crossover SUV segment in Indonesia. The thing is, the HR-V at that time came at a relatively affordable price with no less great features. At that time, the cheapest type of HR-V was sold starting at Rp. 240 million.
But it's not the cheapest HR-V that uses a sunroof. is his most expensive type. The Honda HR-V is sold in two engine options, 1.5-liter and 1.8-liter. The Honda HR-V 1.8 Prestige with automatic transmission that uses an electric sunroof is the second cheapest car in Indonesia equipped with a sunroof if the Outlander Sport panoramic roof is not considered.

This car is quite sophisticated because it uses many modern features ranging from audio steering switches, automatic air conditioning with a touchscreen screen, paddle-shift and leather-coated steering wheel, smart entry with a start-stop button, ECO assist, to cruise control. The price is Rp 377 million this April 2017. Relatively less expensive considering these features are common in luxury cars.
4. Hyundai Tucson XG Idr 416 million


The Korean car manufacturer, Hyundai, has indeed changed drastically since the last ten years. The design of their cars has changed to be more European, especially since Audi's chief designer, Peter Schreyer joined as chief designer of Kia Motors under the Hyundai umbrella since 2006.
This latest Hyundai Tucson is one of peter schreyer's works. Hyundai Tucson in Indonesia is sold in two engine options. For the gasoline engine type, Hyundai provides two variants, namely the Tucson GLS for IDR 385 million and the Tucson XG for IDR 416 million. This gasoline-engined Tucson is powered by 157 PS at 6,200 rpm with a peak torque of 196 Nm at 4,000 rpm. Hyundai Tucson Indonesia is only available in a shiftronic 6-speed automatic transmission.

Amazingly, this Tucson already uses a panoramic sunroof. That is, the roof is glass extending all the way to the back like mitsubishi Outlander's panoramic roof. The difference is that the front glass roof of the Tucson can be opened in tilt and sliding. The Tucson panoramic sunroof is also electric for its curtain open and close mechanism. This feature makes the Hyundai Tucson the cheapest car in Indonesia that uses a panoramic sunroof.
Of course, this feature is only available in its highest type, the Tucson XG. The price is Idr 416 million. It is indeed more than RP 400 million, but this feature is the best in its class. This Panoramic Sunroof is also present for the Tucson diesel engine Tucson XG CRDi which is sold more expensive at IDR 458 million.
5. Nissan Serena 2.0 Panoramic Autech Rp 465,1 million


Nissan Serena is one of Nissan's flagship Multi Murpose Vehicles (MPV) in Indonesia. One of the advantages is the electric sliding door, a spacious cabin with high flexibility, and of course a glass roof or panoramic roof for the highest type. No wonder that in its class, Serena may be one of the best-selling compared to the Toyota Nav1, Mitsubishi Delica, or Mazda Biante.
Nissan Serena HWS Autech is sold at a price of Rp 465.1 million. Indeed, the glass roof cannot be opened in a tilt and sliding manner similar to the panoramic roof of the Mitsubishi Outlander Sport. But what is clear is that this car has an excellent level of cabin flexibility especially for its seat configuration.

The Nissan Serena HWS Autech has 3 rows of seats with a center console that can be shifted from the front seats to the second row of seats. This center console can function as an arm rest, it can also be enforced as a seat for passengers. If pulled forward, the second row of seats becomes similar to a captain seat and leaves room in the middle for access to the rear seats. In addition, the cabin is also large and spacious.
Comfort is indeed Serena's main value. This car uses Nissan's signature Xtronic CVT transmission. Performance is indeed not what this car excels at. But the 2.0-liter engine powered by 147 PS at 5,600 rpm is reliable. Even though she uses a panoramic roof, Serena can still attach a 10-inch LCD entertainment screen to the ceiling.

In addition to these five cars, there is also a Mitsubishi Pajero Sport Dakar 4x2 AT for Rp. 505,000,000 which also uses a sunroof. The latest generation of Mitsubishi Pajero Sport comes a week after the launch of its rival, the Toyota Fortuner. One of the features that Mitsubishi's flagship SUV in Indonesia boasts compared to its rivals, is the presence of a sunroof. Yes the Toyota Fortuner does not have a sunroof.
Another car that also has a sunroof that sells under Rp. 500 million is the Kia Sportage GT Ultimate for Rp. 475,500,000. Meanwhile, another Honda SUV, namely the Honda CR-V 2.4 Prestige AT Fender Audio, also uses a sunroof and is sold for IDR 501,000,000.