Officially launched the world's first Honda ADV 160, here are the new specifications and features. PT Astra Honda Motor (AHM) today, Friday (1/7/2022) officially launched the new Honda ADV 160 motorcycle. The Honda ADV 160 is the latest generation as a refinement of the Honda ADV 150 aka the previous generation.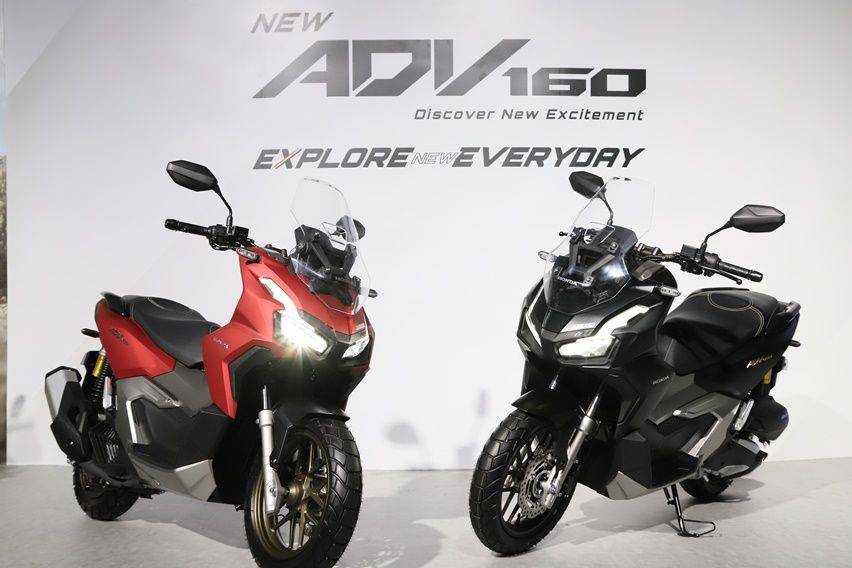 we itself had the opportunity to attend the launching process and take a closer look at the latest Honda ADV 160. By design, the automatic adventure motorbike that carries the tagline "Explore New Everyday" brings a number of changes. From the design, it still carries the concept language of the ADV Series automatic motorbike at Honda.
The front, especially the headlamps and DRL lights, have seen a change in the DRL line. Then for the windshield or visor it turns out to be higher and there is a detail of the air hole in the middle.
This windshield can still be adjusted manually the same height as in the Honda ADV 150. Then the cockpit area looks like an all-new digital instrument panel.
The pointer already has a tachometer, speedometer, tripmeter, odometer, gasoline gauge, HSTC logo, clock pointer, and a number of other icons.
The shape of the handlebars has a wide Tappered Handlebar. There are detailed changes to the front body design of the left and right wings. The footrest is wider, the feet are guaranteed to be more comfortable.


While the middle to the rear body gets a more aggressive change with the ADV 160 emblem logo. The trunk is bigger, increasing by 2 liters to 30 liters capacity.
The main seat also seems to have changed, it looks like a terraced model but is lower in the driver's side.

The suspension still relies on telescopic and double shock absorbers at the rear.
For the Honda ADV 160 engine, it carries a 160 cc ESP + 4 Valve engine similar to the Honda PCX 160 and Honda Vario 160. This engine produces 11.8 Kw of power at 8500 Rpm and 14.7 Nm of torque at 6500 Rpm. Braking uses disc brakes at the front and rear with ABS features.

Other features such as charger port, HSTC, LED lighting unit. When launched, the Honda ADV 160 came in two versions CBS and ABS. There are several color choices, including Black, Red, and White. For Honda ADV 160 CBS, the price is IDR 36,000,000 OTR Jakarta. While the Honda ADV 160 ABS costs IDR 39,250,000 OTR Jakarta.