Finally, the Honda ADV160 was officially released by Astra Honda Motor (AHM). After PCX and Vario, it's time for ADV which gets a new engine to complete the 160 cc engine line. Not only is it more powerful, the ADV160 has received a revision in the comfort sector and is packed with advanced features. Even so, the price increase is quite friendly. Offered from IDR 36 million.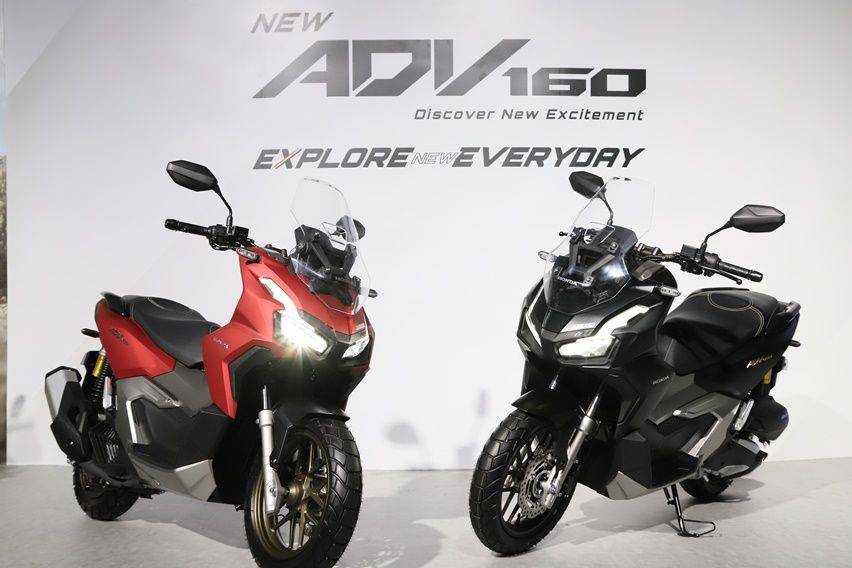 The identity of the big scooter explorer is still attached to the ADV160. Then it was called as an answer to the needs of people who have high activity and like to explore, crossing various road conditions. Adopting a proportional tough and robust design. As well as changes and novelties that are claimed to give pride in driving. Both through the tough and sturdy urban explorer design, responsive performance of the new engine, increased comfort, to the embedding of advanced features.
"With refinements on various sides, the New Honda ADV160 is increasingly presenting a different driving experience, whether used for exploring with joy or also for daily use. The excellent performance and features of this scooter support riders who have long-distance cruising range and provide driving power to explore various road conditions," said Keiichi Yasuda, President Director of AHM.
The difference in design with its predecessor is very clearly visible. Although it still adheres to a tough cruiser design, the ADV160 looks sleeker than the ADV150. The rear side body has a wider cross section and the front is made sharper. Gives a wider footrest. The change in the shape of the side body contributes to the addition of 2 liters of luggage area.
The headlight design is still maintained, with modern LEDs and daytime running lights (DRL). At the stern, this scooter is equipped with stop lights and LED turn signals, combined with fenders that have a design like a motorcycle. The two step adjustabe windshield makes aerodynamics even better. It is 75mm adjustable in two height levels with easy operation. The seat height is now more friendly for the average Indonesian. Made 15 mm lower than before.

At the rear, a twin subtank rear suspension is pinned to provide optimal comfort and stability when cornering, bumpy roads and riding together. The use of tapered handle bars and large semi dual purpose tires 110/80 – 14 (front) and 130/70 – 13 (rear) gives a dashing impression and looks different.
The full digital panel meter has a new design with a large screen and looks tough. Information on engine speed (tachometer/rpm meter) and trip duration (elapsed time) is presented. The setting buttons are separated, located between the handle bar and the meter panel. Other information displayed includes battery indicator, outside temperature indicator, average fuel consumption, instant fuel consumption, engine oil change indicator, clock, Trip A and Trip B.

The New Honda ADV160 has also been supported by the Honda Smart Key and alarm system. For convenience, it has been equipped with a USB charger in the console box with a maximum power of 5V 2.1A, replacing the power charger on the old model.

Carrying a 160 cc 4 valve engine, liquid cooled, eSP + with PGM-FI injection combustion system. Capable of providing peak power of 11.8 kW at 8,500 rpm and torque of up to 14.7 Nm at 6,500 rpm. The results of an internal test using the WMTC-EURO 3 method, the ADV160's fuel consumption reaches 45 km/liter (ISS feature on), so it can cover a distance of up to 364 km in a single full charge of fuel.
AHM offers the New Honda ADV160 in two types: ABS and CBS and with a total of 6 color variants. The ABS type is sold for IDR 39.25 million and has three colors. While the CBS type is marketed for Rp. 36 million, also with three color choices.
"New Honda ADV160 now comes to be tougher, more powerful, and also comfortable to drive. This scooter is the right choice for big scooter lovers who are tough and sturdy. We also support their activities in fulfilling fun and exploring new locations with the readiness of the official workshop network (AHASS) scattered, to increase driving comfort and pleasure," concluded Executive Vice President Director AHM Johannes Loman.