Mini Indonesia has introduced a new product in the electric vehicle segment. Mini Electric, the newest product, is Mini's answer to the market's desire in Indonesia to immediately use a variety of environmentally friendly automotive products.
But Mini Electric doesn't play alone. Despite being an electric vehicle in the premium segment, Mini Electric will play together with similar electric products. The latest is the Hyundai Ioniq 5 which was introduced last April.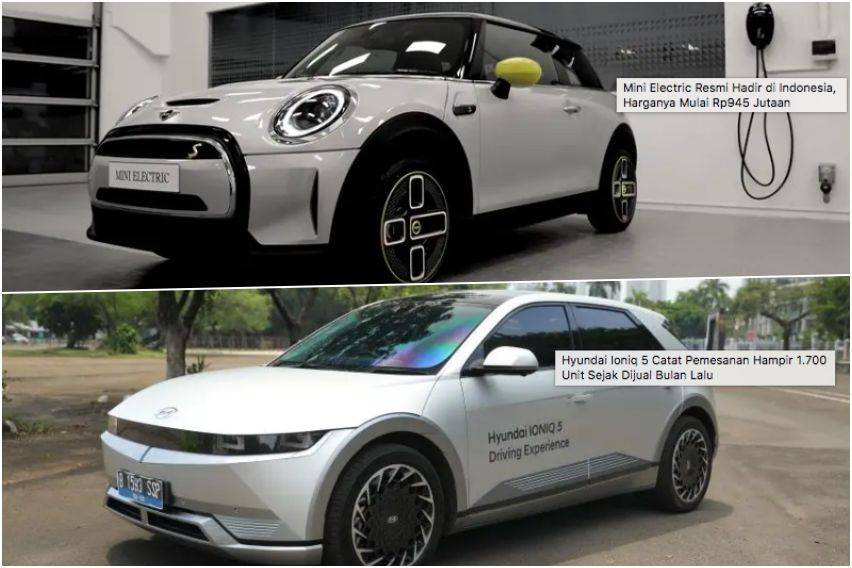 So how do these two products when juxtaposed? Of course, the comparison is given through data on paper which hopefully can provide an overview of these two newest electric vehicle products for potential consumers.

Price and Variants

We go straight to the price assessment for the two brands, because in this class the price assessment does not seem to be very important. Mini Electric is offered in two variants, namely Mini Electric and Mini Electric Collection, which are available in limited quantities. Mini Indonesia offers Electric Collection at Rp.955 million and Mini Electric at Rp.945 million, all off the road. This price also includes Mini wallbox, cable for charging in public places, travel charger and installation fee.

Hyundai Ioniq 5 comes with several variants. The official price starts at IDR 718 million for the Prime Standard Range, and IDR 759 million for the Long Range version. The top model, the Signature, is also offered in two types. The Standard Range model is IDR 779 million and the Signature Long Range is IDR 829 million. Everything is on the road status.
Hyundai comes with a 24-hour Hyundai Call Center offer, a basic warranty of 3 years or 100,000 kilometers, free maintenance services for up to 5 years or 75,000 kilometers, free 24-hour roadside assistance, Hyundai Comes Anywhere service program, Free 24-hour Emergency mobile charging, and free spare parts for up to 3 years or 45,000 kilometers. In addition, Hyundai includes an electric vehicle battery warranty for 8 years or 160,000 kilometers. Electric car consumers will also get a free AC Home Charger and installation fees as well as a free portable charger.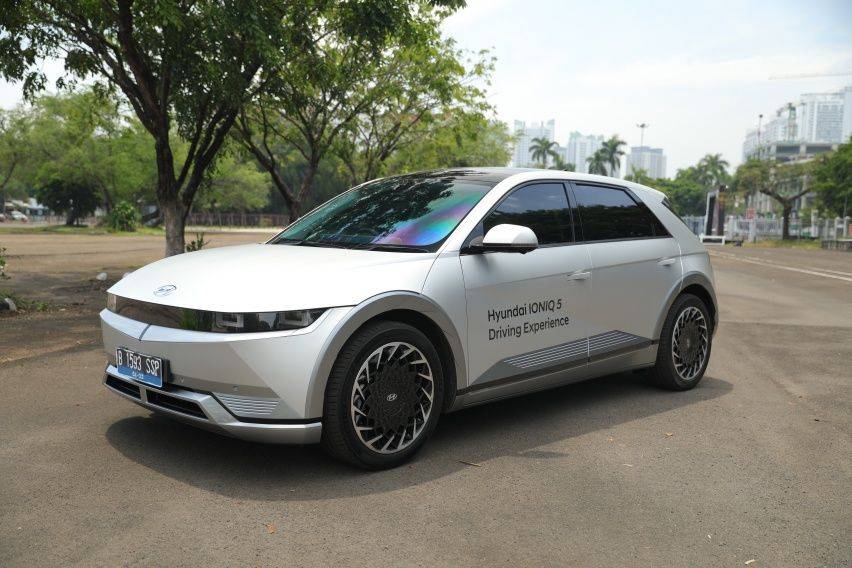 Exterior Design

Talking about the design of these two electric vehicles, it really comes back to their individual tastes. The Mini Electric comes with the iconic and timeless design of the classic Mini. At first glance, there is no difference with the conventional engine version, which makes Mini Electric consumers still feel the Mini aura. Likewise with the Ioniq 5. Comes with a modern retro design inspired by the old Hyundai Pony product. So each has the same line of design and inspiration, namely classic products with modern touches such as LED lighting, attractive design rims and attractively designed stop lamps.

On paper, the Mini Electric has dimensions of 3,845 mm in length, 1,727 mm in width, 1,432 mm in height with a wheelbase of 2,495 mm. When compared to the conventional model, the Mini Electric is 24 mm longer, 18 mm taller by offering the same width and wheelbase. The color choices are quite diverse, but specifically at this launch there is a special color in the Mini Collection variant. The Mini Collection uses Island Blue Metallic paint that was offered for the first time for this electric model. There are also attractive color gradations on the roof from San Marino Blue to Pearly Aqua to Jet black, the first time in a Mini car.

The Ioniq 5 comes with a length of 4,635 mm, a width of 1,890 mm and a height of 1,647 mm with a ground clearance of 160 mm and a wheelbase of 3,000 mm. Big enough for the size of an electric vehicle. This Hyundai product uses 19-inch rim sizes with 235/55 R19 tires. The design is quite unique, namely it comes with a parametric design. In terms of color choices, the Ioniq 5 offers optical white, titan gray metallic, magnetic silver metallic, midnight black pearl and gravity gold matte as an option with one interior color choice, namely black.

Interior Comfort

Entering the interior of the Mini Electric, the impression is no different from the conventional Mini design. There are still many buttons on the center console with the go kart and sporty aura. A layer of leather is on the steering wheel with various buttons for access to entertainment and information in the meter cluster. The design of this steering wheel is new with piano black coloring.

The meter cluster now uses a digital display. It contains various information such as charging status, distance traveled, speed, remaining power, driving mode and so on. The 8.8-inch head unit is capable of playing various entertainment formats, navigation and voice commands. The new vent design for the air conditioner and the presence of ambient light make the Mini Electric cabin seem luxurious.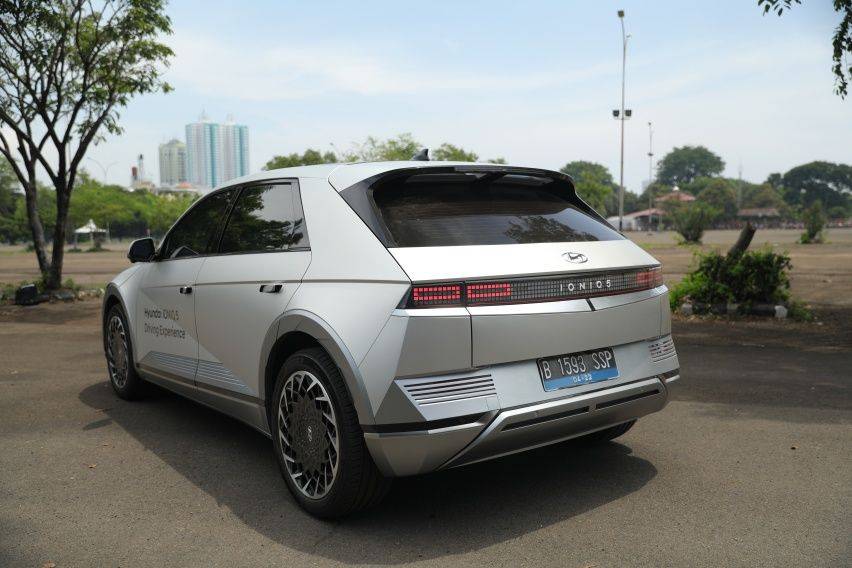 The interior design chosen by the Hyundai Ioniq 5 is futuristic, which represents a lounge in the cabin space for a comfortable impression. Some of the main interior features are the presence of a panoramic glass roof, seats wrapped in leather, a seat with footrests in the first row, a 12.3-inch screen that serves as a meter cluster and head unit, as well as a Bose premium eight-speaker sound system for a maximum entertainment experience. drive.

Hyundai Ioniq 5 is equipped with Hyundai SmartSense which consists of several active safety features such as high beam assist, forward collision avoidance assist, driver attention warning, smart cruise control with stop & go function. There are still lane-keeping assists and lane following assists, blind-spot view monitor, blind-spot collision avoidance assist, rear cross-traffic collision avoidance assist, tire pressure monitoring system, parking distance warning and view monitor.
Power, Mileage and Charging Time

Mini Electric uses a new design for the battery it uses. There are 12 modules in a T-shaped case at the bottom. The electric motor produces 184 hpm of power and 270 Nm of torque. The ability to accelerate from rest to 100 km per hour in 7.3 seconds. This bike is the same as the one in the BMW i3 E-Drive.

The battery is capable of carrying the Mini Electric as far as 232 kilometers based on WLTP testing. The power contained in the battery is about 28.9 kWh. Mini provides a battery warranty of 8 years or 100,000 kilometers.

Regarding charging, the Mini Electric also has deceleration technology that will charge the battery when the vehicle is braking. There are two levels of deceleration that allow the Mini Electric to operate with just one pedal. The driving modes are Sport, MID, Green and Green + which will limit some comfort features such as heating, air conditioning and seat heating to get more distance.

Mini Electric uses a type 2 socket that can charge 11 kW in 2.5 hours up to 80 percent. For the CCS Combo2 socket with a power intake of 50 kW, it can charge for 36 minutes to 80 percent of the battery. The Mini also provides 2.3 kW in-home charging with a charge time of 0 to 100 percent for 12 hours. There is also a Mini Wallbox that can charge 0 to 80 percent with 7.4 kW of power for 4 hours, and 2.5 hours with 11 kW of power.
The Ioniq 5 uses a permanent magnet synchronous motor with a power production of 217 ps and a lithium ion battery with a capacity of 72.6 kWh. In Indonesia, the Ioniq 5 uses a rear drive with a torque of 350 Nm. The AC socket uses type 2 and the DC socket uses the CCS Combo2 type. Its charging capability is for AC charging for six hours and six minutes and DC fast charging for about 56 minutes 30 seconds, while the use of 350 kW fast charging will last for 17 minutes 16 seconds. The Long Range type is claimed to be able to cover a distance of 451 kilometers.

Regarding the Ioniq 5 battery, Hyundai includes V2L or vehicle to load capabilities. This capability makes the Ioniq 5 an additional power generator for outdoor activities such as charging gadgets during travel. Its largest total power source is about 3.6 kW which is equivalent to the average household electricity.


Conclusion

On paper both offer various advantages. Assessment of course can't just look at the more or less the numbers that are present in this comparison. Moreover, both Mini and Hyundai offer direct access to electric technology that is the answer to future transportation.

Of course, the two consumers of this model are not the first car buyers but from the affluent economy class. People who want a car with a different, unique sensation and certainly become part of the community who are lucky to experience electric vehicle technology faster.