The current price of the Yamaha Fazzio Hybrid touches more than Rp. 22 million for the highest variant, but this figure is relatively cheap for a motorcycle with a fairly modern engine technology. Moreover, the specifications and features of the Yamaha Fazio are also complete.
After the success of the Maxi category, currently Yamaha is trying to present a new product category called Classy. The move was initiated by introducing the Yamaha Fazzio automatic scooter on January 17, 2022.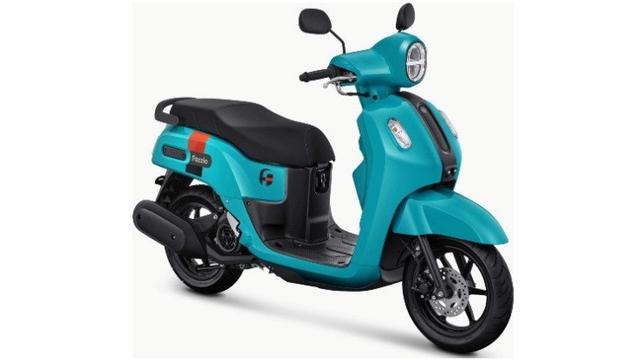 Yamaha Fazzio Hybrid-Connected



There are several things that are the highlight of this product. Most visible is the design which is quite unique for the Indonesian market. By adopting a boxy body, the details of this motorbike are also decorated with oval shapes in many parts.

At first glance, its appearance looks similar to the Yamaha QBIX sold abroad. Meanwhile, in Indonesia itself, this motorbike is often touted as a competitor to the Honda Scoopy.

Since its initial launch in Indonesia, the Yamaha Fazzio is available in two variants, namely Neo and Lux. The difference is in the color and graphics of the body.

Yamaha Fazzio Neo comes with a choice of more diverse and brighter colors, for example cyan, red, beige, and black. Meanwhile, the Yamaha Fazzio Lux puts forward an elegant feel with neutral colors, such as silver and black.
Latest Yamaha Fazzio Hybrid Price

As mentioned earlier, the current Yamaha Fazzio price is Rp. 22 million. More details about this can be seen in the information below which is compiled from the official website of the manufacturer.
| | |
| --- | --- |
| Varian | Price |
| Yamaha Fazzio Neo Cyan | Rp21.890.000 |
| Yamaha Fazzio Neo Red | Rp21.890.000 |
| Yamaha Fazzio Neo Beige | Rp21.890.000 |
| Yamaha Fazzio Neo Black | Rp21.890.000 |
| Yamaha Fazzio Lux Prestige Silver | Rp22.190.000 |
| Yamaha Fazzio Lux Matte Black | Rp22.190.000 |
The price of the Yamaha Fazzio is arguably the slightest difference with the Honda Scoopy which is its closest competitor. However, this Yamaha product has its own advantages.

One of them is the use of a hybrid system to support performance. Although the way it works is quite simple, functionally the existence of the system deserves appreciation.
Yamaha Fazzio Hybrid Specifications
Machine

Machine Type

SOHC

Cylinder

Single Cylinder

Diameter x Step

52,4 mm x 57,9 mm

Cylinder Volume

124,86 cc

Compression Comparison

11.0:1

Maximum Power

83,1 hp @ 6.500 rpm

Maximum Torque

10,6 Nm @ 4.500 rpm

Starter System

Electric

Lubrication System

Wet Sump

Engine Oil Capacity

0,84 liter

Clutch Type

Centrifugal Clutch

Transmission Type

Otomatis

frame

Frame Type

Underbone

Front Suspension

Teleskopik

Rear Suspension

Unit Swing

Front Tire

110/70-12 47L

Rear Tire

110/70-12 47L

Tire Type

Tubeless

Front Brake

Disc Brake

Rear Brake

Drum Brake

Dimension

P x L x T

1.820 mm x 685 mm x 1.125 mm

Wheelbase

1.280 mm

Lowest Distance to Ground

135 mm

Seat Height

750 mm

Fill Weight

95 kg

Gasoline Tank Capacity

5,1 L

Electricity

Spark Plug Type

CR6HSA

Ignition System

TCI

Battery

YTZ6V
The important thing to note from the specifications of the Yamaha Fazzio is that it has a hybrid system. The way it works is simple because there is no addition of new components compared to other Yamaha motorcycles that are already Bluecore.

The Yamaha Fazzio hybrid system maximizes the Smart Generator Motor (SMG) component. If in general this component only functions to support the work of the electric starter, now it also serves as a power assist.

The power assist will provide additional power when the motor is about to accelerate. Activates after the engine speed is above 1,300 rpm and will automatically stop after 3 seconds or when the engine speed reaches 5,500 rpm.


Although quite simple, consumers will get extra benefits in terms of performance. Then because there are no additional components, the selling price of this motorbike can still be competitive.

It's a different story if you look at other hybrid motorcycles whose components are more complex, such as the Honda PCX e: HEV. This product has an additional lithium-ion type battery in addition to the battery. This makes the selling price quite high with a tag of more than Rp. 40 million.
Competitor Yamaha Fazzio Hybrid

In terms of specifications, there are not many two-wheeled vehicle products in Indonesia that use a hybrid system such as the Yamaha Fazzio. However, when viewed from the price, this automatic scooter can be reasonable when juxtaposed with the Honda Scoopy.

What's more from the design both lead to the same style. Prioritizing a modern retro aura with rounded body shapes.

A number of Indonesian automotive media reviews recommend the Yamaha Fazzio for consumers who want more agile performance. This is based on a larger engine capacity and additional power from the power assist which makes it easy to accelerate.

Although on the other hand the Yamaha Fazzio is said to have a setting that tends to be hard. This can indeed support its performance when it comes to maneuvering. However, the consequence is that comfort is reduced.

What about the Honda Scoopy? This product is considered more suitable for consumers who want an economical and comfortable automatic scooter. With a smaller engine capacity, it is natural that the Honda Scoopy's fuel consumption is economical.

So, when it comes to features, Yamaha Fazzio has the advantage of connecting with the Y-Connect mobile application. That way the owner can monitor various information about the vehicle through his smart phone.

Yamaha Fazzio What Fuel?

With a fairly high engine compression, Yamaha Fazzio is suitable for using gasoline with 92 octane such as Pertamax or Shell Super.

For those who are laymen, do not misinterpret the hybrid system attached to this product.

Although in principle there is the help of electrification technology, the Yamaha Fazzio still relies on the internal combustion engine as its main power source.

Another question that is also circulating on the internet is about the meaning of the name Fazzio.

What is Fazzio?

Fazzio's name is taken from the combination of the words "fashion" and "liscio". As is known, "fashion" means a style that is closely related to dress. Meanwhile "liscio" is taken from Italian which can be interpreted simply.

Thus a review of the price of the Yamaha Fazzio as well as specifications, features, and advantages and disadvantages. It can be concluded that this product is a new choice in the automatic scooter segment with modern engine technology.
Advantages of Yamaha Fazzio

Yamaha Fazzio is a hybrid motorcycle that is equipped with advanced features. Here are some very interesting advantages to note:

1. Blue Core Hybrid Technology
Yamaha Fazzio is equipped with Blue Core Hybrid technology which makes this motorbike more economical. This technology makes it more powerful and environmentally friendly.

The hybrid system of this motorbike has two power sources, namely the engine and Electric Power Assist Start, and both are in synergy with each other. In addition, the Smart Motor Generator (SMG), the Starter Generator Control Unit, and the battery also synergize with each other.
2. Efficient First 3 Seconds Pull

Based on studies, pulling the motor in the first three seconds requires a lot of power. However, this does not apply to the Yamaha Fazzio as a hybrid motorcycle.

When you run the motor, the hybrid feature will work for the first three seconds and after that it turns off automatically. This can help the motor to be more efficient in using fuel.
3. Communication Control Unit Technology

Usually when driving a car, you will connect your smartphone to the car. With Yamaha Fazzio, you can also connect your cellphone to a motorcycle.

Yamaha Fazzio is equipped with Communication Control Unit technology that allows you to connect your smartphone to a motorcycle via Y-connect.

4. Smart Key System

The Yamaha Fazzio lock system is also sophisticated. Therefore, you can start this motor without a key or keyless. Fazzio also has an answer back feature that will make it easier for Toppers to find it in the parking lot.
5. Large Luggage Capacity

If you often travel with a lot of luggage, this motorbike is for you. Its 17.8 L luggage capacity can fit a lot of stuff. On the side there is a Double Hook Carabiner for hanging additional items.
6. Unique Classic Design

With the shape of a large round headlamp and a squared front, it seems that the design of the Yamaha Fazzio looks to carry European influences.

The appearance looks quite simple, but still stylish and classy. The headlights also have LED lights which make it brighter.


7. Many Color Choices Yamaha fazzio specifications

Yamaha Fazzio is available in two variants, namely Fazzio Neo and Lux. The two variants have slight differences, namely in the design.

The Neo variant is available in Red, Cyan, Beige, and Black glossy type, with black seats. While the Lux variant is available in colors that look more luxurious, namely Matte Black and Prestige Silver with brown leather seats.
Disadvantages of Yamaha Fazzio

Although included in the category of advanced hybrid motorcycles, Yamaha Fazzio certainly still has some drawbacks that need to be considered:
1. Turn Signal Bulb

Although the main lights have used LED lights, the lights from the pens still use light bulbs. However, this is not very visible because the glass is covered by frosty frosty glass.

2. Less Maximum Power

Although a hybrid, Yamaha Fazzio has a power that is not too big. The Fazzio can generate power of 6.2 kW at 6,500 rpm and 10.6 Nm at 4,500 rpm. However, these specifications are sufficient for motorcycle users in general.

3. Prices tend to be expensive

As a hybrid motorcycle, of course the Yamaha Fazzio is priced at a higher price than other automatic motorcycles. However, when compared to other brand hybrid motorcycles, this motorbike is cheaper.