Not only selling locally assembled products, Astra Honda Motor (AHM) also sells imported CBU (Completely Build Up) units. There are various models, ranging from classic types, scooters to adventure. Most of them are imported in whole form from Thailand and the price is quite expensive. Now the cheapest price tag is IDR 76 million. Here are the options.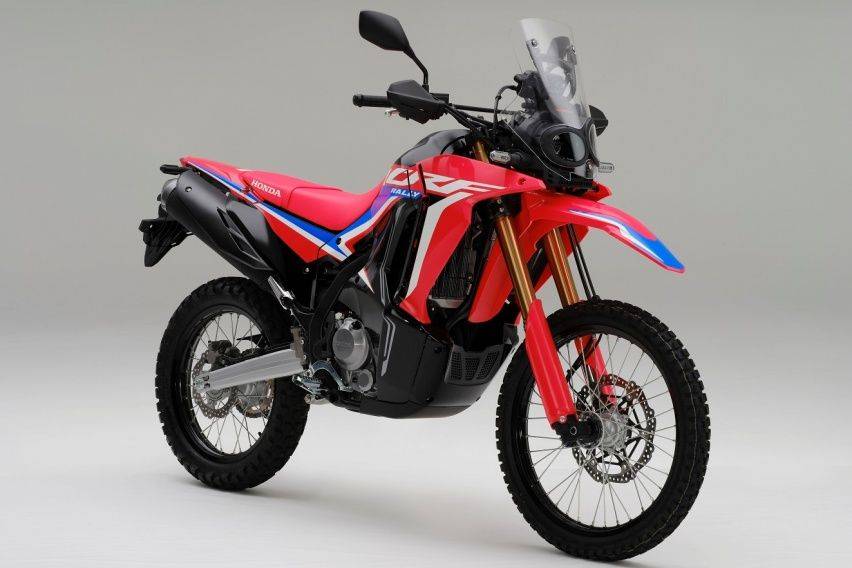 CRF250 Rally

Power and torque is greater than its predecessor. If previously it had 24.7 hp of power and 22.6 Nm of torque, now the maximum power produced reaches 25.6 hp at 8,500 rpm and 23.1 Nm of torque at 6,500 rpm.
The semi-double cradle frame design and exhaust cover and singwarm use the latest model, the load is reduced by 3 kg. Now the dry weight is only 152 Kg. The fuel tank can now hold 12.8 liters.

Front suspension uses up side down measuring 43 mm, and swing arms made of aluminum, with Pro-Link Single Shock suspension at the rear. Both front and rear use Showa alerts.
This model comes with aluminum rims in Alumite black color. Measuring 21 inches in front and 18 inches behind. Wrapped with dual purpose tires (80/100 front and 120/80 rear. Braking is equipped with Floating Wave Disk type discs with a diameter of 256 mm and two piston calipers mounted on the front wheels. And the rear is 220 mm in diameter and has one piston caliper.
Forza 250

Astra Honda Motor (AHM) gave a refresh to Forza early last year. The gambot scooter gets an update in the runway and display sectors. The imported scooter or Completely Build-Up (CBU) from Thailand is now marketed at a price of Rp. 90.313 million On The Road (OTR) Jakarta. Comes with four exclusive color choices, namely Pearl Horizon White, Indy Gray Metallic, Mat Gunpowder Black Metallic and Candy Rosy Red.

The body shape of the 2021 Honda Forza 250 is getting sharper. Seen on several sides, the front and back. Although given a new touch, this premium scooter still presents a comfortable sitting position. The terraced model seats are able to spoil the user and the pillion.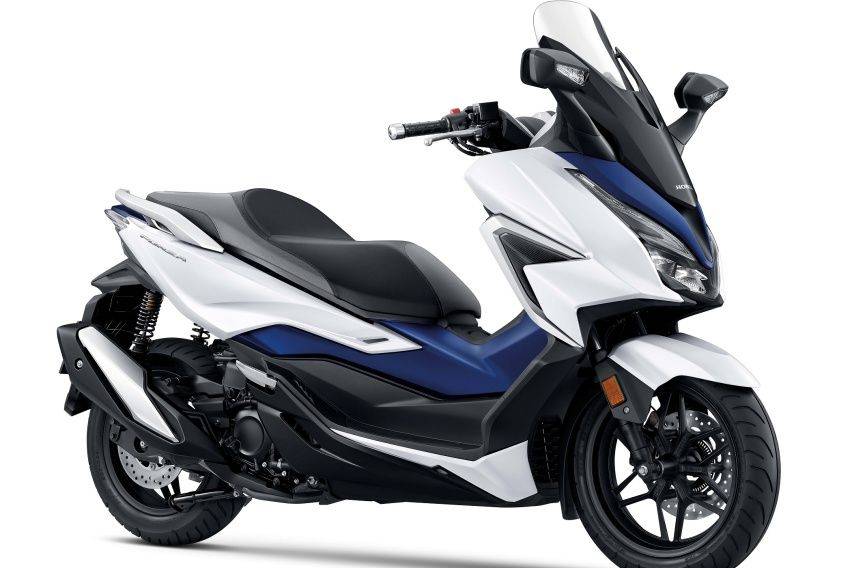 The latest winker design on the mirrors also strengthens the impression of exclusivity. If the previous model was in the form of a long box, now it has a sharp shape. Then the electrical adjustable windscreen as a windscreen height regulator was updated. The latest model has a higher adjustment distance of about 40mm.
The muffler cover design uses a new version, has a sharper line pull. If you look at it in more detail, the radiator components are also slightly more advanced in line with the fuel tank.

All lighting systems have adopted LED technology, both in front and behind. Honda Forza has been equipped with the ESS (Emergency Stop Signal) feature. Then it is equipped with supporting features for passing lamps and hazard lights for emergencies. As well as having an extra large U-box size, it can store 2 helmets and other luggage.

This model has been equipped with a console box with a USB Charger on the front. The power-enhancing device is a USB model, just plug in the smartphone's default charger cable without the need for additional connectors. The position can be closed, so it is safer.

The latest Honda Forza 250 gets a new technology, namely, eSP+. (enhanced Smart Power+). Still carrying the 249.01 cc engine, SOHC, one cylinder, liquid cooled. This mechanical heart is equipped with fuel injection technology (PGM-FI). Performance on paper is capable of spraying a peak torque of 24 Nm at 6,250 rpm and a maximum power of 23.5 hp at 7,750 rpm. Equivalent CVT transmission system. Gasoline tank capacity of 11.5 liters.

Various other advanced features are maintained. Among them is the Honda Smart Key System which is integrated with an anti-theft alarm and Answer Back System. Then there is the combination digital panel meter. Has complete information such as the Honda Selectable Torque Control (HSTC) indicator as a motorcycle traction controller that functions to prevent tire slippage, maintenance indicators, trip meters, fuel consumption indicators, speed and RPM.

This model uses tubeless tires measuring 120/70 - 15 M/C for the front tires and 140/70 - 14 M/C for the rear. Meanwhile, in terms of braking, this large scooter is equipped with front and rear discs that use a 2 Channel ABS system.
monkey

The Honda Monkey has been marketed in Indonesia since mid-2019. At that time, Astra Honda Motor (AHM) priced this tiny motorbike at a price of Rp. 65 million. Now three years later, the price has reached IDR 82.533 million OTR DKI Jakarta. This iconic motorcycle, which is still fully imported (CBU) from Thailand, has three color choices. Consists of Banana Yellow, Pearl Nebula Red and Pearl Shining Black.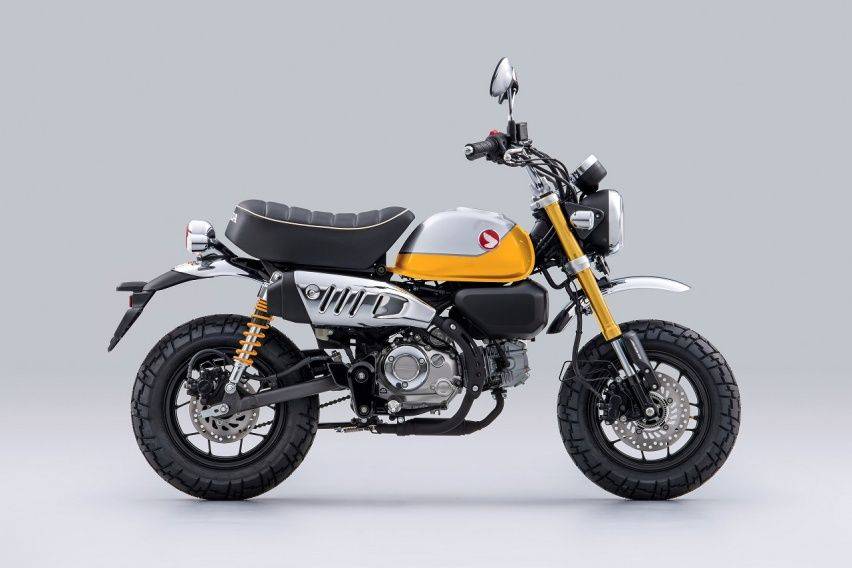 He last received an update in mid 2021. The refresh includes the appearance and improvement of the engine side. Even so, the form remains the same. Still compact dimensions and light weight.

In terms of appearance, the Honda Monkey appears with the latest stripe color. Coupled with color changes to the frame and rim. If the old model used the concept of a framework similar to the color of the tank paint, now it's all black. Likewise on both wheels.

Apart from the refresh, everything is still the same. The classic design is still his trademark. Seen from the chrome color in some parts of the motor. It's on the front and rear fenders, exhaust covers, lamp covers, speedometer covers, right engine covers, round mirrors to high-positioned handlebars.

The latest Honda Monkey power support is equipped with a horizontal 5-speed SOHC, 125cc engine and is still supported by PGM-FI technology. This air-cooled mechanical heart gets an update on its diameter and stride length. Previously it was 52.4 x 57.9, now it is 50 x 63.1. The character is overstroke, so it is able to issue a large amount of power and torque at low and medium RPM.

When referring to the specifications released in Europe, it is noted that he is capable of producing 9.2 hp of power at 6,750 rpm and a maximum torque of 11 Nm at 5,500 rpm. The compression ratio also increases, when the old model 9.3:1 is now 10:1.

Not completely classic nuances, this bike has embraced modern elements. It can be seen in the lighting system which has adopted LED technology. Above the main lighting, there is a round full LCD digital meter panel. Just like other Honda superior products, it also uses the answer back system technology. Then the key is given a wave pattern with the Old Wing logo motif.

The upside down front suspension matches the color of the body. The rear uses dual suspension, resulting in the appropriate balance and flexibility.

In terms of safety, the Honda Monkey has used single-channel ABS in its braking system with an Inertial Measurement Unit (IMU) to prevent the rear tire from lifting during sudden braking. The 12-inch diameter tires with block patterns give a dashing impression. The pleasure of driving with it is supported by 120/80 front tires and 130/80 rear tires.

Supercub C125

Honda Super Cub C125 is an imported product from Thailand. In other words, the status of this motor is an external assembly or CBU (Completely Build-Up). For the first time on the floor at GIIAS 2018, it was initially marketed at a price of Rp. 55 million. However, he is currently being sold for Rp. 76.689 million OTR DKI Jakarta. He was asked to be the most expensive duck in Indonesia.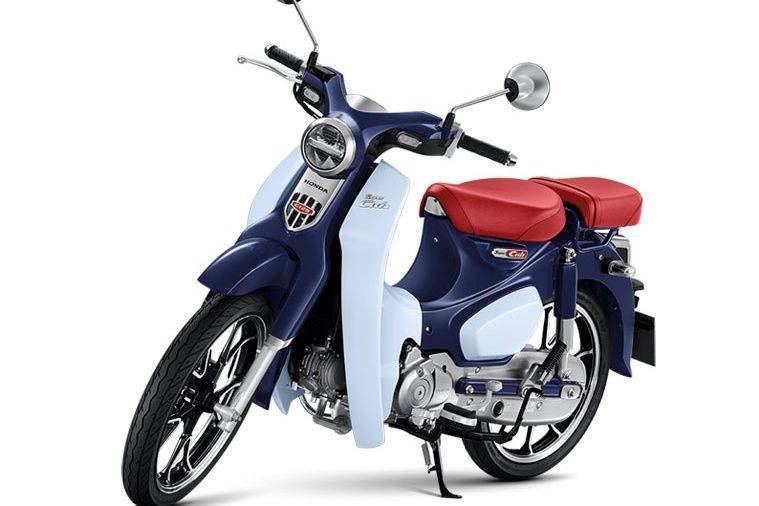 In the middle of last year, he got a refresher. It gets a new touch in terms of features and engines. From the display sector, there are differences with the previous model. Now there are rear seats and have a new all-black color. The new color is called Matte Axis Gray Metallic and uses seats wrapped in red color. Similar to the Pearl Niltava Blue version. While Pearl Nebula Red remains with an ash shell.
The mechanical heart of the Honda Super Cub C125 is also embedded with new components. But the specifications remain the same, single cylinder 125 cc SOHC, 4 stroke, air cooled with two valves. Bore x stroke size changes. Previously it was 52.4 mm x 57.9 mm, now it is 50 x 63.1 mm. Compression ratio increased to 10:1 before 9.3:1. The fuel induction still carries the PGM-FI (Programmed Fuel Injection) injection technology.

Apart from the addition of rear seats and passenger footrests, other appearances have not changed. Still carrying the premium retro design. The original is still maintained such as the round headlight design, the elongated exhaust model, with a separate design seat model, leg protectors, metal rear fenders, and is supported by reliable performance and various premium features behind its unique appearance.

The entire lighting system is LED technology. Panel Meter adopts a combination of analog and digital. Another premium and modern feature that is embedded is the Smart Key System. And already integrated with Answer Back System.

The Super Cub C125 is based on a tubular steel C110 'Backbone' frame. Equipped with a Toolbox on the right side, which allows riders to store their luggage in a minimalist form. Pinned telescopic front suspension and twin rear suspension (swing arm).

The wheels are made of aluminum with an elegant 17-inch diameter. Both wheels are wrapped with tubeless tires measuring 70/90 and 80/90, respectively. Braking is equipped with a disc brake system at the front and drum at the rear.
CT125

Astra Honda Motor officially launched the CT125 in August 2020. It is a type of moped. The price offered is quite fantastic for a duck class. It was first released at IDR 76.8 million, now IDR 77.565 million OTR Jakarta. It is imported as a whole, aka Completely Built Up (CBU) from Thailand. Comes with a choice of colors, namely Glowing Red.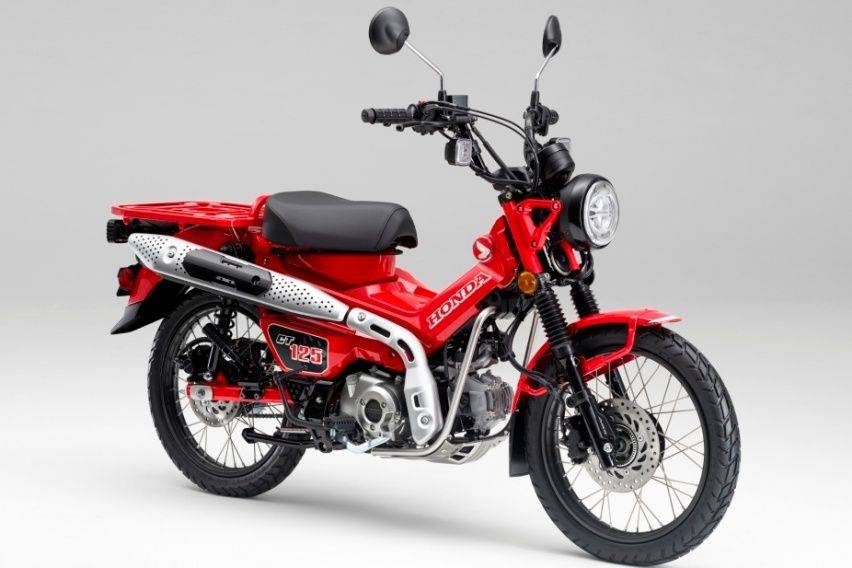 This moped is included in the Honda CT-series family that has existed since 1964. Historically it is known as a light offroad moped. You could say, CT aka Trail Cub is an offroad version of the Honda Super Cub.

His distinctive features are a compact body, dual purpose tires, and a scrambler motorcycle exhaust. The seats use a single seat model and there is an iron shelf with the Trail Hunter logo on the back.

The headlights carry the classic round model, just like its predecessor. The turn signal is box-shaped and sticks under the handlebar. Underneath are the front fenders made of iron, further strengthening the tough look of this model.

Although he looks classic, he has embedded modern elements. All lighting sectors have LED technology. The headlights are round with an aesthetic circular DRL. Then the full-digital panel meter with a round and compact design.

The driving position is quite comfortable thanks to the high and wide handlebars with naked models. In addition, the placement of the intake air duct is positioned high to reduce the entry of dust. The exhaust is also designed in a scrambler model. In order to reduce the heat on the feet, from the neck to the back wrapped with a cover. To protect the engine, mounted iron on both sides and the bottom skid plate.

Specifications Honda CT125 Hunter Cub is still identical to the Super Cub 125, because it uses the same base engine. Equipped with a 125 cc engine, 1-cylinder, SOHC, PGM-FI injection, 4 stroke and air cooled. This bike has a bore and stroke of 52.4 x 57.9 mm with a compression ratio of 9.3:1. It is noted that the kitchen spur is capable of blowing power of 8.7 hp at 7,000 rpm with a maximum torque of 11 Nm at 4,500 rpm.

Because it was created to traverse all areas of road conditions, that's why the manufacturer gave it a kick starter. He uses a rigid and lightweight frame. The fuel tank has a capacity of 5.3 liters. The gasoline reservoir is perfectly wrapped behind the driver's seat, so that it is kept away from water if it hits a flood.

Telescopic front suspension with top and bottom triangle models. the playing distance is 10 mm, which is higher than other mopeds. Equipped with a dustproof rubber cover in the style of a dirt bike. The rear adopts dual shocks.

Use rims with a radius of 17 inches in diameter with semi dual purpose tires. The front and rear round rubber are given the same size, namely 80/90. And the braking system for both wheels already uses discs.