Yamaha Indonesia provides an opportunity for the wider community who want to get a free Yamaha Fazzio through the Fazzio Festival event. This event itself takes place in five (5) cities, including Semarang, Bali, Kediri, Jakarta, and Bandung, from May to June 2022.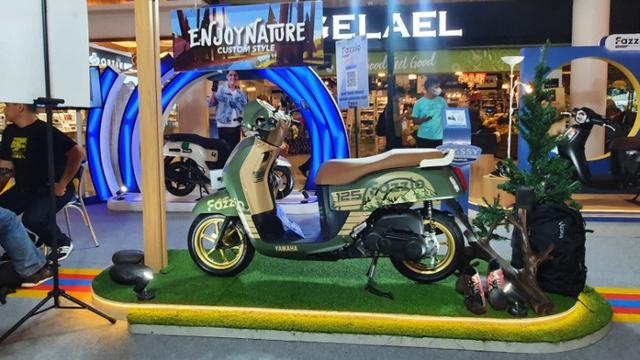 "We provide a variety of attractive prizes such as 5 units of Yamaha Fazzio Hybrid-Connected (for 5 areas where the Fazzio Festival is held) and prizes with a total of tens of millions of rupiah for all Indonesian people who visit the Fazzio Festival," said Antonius Widiantoro, Public Relations Manager of PT Yamaha. Indonesia Motor Manufacturing (YIMM) in its official statement.

Semarang is the opening city for the Fazzio Festival. The event will run from 12 to 18 May 2022 at Ciputra Mall Semarang.

According to Zaldiansyah Perdana, Promotion Coordinator of PT YIMM DDS 3 Central Java-DIY, the way to get a free Yamaha Fazzio is very easy. Just take a photo and upload it on social media.

"So taking and uploading photos applies to all levels of society. Just come and take photos at the Yamaha Fazio booth at our event, the Yamaha Fazio Festival at Mall Ciputra Semarang, May 12-18, 2022," explained the man who is familiarly called Zaldy.

To participate in this activity there is a mechanism that must be followed. First, visitors must visit the FAZZIO booth during the Fazzio Festival exhibition.

Then, visitors create the most interesting and creative photo content according to their respective styles.

After that, upload a photo on Instagram Feed by including the hashtag ColorUp City (eg #ColorUpSemarang) #ClassyYamaha #YamahaFAZZIO, Follow and tag Instagram @yamahaindonesia, and Tag 3 friends in the photo.

In addition, make an interesting caption maybe as an answer "Why I love FAZZIO" / "Why I love Fazzio".

According to Zaldy, the next procedure is, after uploading, participants scan the QR Code to complete the competition registration or via the BIT.LY/LOMBAFAZZIOFESTIVAL link.