PT Hyundai Motor Manufacturing (HMMI) views the important role of suppliers in terms of maintaining the quality of products made in Indonesia. The South Korean manufacturer held an R&D Level Up Training which was a continuation of the Indonesian Supplier R&D Improvement Program which had been held since 2021.
This program is part of Hyundai Motor's contribution to further improve the quality of human resources from local supplier partners who supply Hyundai vehicle components. After going through the basic training stages in 2021 which are part of the selection process, this year's advanced training program will involve more than 80 participants from 20 suppliers, this program will be held from May to December 2022 at Hyundai Motor's Mobility Innovation Center.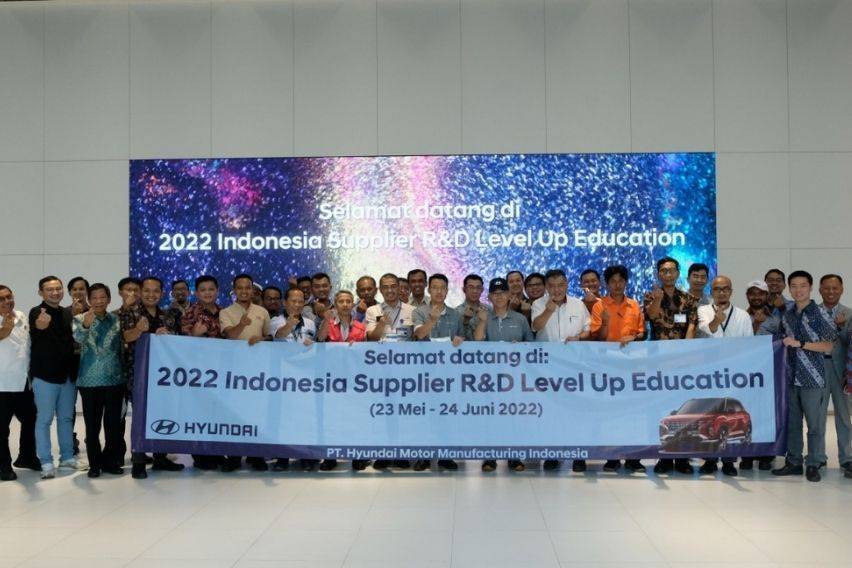 "Hyundai Motor has always been committed to growing with our local supplier partners, and at the same time, making a significant contribution to Indonesia to further strengthen its human resources. We are happy to see how the knowledge that we present meets the needs of our partners, especially in supporting joint efforts to build future mobility which has always been the focus of Hyundai," said Yoon Seok Choi, President Director of PT HMMI in his statement, Wednesday (25/5). /2022).
In the early stages of last year's program, participants had learned basic R&D knowledge to build their understanding of Hyundai vehicle manufacturing processes, manufacturing standards or requirements for local partners, and several other production sciences. The participants participated enthusiastically and gave positive results. The majority of participants made requests to gain more complete knowledge. Including workshops that show field practice. The local supplier knowledge score even increased significantly in this training, from 2.7 to 7.1 points.

"Indonesia is an extraordinary country that has the greatest assets to develop further, those assets are people who have the potential and intelligence to think. I witnessed this fact firsthand while leading this training session. We hope to see local suppliers participating in this program apply their new skills and knowledge, then take the quality of the products they make to a higher level," said Arief Tri Wahyudi, R&D Manager of Hyundai Motor Manufacturing Indonesia.
Hyundai Motor then continues this program through R&D Level Up Training where basic R&D knowledge from selected local suppliers will be retrained. In addition, suppliers are provided with advanced knowledge regarding GD&T (geometric dimension & tolerance). It is a system that helps engineers and manufacturers optimally control variations in the manufacturing process, as well as study the material testing process.

In addition to the Indonesian Supplier R&D Improvement Program, Hyundai also organizes regular Automobile Technology Training & Internship programs. This program opens up opportunities for vocational students in Bekasi to receive automotive technology training and provides an internship opportunity for six months.