BMW Motorrad launches M 1000 RR 50 Year M Anniversary Edition. This limited production unit is wrapped in a complete package. One of them offers the M Competition Package. To give a special impression, this superbike appears in Sao Paulo Yellow color and is affixed with the historic 50 Years BMW M emblem.
Shown in striking colours, this anniversary model fits the M philosophy. Coming with the racing spirit of nearly 100 years of motorcycle construction by BMW Motorrad and 50 years of BMW M vehicles. Therefore, the M 1000 RR 50 Years M comes with the M Package 50 Years optional.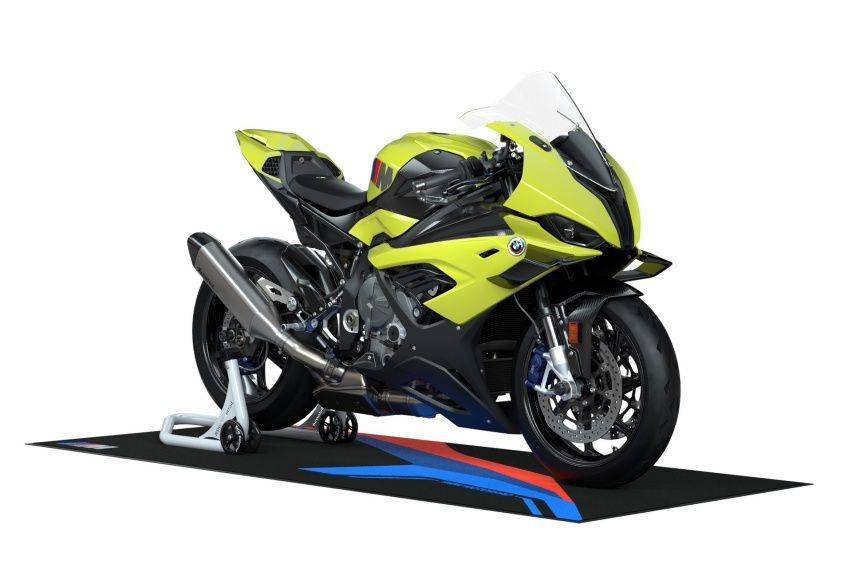 Packages offered in this special edition include an M 50th Anniversary badge, M GPS lap time trigger software, rear seat cover and passenger kit, a lighter silver anodized aluminum swingarm and a maintenance-free DLC-coated M Endurance chain.
The optional package also includes aluminum and carbon parts which are given with the M logo. For M Billet the kit consists of billet aluminum engine guard, folding brake and clutch lever, adjustable M rider footrest, front brake lever guard. Medium Carbon M Package includes carbon front and rear fenders, top fairing side panels, left and right carbon tank covers, carbon chain guards and sprocket covers.

The base price for the M 1000 RR is $32,495 (Rp476 million). If you take the optional 50-year M package, there will be an additional cost of around $4,500 (Rp66 million). Or in total this special unit is sold for $36,995 (Rp542 million). For your information, the M 1000 RR that has been sold in Indonesia costs up to Rp. 1.6 billion off the road.
Specifications of M 1000 RR

Since it only includes an anniversary edition display, the specs are still the same as the regular version. The BMW M 1000 RR is equipped with a parallel four-cylinder engine with a capacity of 999 cc, DOHC, liquid-cooled with an enhanced fuel injection system. And combined with BMW ShiftCam technology.

Its configuration to vary the valve opening and closing times has been modified comprehensively towards a racing sport machine. Its power output reaches 212 hp at 14,500 rpm with a peak torque of 113 Nm at 11,000 rpm, plus a maximum speed of up to 15,100 rpm. It does 0 to 62 mph (100 km/h) in 3.1 seconds and peaks at 190 mph (306 km/h).
In addition, the manufacturer also added a winglet at the front which gives a racing accent. Mounted on each side of the fairing and designed to help keep the front of the bike low during acceleration. It also allows the driver to use the full throttle without having to worry about wheeling.

According to BMW, the installed winglets have been tested on the race track and in the wind tunnel. Made of carbon fiber, this component clearly produces qualified aerodynamics to obtain faster lap times.

Another secret of the M 1000 RR why it can go fast is because there is a reduction in weight. It weighs only 192 kg or 5 kg lighter than the S 1000 RR. The weight reduction is due to the 3.7 kg lighter exhaust system. Carbon 'M' rims which are also 1.7 kg lighter than the normal aluminum ones. Using a 17-inch racing ring model wrapped in 120/70 tires at the front and 200/55 rear.
For speed stoppers rely on Nissin products, but redeveloped by the M division to be able to provide maximum braking stability and control capabilities, on the road and on the race track. Front uses lighter radial calipers with thicker dual discs than the standard RR. In general, the disc clamp has a blue anodized coating combined with the M logo.
A range of driving modes are also provided, the same as the S 1000 RR. There is Rain, Road, Dynamic, Race. But there is an improvement for it, namely the Race Pro setting (Race Pro 1-3). It also gets the highest specification features from BMW, such as the latest generation Dynamic Traction Control (DTC), quickshifter down shift and DTC wheelie function with a 6-axle sensor box.

Existing wheelie controls can be carefully adjusted in 'Race Pro' mode. From there, there are also three additional brake settings. Interestingly, he was also given a launch for a perfect race start and a Pit-Lane-Limiter for precision speed on the pit track. And Hill Start Control Pro for easy start on mountain slopes.

As a complement, the information system on this motorbike is displayed through a 6.5-inch TFT screen. A more comprehensive data presentation can be displayed using an optional package that offers the use of an M GPS laptrigger and an M GPS data logger (Original BMW Motorrad Accessories) via the instrument cluster's OBD interface.
M . history

If you are not familiar with BMW's history, in 1972 BMW Motorsport GmbH was founded as BMW's official motorsport division. With the idea of bringing all of BMW's motorsport activities together under one roof and building high-performance racing vehicles, including motorcycle racing. The BMW 3.0 CSL (Coupe Sport Light Construction) debuted as BMW Motorsport GmbH's first race car in 1973
The BMW 3.0 CSL made its debut at the European Touring Car Championship in the 1973 season. At that time, BMW Motorsport's three-color scheme of blue, purple and red was used against a snow-white background which is still defining to this day. Then the updated version is Blue - Dark Blue - Red which determines the appearance of the BMW M logo and BMW M vehicles to date.

The legendary color scheme can also be found on the first BMW M vehicles developed for the road in the second half of the 1970s. That color also characterizes the upcoming racing vehicles and their motorsport success. For example, in 1978 the M1 super sports car and beyond, until the Formula 1 race car driven by Nelson Piquet won the Formula 1 World Championship in 1983. BMW also tasted off-road success in the 1980s at the Paris-Dakar rally.
Not only in the world of racing cars, BMW's incredible success and innovation also comes from motorsport. Even in the first decade of the company's history, BMW and motorsport were associated with such unforgettable names as Ernst Jakob Henne and Georg "Schorsch" Meier.

The legendary "Schorsch" Meier victory in his supercharged BMW in the 1939 Senior Tourist Cup on the Isle of Man is unforgettable. 75 years after "Schorsch" Meier's success in the Senior TT, Michael Dunlop is back to success in 2014 with the BMW S 1000 RR. And in the years that followed, RR left its mark on the Tourist Trophy with further victories. It is this historic racing heritage that BMW is celebrating with the 50 Years of the M Package M 1000 RR.