Electric vehicle (EV) startup company from the United States (US) Rivian will conduct an initial public offering (IPO) on the Nasdaq Exchange on Wednesday (11/10/2021) US time.

In this IPO, Rivian issued 135 million shares at a price of US$ 78/share or equivalent to Rp. 1.11 million (assuming an exchange rate of Rp. 14,200/US$). This figure is above the company's previous target range, which is in the range of US$ 72 - US$ 74 per share.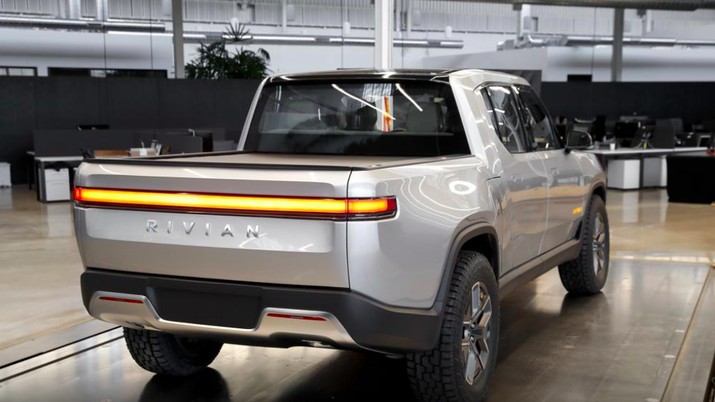 Thus, a source told Reuters, the electric pickup maker, backed by Amazon and Ford, will raise a fairly large IPO fund, which is around US $ 10.5 billion or equivalent to Rp. 149.10 trillion.
After this IPO, Rivian's valuation will reach US$ 66.5 billion or Rp 944.30 trillion. This value exceeds Honda Motor's market cap of US$ 49.29 billion, as of Tuesday's US trading.
Then, Rivian's valuation is also close to the market capitalization of the investor, Ford Motor (FM), which reached US$ 80.40 billion and General Motors (GM) market cap of US$ 85.11 billion.

Indeed, when compared to Elon Musk's electric car company, Tesla, Rivian's market capitalization value is still far below. Currently, Tesla's market cap value reaches US $ 1.03 trillion.

Based on the company's IPO prospectus, the underwriters in Rivian's IPO are Morgan Stanley, Goldman Sachs Group Inc. and JPMorgan Chase & Co., along with more than 20 other banks.
Like other electric vehicle companies, Rivian still recorded a relatively large loss because it required large costs to set up and run a production line and still had minimal sales.

Referring to the prospectus data, in the first half of this year, the company posted a net loss of US$ 994 million, compared to a net loss of US$ 377 million in the same period last year. Meanwhile, in 2020, Rivian bore a net loss of $1.02 billion.
Meanwhile, according to New York Times records on November 1, 2021, Tesla also experienced a loss of US $ 56 million in 2009 before going public in mid-2010. It was only in 2020 that Tesla made its first full year profit.

The EV market is indeed experiencing a surge in global demand, as consumers are becoming more and more environmentally conscious and are starting to switch to eco-friendly vehicles. Tesla produced a record number of cars in the last quarter and is building factories around the world.
Earlier, Tesla shipped 241,300 cars in the third quarter, beating the median forecast for shipments of 223,677 cars from 12 analysts surveyed by Bloomberg and also beating the forecast for the average 221,952 cars Tesla shipped to investors.

Just so you know, Rivian, which was founded in 2009 ago, just managed to bring the R1T electric pickup to the consumer market last September.
Based on prospectus data, as of October 31, 2021, Rivian had approximately 55,400 preorders for R1T pickups and R1S SUVs in the US and Canada from customers who each paid a fully refundable and cancelable deposit of US$1,000.

One of Rivian's major shareholders, e-commerce giant Amazon recently revealed, has ordered 100,000 Rivian EV vans as part of efforts to reduce its carbon footprint.
According to New York Times records, Rivian secured more than $10 billion in investments from Amazon, Ford Motor and several Wall Street companies.

In the IPO prospectus, Amazon is noted to have invested US$1.35 billion into Rivian through investment in shares and US$490 million by buying debt securities which were sold last July. Meanwhile, Ford's investment amounted to US$1.24 billion, while T. Rowe Price, a mutual fund company, has invested US$2.6 billion.
Furthermore, according to the prospectus explanation, Amazon held 22.4% of the company's total shares before the IPO or 17.3% after the IPO. Then, Ford Motor holds 11.1% after the IPO.

Meanwhile, the share portion of certain funds and accounts managed by T. Rowe Price Associates reached 14.5%. In addition, Global Oryx Company Limited and Manheim Investments, Inc., hold 12.2% and 4.3% respectively after the IPO.