Prestige Aviation as a distributor of pilotless drone taxis, Ehang 216 in Indonesia, has officially placed an order with EHang Global in China. Interestingly, of the 100 units ordered by Prestige Aviation, ten of them have been ordered directly by Black Stone Cargo Airlines, a freight forwarding service owned by the Chairman of the Indonesian People's Consultative Assembly who also serves as Chairman of IMI (Indonesian Motor Association), Bambang Soesatyo.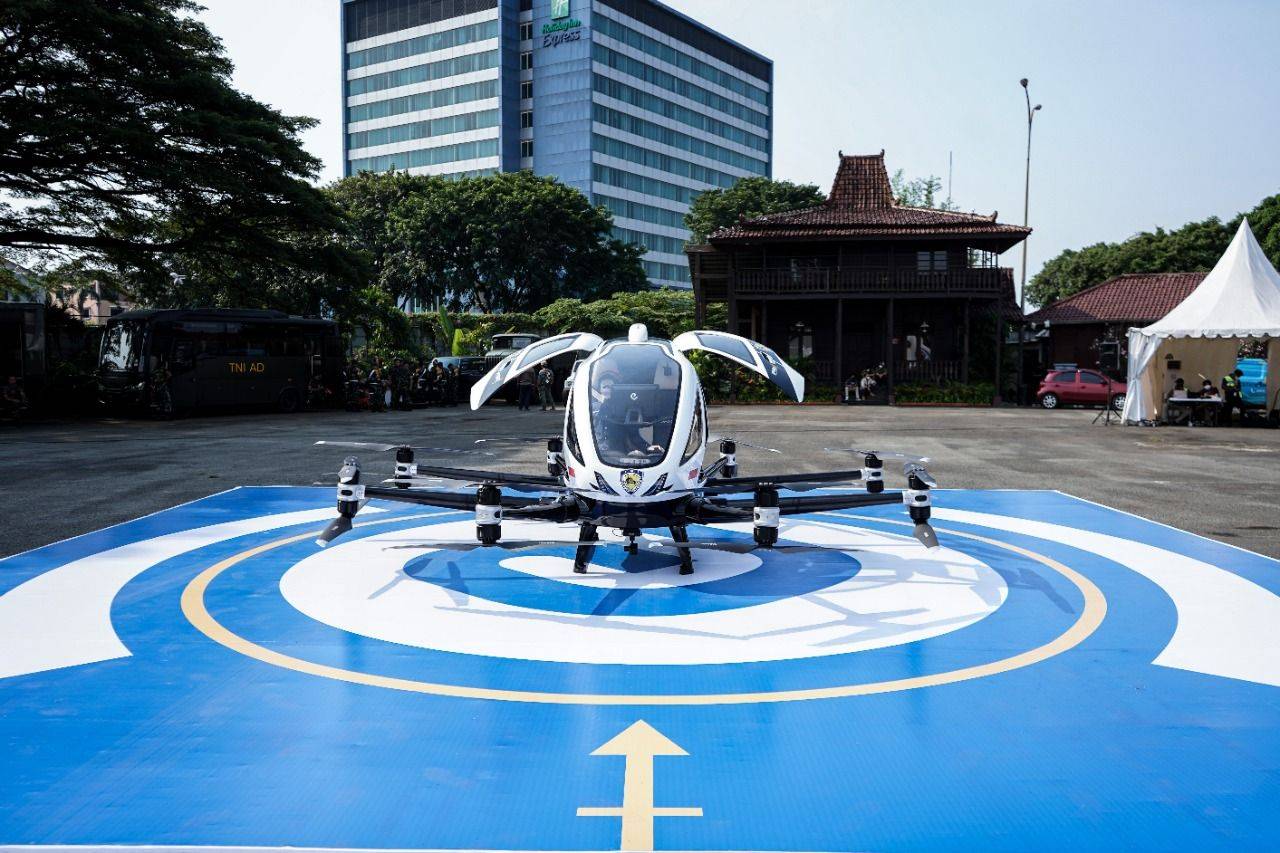 The moment of signing the pre-order agreement for 100 units of EHang 216 was held at the Indonesia International Motor Show (IIMS) Hybrid 2022 automotive exhibition today, Saturday (9/4). Also in attendance were Bambang Soesatyo, EHang global leaders, and of course Black Stone Cargo Airlines.

Executive Chairman of Prestige Aviation, Rudy Salim hopes that the presence of the EHang 216 drone taxi in Indonesia can meet the needs of domestic air transportation. On the other hand, its presence can also be a solution to the problem of congestion and air pollution because this drone taxi is electric.
"As we know, Indonesia is an archipelagic country. The existence of air transportation that facilitates inter-island mobility will help the economic growth of each region, especially since the costs incurred are relatively cheap compared to traveling by land. A new era of air mobility has begun, congratulations come in the future, said Rudy at JIExpo, Kemayoran, Central Jakarta, Friday (9/4).

Of the 10 units ordered by Black Stone EHang 216, all units are variants that are specifically for transporting goods only. As explained by the President Director of RGA-Black Stone Airline, Zack Isaak later this drone taxi will be used in the Jakarta area to remote eastern Papua.

"The unit will arrive in July (2022), later we will also do a test flight. From there we will be able to make other plans, maybe drop off cargo to remote places," said Zack.
EHang 216 Specifications and Sophistication

The EHang 216 itself is categorized as an Autonomous Aerial Vehicle (AAV), with a vertical take-off landing (VTOL) like a helicopter. This drone has dimensions of 1.77 m high and 5.61 m wide.

This autonomous air courier is equipped with 16 propellers and 8 foldable arms. Because it has a small cabin structure, the EHang 216 is able to carry two passengers or is able to carry goods up to a capacity of 260 kg.

The security sector is also fairly advanced, at the front it is equipped with landing lights. Furthermore, this taxi is equipped with a full back up system and a fail-safe system in case of system failure.
EHang 216 is equipped with 16 electric motors which are directly connected to 16 propellers. It uses a battery with a capacity of 17 kW and is claimed to be able to fly at a speed of 150 kph.

The ability to fly for an hour and a half with a maximum flight distance of 70 km, but it all depends on the weight it carries. The flight system is autonomous using a flight control system, a smart navigation system and an integrated GPS (Global Positioning System).

In addition, this drone taxi is also embedded with a visual computer system to ensure safe and accurate flights and landings. Later, passengers can monitor the flight path and several other options on the tablet that has been provided.