The New Mazda CX-5 has officially been paved on April 1, 2022. In just over two weeks, this new model is claimed to have pocketed the sales of 857 units. By carrying out the Skyactiv-Vehicle Architecture as well as various security features incorporated in the i-Activsense, this new model steadily continues to steal the attention of consumers.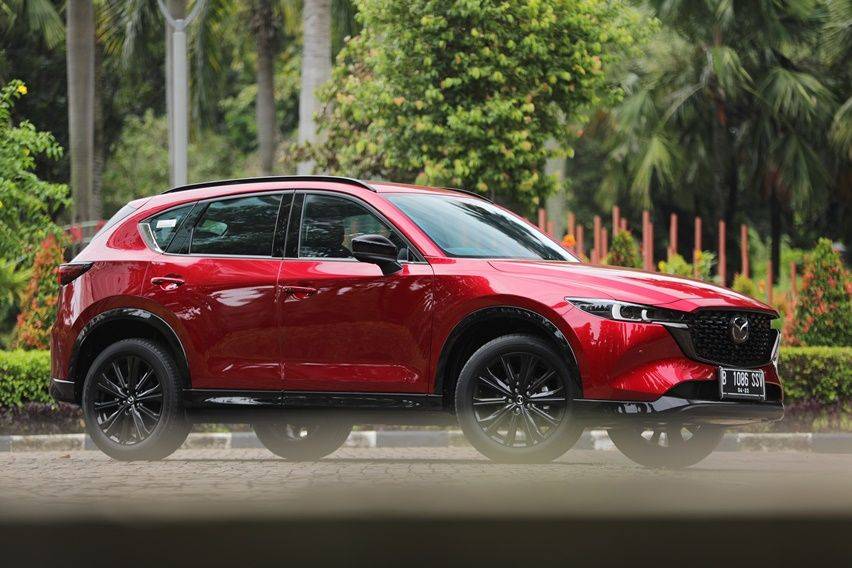 Ricky Thio, Managing Director of PT Eurokars Motor Indonesia, expressed his appreciation. According to him enthusiasm for the new CX-5 is very good. So orders always come in every day. "Thank you for the enthusiasm and positive response of the Indonesian people. Especially Mazda lovers, for The New Mazda CX-5 which we released on April 1, 2022. We see this almost every day there are always requests from customers. Especially for The New CX-5 unit," explained Ricky in an official statement.
We believe and believe this product can be the right choice for premium SUV lovers in Indonesia. Not only want to look classy, but also want a sense of security and comfort when driving," he added.
The first selling point of the new CX-5 is its performance. The heart of the CX-5 uses Skyactiv-G 4-cylinder 2.5-liter DOHC 16 valve. The power cut is 190 PS at 6,000 rpm and 252 Nm of torque at 4,000 rpm. This engine has advanced technology, not owned by classmates. Users benefit from Cylinder Deactivation. He is able to turn off two engine cylinders while driving constant. The main goal is to increase fuel efficiency. All power is channeled to the front wheels (FWD) via a 6-speed Skyactiv-Drive automatic transmission.
Then another attraction comes from the provision of New CX-5 features. Starting from the glow, adopting the Adaptive LED Headlamp. The package is quite a lot, consisting of 20 Matrix LED Hi-beam Headlight (ALH), Low-beam Headlight, Highway Mode, Wide Range Low-beam (ALH) and Daytime Running Light. Then opening the trunk door is even easier thanks to the Hands-free Electric Tailgate. Just swing your legs under the rear bumper. Then the sensor reads the movement, automatically opens the door.
Entry into the cabin is made easy by Smart Keyless Entry. Naturally the driver's seat adjustment is electrically with memory. Several new features make it even easier. Like the Wireless Smartphone Charger and there is a USB port on the rear seat armrest. Fixed 8-inch monitor screen with smartphone integration function. Also supported by premium ear pampers, BOSE alerts with 10 speakers.
The feature set in i-Activsense is also getting more complete. Now the New CX-5 is equipped with MRCC (Mazda Radar Cruise Control) or well-known as adaptive cruise control. If you want to relax on the highway, you don't need to press the gas and brake pedals again. The car can follow the vehicle in front automatically and maintain a set distance. There is also a Lane Departure Warning System (LDWS) and Lane-keep Assist System (LAS) so as not to change lanes carelessly. In addition to sounding a warning sound, the steering wheel will vibrate and move to return the position. If you are interested, the Elite variant is released for Rp. 597.7 million and the Kuro Edition is Rp. 607.7 million