The arrival of the Yamaha E01 in Indonesia apparently made PT Astra Honda Motor (AHM) a little nervous. They informed the strategic plan that in 2024 they will launch electrical products that can be purchased retail by consumers.
Honda is one of the motorcycle manufacturers that started the era of electrified vehicles in Indonesia. They launched the PCX Electric model in 2019, but unfortunately until now the commercial scheme of the product is still B2B rental.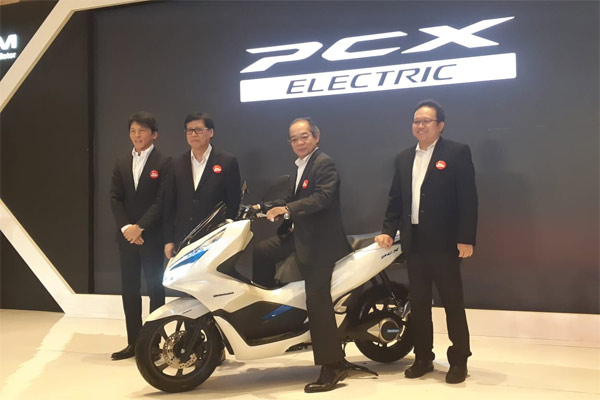 The Marketing Director of PT AHM, Thomas Wijaya, explained that the launch of electric motorcycles in 2024 will be adjusted to the infrastructure, security elements, and the needs of consumers. Even so, he is not yet willing to inform what model will be released.

"We hope that in 2024 we will be able to find a model that is suitable for the Indonesian people. Both in terms of use, infrastructure, safety, comfort, including performance. We will continue to see how the conditions are with consumer needs. Including making adjustments to later be able to launch or present the model new ones that are in accordance with the conditions of society," said Thomas in a virtual discussion with the media, recently.
Electric Honda Study Disrupted

Regarding PCX Electric, continued Thomas, so far the company has no plans to sell retail to the public. The reason is related to unfinished studies and research due to being hampered by the COVID-19 pandemic.
"We are still continuing to do that study (PCX Electric), we hope that we can learn many things from the consumer side to swapping or charging the battery. Including how the behavior is in terms of distance traveled and how to ride, speed and whether to use it for single or tandem riding, " he concluded.

He added that currently Honda continues to study various aspects related to electric vehicles and their development, ranging from performance, safety, and people's habits towards electric motorcycles. Currently, electric PCX is being rented in several areas such as Jakarta, Bandung, and Bali and the results from it will be collected to study the chances of being officially sold.
Because it has not been officially sold, the selling price has not been revealed by AHM either. But as an illustration, a few years ago the price of PCX electric leaked in cyberspace. At that time, the information was published on the official website of the DKI Jakarta Motor Vehicle Check, where the price was Rp. 109 million.

Previously, as explained by PT AHM's Product Division, Bayu Arum C, Honda PCX Electric was rented at a price of Rp. 1.9 million per month and the focus was only on the company. With the rental dowry, consumers will get all-in-package services such as unit delivery, batteries, service, and emergency services for 24 hours.
"It's still being rented out for B2B. Meanwhile, it's a new company, Gojek, Grab, Pos Indonesia and in Bandung and Bali are conducting trials with the Ministry of Transportation.

Talking about specifications, PCX Electric is equipped with Lithium-Ion batteries, each of which has a capacity of 50.4 V 20.8 Ahm. The electric dynamo uses 4.2 kW or the equivalent of 5.6 horsepower which can already be enjoyed at lower engine speed, and a peak torque of 18 nm at 500 rpm.

From empty to full charging takes 4 hours in the off board method, or the battery is removed and placed in the Honda Mobile Power Pack. Meanwhile, if you charge it using the on-board method or plug it directly into your home electrical outlet, it can take up to 6 hours.