Enea Bastianini won the inaugural MotoGP 2022 series at the Losail Circuit, Qatar, Sunday (6/3/2022). This victory made the Gresini Racing racer successful in breaking records for himself and the team.
The race started with the Honda rider duo, Pol Espargaro and Marc Marquez immediately stealing the first and second positions when the new start began. The front start filler, namely Pramac Ducati racer, Jorge Martin was not too fast when the red light was extinguished until his position was taken.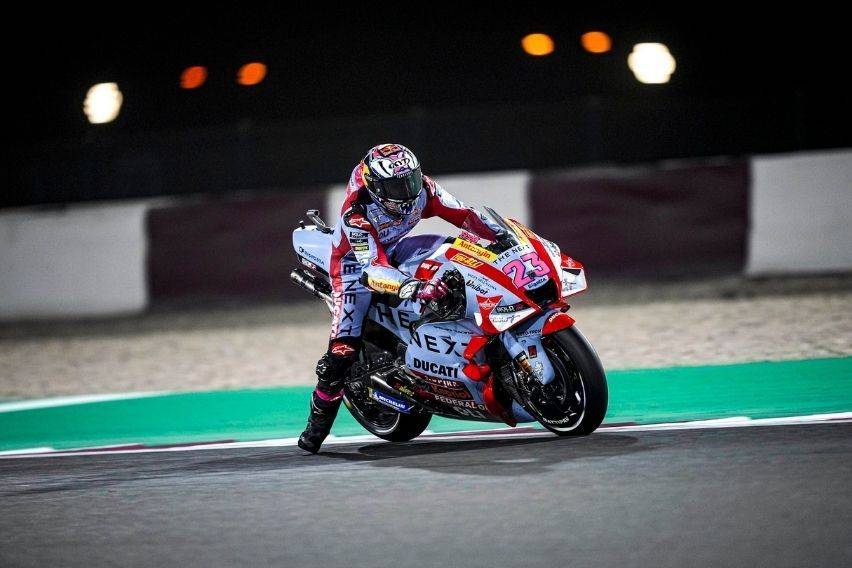 The racers in the leading position namely Pol Espargaro, Marc Marquez, Brad Binder from Red Bull KTM and Enea Bastianini from Gresini Racing drew closer to each other to fight for the leading position. The early laps of the Qatar GP also showed several riders falling. Alex Marquez of LCR Honda, Marco Bezzecchi of Mooney VR46 Ducati and Miguel Oliveira of Red Bull KTM fell and could not continue the race.
Drama ensued between Francesco Bagnaia of the Lenovo Ducati team and Jorge Martin who had to end the race because they bumped into each other and fell. Bagnaia lost grip on the front tire and forced himself to drag Jorge Martin into the gravel.

Espargaro who was in the leading position further widened the distance with the rider behind him. The Spaniard increased the time gap to one second from his closest competitors, namely Binder and Bastianini, who were fighting for second place. Marq Marquez is in fourth place and trying to improve his position.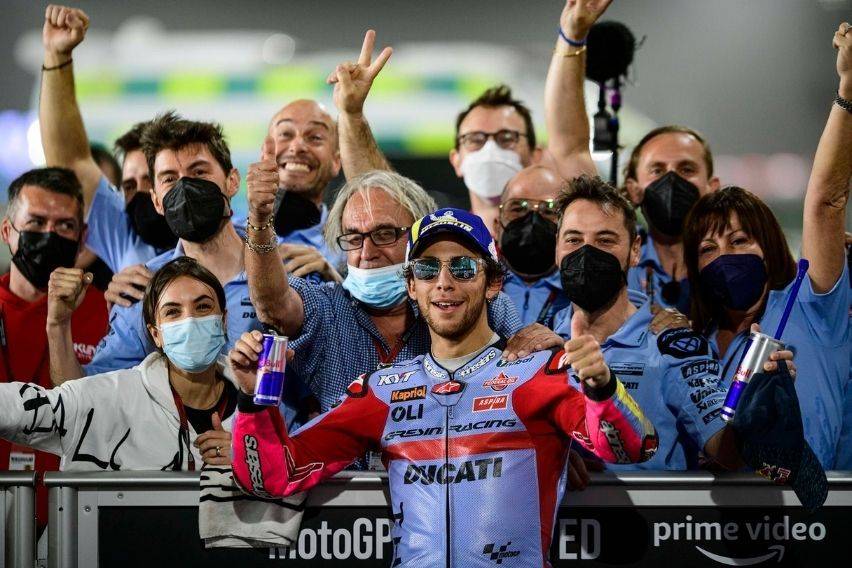 While Marquez was trying to get into the top three, Aleix Espargaro from the Aprilia Racing team managed to get past the Honda rider. This fourth position was obtained by Aleix with a bold maneuver that made the former world champion have to try again to take the leading place.
The surprise then came from the last five laps. Bastianini who shortened the distance with Pol Espargaro's position finally managed to lead the race. The Ducati Desmosedici rider took advantage of the superiority of his motorbike's power to be in the leading position on a straight track in front of the podium. Pol did not stay silent and tried to steal a position at corner one through late braking, unfortunately a miscalculation made him widen out of the track. This opportunity was also taken by Binder to easily get the second position and Pol dropped to the third position.

Bastianini then stepped on the gas and was unstoppable for the last two laps. Binder himself must defend his second position from the invasion of the duo Espargaro in third and fourth position.

Finally, Enea Bastianini became the racer who won the inaugural MotoGP championship in 2022. The man born in 1997 automatically leads the championship standings that have just started. To note, Bastianini's victory in Qatar 2022 was his first in the MotoGP class.
Bastianini's action deserves thumbs up because he managed to beat several more senior racers. This also proves that the Gresini Racing team has just pioneered a new team formula by acting independently. This racing team with the support of various Indonesian brands has shown its professionalism in the world of MotoGP racing even though its founder, Fausto Gresini has left some time ago.

In the second position is occupied by Binder and followed by the duo of brothers Pol and Aleix Espargaro. Marc Marquez had to settle for fifth place followed by the Suzuki racer duo Joan Mir and Alex Rins. The eighth position is occupied by Johan Zarco from Pramac Ducati. The ninth position is the 2021 world champion, Fabio Quartararo from Yamaha and the tenth position is Takaaki Nakagami from the LCR Honda team.

Qatar 2022 MotoGP Race Results

1. Enea Bastianini ITA Gresini Ducati (GP21)

2. Brad Binder RSA Red Bull KTM (RC16)

3. Pol Espargaro SPA Repsol Honda (RC213V)

4. Aleix Espargaro SPA Aprilia Factory (RS-GP)

5. Marc Marquez SPA Repsol Honda (RC213V)

6. Joan Mir SPA Suzuki Ecstar (GSX-RR)

7. Alex Rins SPA Suzuki Ecstar (GSX-RR)

8. Johann Zarco FRA Pramac Ducati (GP22)

9. Fabio Quartararo FRA Monster Yamaha (YZR-M1)

10. Takaaki Nakagami JPN LCR Honda (RC213V)

11. Franco Morbidelli ITA Monster Yamaha (YZR-M1)

12. Maverick Viñales SPA Aprilia Factory (RS-GP)

13. Luca Marini ITA Mooney VR46 Ducati (GP22)

14. Andrea Dovizioso ITA WithU RNF Yamaha (YZR-M1)

15. Remy Gardner AUS KTM Tech3 (RC16)

16. Darryn Binder RSA WithU RNF Yamaha (YZR-M1)

17. Fabio Di Giannantonio ITA Gresini Ducati (GP21)

18. Raul Fernandez SPA KTM Tech3 (RC16)

DNF:
Jorge Martin SPA Pramac Ducati (GP22)
Francesco Bagnaia ITA Ducati Lenovo (GP22)
Alex Marquez SPA LCR Honda (RC213V)
Miguel Oliveira POR Red Bull KTM (RC16)
Jack Miller AUS Ducati Lenovo (GP22)
Marco Bezzecchi ITA Mooney VR46 Ducati (GP21)