Mazda CX-60 was born with many surprises. The first product to use the new SkyActiv Multi-Solution Scalable Architecture platform. This is Mazda's representation to go up against premium brands from Europe and Japan. Armed with the new layout of the front engine and rear drive (RWD), promises a new experience in terms of driving. He opened the way for other new SUVs such as the CX-70, CX-80 and CX-90 which are members of the "Large Product Group".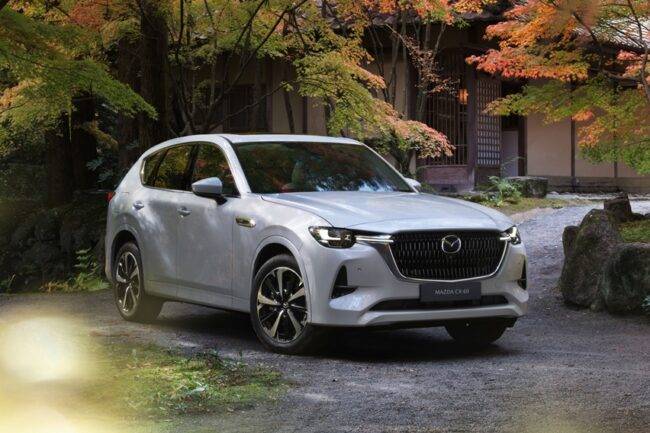 Mazda CX-60
Last year Mazda gave information about the new SkyActiv Multi-Solution Scalable Architecture platform. Flexible base for the latest generation of Mazda later. Called flexible because it can be used for compact to large cars, as well as different drive formats. To be sure, it is designed for the development of future electric cars. Starting from hybrid, plug-in hybrid (PHEV) and pure electric.

The CX-60 was born to pave the way. A new entity with Mazda's modern electrification strategy. Be the first with a PHEV badge in history.
The dimensions are quite large, although not on par with the Mazda CX-9. It is 4,755 mm long, 1,890 mm wide, 1,670 mm high and has a wheelbase of 2,870 mm. Slightly fatter than the CX-50. Maybe the design is not as cool as other Mazda SUVs. But it really describes the maturity and elegant attitude. RWD drive characteristics can be recognized from the extra long hood. Storing the engine in a backwards position.
Looking at the engine room, there are several options on offer. What is clear is that the three engines are for the European market, while other markets have yet to be announced. Most awaited clearly with the PHEV label. Combining a 2.5-liter 4-cylinder SkyActiv-G unit with an electric motor plus a 17.8 kWh lithium-ion battery. The naturally aspirated engine produces 189 hp and 261 Nm of torque. Plus the electric motor of the creator of 134 hp and 250 Nm. The result is a combination of 323 hp and 500 Nm. Making it the most powerful Mazda production car so far.
Performance claims from the manufacturer are quite impressive. Acceleration to 100 km / h from rest only takes 5.8 seconds. Since this is a PHEV, the battery can be charged via normal AC current. Of course there is a pure electric driving mode. Cruising range is offered quite far, reaching 60 km. While the combined fuel consumption based on WLTP is 1.5 liter/100 km (66.6 km/liter) using 18-inch rims and 1.6 liter/100 km (62.5 km/liter) for 20-inch.

The other two engine contestants are new developments. 6-cylinder inline engine and enter the mild-hybrid type. The gasoline unit is a 3.0-liter e-SkyActiv X equipped with 48-volt electricity. There's also an e-SkyActiv D diesel plus 48-volt mild hybrid technology as well. Unfortunately the detailed specification data has not been announced. But this is a shadow to be pinned on the latest generation CX-5 later.
Imagine, the inline 6-cylinder engine drives the rear wheels. It must be very exciting. Moreover, Mazda is also serious about concocting the right suspension format. In front of wearing a double wishbone and rear multi-link. Mazda said, the driver will feel smooth movement in any conditions. Maybe this is also the effect of Kinematic Posture Control (KPC) to neutralize the force of gravity.

All pacemakers are paired with a new 8-speed automatic transmission. No longer using a conventional torque converter, but a multi-plate clutch and an electric motor/generator. AWD i-Activ drive is also available. Various driving modes are also provided, such as Normal, Sport, Off-Road, Towing and EV.
Luxury Cabin in Simplicity

The cabin of the CX-60 looks simple, but has a strong aura of luxury. Simple without the need for excess bait. And the aristocratic aura is increasingly felt. Presented a number of unique features that Mazda has never had before. Like a fully LCD digital instrument panel. Then the middle monitor measures 12.3-inches and the use of Head-Up Display is very large.

Most interesting is the Driver Personalization System. Able to automatically adjust the best sitting position through camera detection. The input is based on eye position and height, then the steering wheel, seat, HUD and mirrors automatically adjust. Advanced!
There are certainly many safety devices available. Starting from 360-degree View Monitor, Vehicle Exit Warning, Traffic Sign Recognition, Advanced Smart City Brake Assist with pedestrian, cyclist detection and intersection function, Rear Emergency Brake Assist with pedestrian detection, Lane Keeping Assist with Steering Assist, and Drowsiness Detection, Lane- Keep Assist System, Blind Spot Monitoring, Rear Cross Traffic Alert, i-Adaptive Cruise Control, Hill Launch Assist, and Emergency Stop Signaling System.

Mazda CX-60 has been directly sold for the European market. There are three trims: Exclusive-Line, Homura and Takumi with prices ranging from £43,950 (Rp827.5 million) to £48,050 (Rp904.7 million). Let's hope the Mazda CX-60 can soon visit Indonesia.