Italjet's brand holder agent (APM) in Indonesia, Utomo International (Utomocorp) officially handed over the Dragster Limited Edition to consumers. Previously, the product appeared at the IIMS 2021 event and could be ordered. Today, Thursday (10/3) distribution to official buyers is carried out
According to Denny Utomo, CEO of Utomocorp, since taking the floor at EICMA in 2018, Italjet Dragster has received a lot of acclaim from fans around the world. "Italjet Dragster is a combination of innovation, ambition and passion that reflects the philosophy of Italjet by presenting a heritage design typical of Italian flavors. Last year we flew the pre-production unit directly and the enthusiasm was high. Until finally, today we officially released the Italjet Dragster Limited Edition, which numbered 499 units in the world," he said.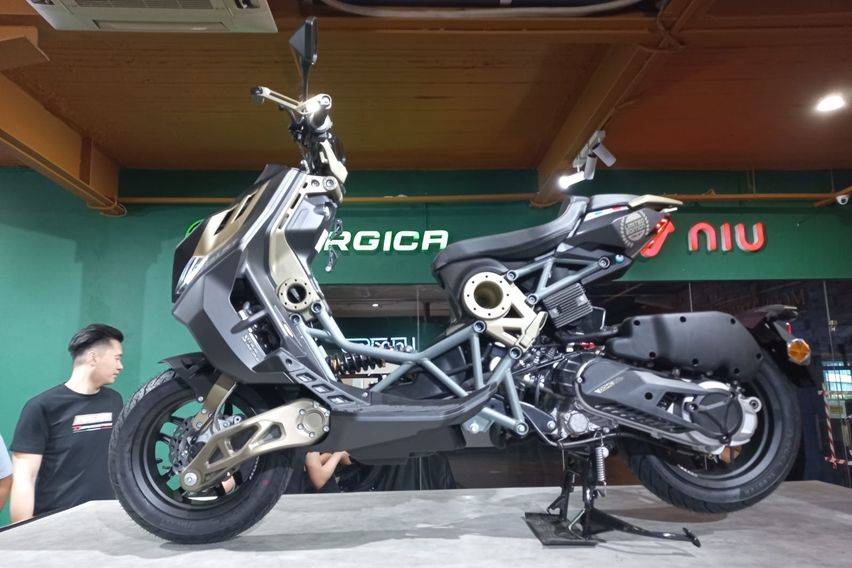 Italjet Dragster Limited Edition


Of the total 499 units made for the whole world, Indonesia gets 60 units. In fact, when found at IIMS, his party said that they only brought 40 units. However, this is the second country that has received the most units of the Italjet Dragster Limited Edition after Italy.
"Currently, there are 50 SPK, so there is a little more left. We managed to convince the principal in Italy that the Indonesian market has great potential for marketing this model, so our quota is higher than in other countries," explained Denny.
Denny added, the historical value of the existence of Italjet Dragster products in Indonesia was previously one of the considerations for his party to become an official agent in Indonesia. "That's why, we will prepare an assembly plant for the Italjet Dragster in the Tangerang area in the near future. This is part of Utomocorp's commitment to contribute to the Indonesian automotive market. Later, for unit distribution in Southeast Asia, the center will be from our factory," said Denny.

In this regard, Utomocorp will also build a user community as an effort to get closer to consumers. In addition to being the holder of the Italjet brand, Utomocorp, which has been in retail and distribution for a long time since 1978, also oversees several Lifestyle Automotive brands such as Royal Alloy and Energica and Niu electrified vehicles.
For information, this scooter, known as the Urban Superbike, has an aggressive and out of the box design, it also comes with a combination of black and magnesium gold in some parts of the body and frame. The construction is different through an integrated steel-tube trellis frame with molded aluminum plates and Independent Steering System (I.S.S.) suspension technology with a single aluminum swingarm.

Its power performance is fueled by a liquid-cooled 200cc DOHC 4 valve injection engine with engine management from Magneti Marelli. The engine configuration is capable of producing 17.9 hp at 8,000 rpm and 15.5 Nm of torque at 7,750 rpm.

Italjet Dragster 200 uses a hydraulic disc brake system measuring 200 mm at the front and 190 mm at the rear with the use of calipers from Brembo. The speed stop has also been mated to the Anti-lock Braking System (ABS) technology.
The legs rely on 12-inch ring wheels up front with 120/70 tires and 13-inch rear wrapped in 140/60 round leather. Meanwhile, the fuel tank capacity reaches 9 liters.

The Italjet Dragster Limited Edition is currently marketed at a price of Rp. 155 million on the road in Jakarta. The price tag has increased quite significantly. Previously or the first batch that had pre-ordered was offered for Rp. 145 million OTR Jakarta.