BMW Motorrad Indonesia officially sold its BMW M 1000 RR motorcycle on Wednesday (2/16/2022). The bike, built from BMW's superbike structure at the World Superbike (WSBK) and British Superbike Championship (BSB), was sold for a fantastic price of Rp1.6 billion off the road.
CEO of BMW Motorrad Indonesia, Joe Frans said, currently THE BMW M 1000 RR is only available 1 unit in Indonesia. Not because of the status of limited edition, but the production process that is not easy and has an effect on the process of sending units to the country.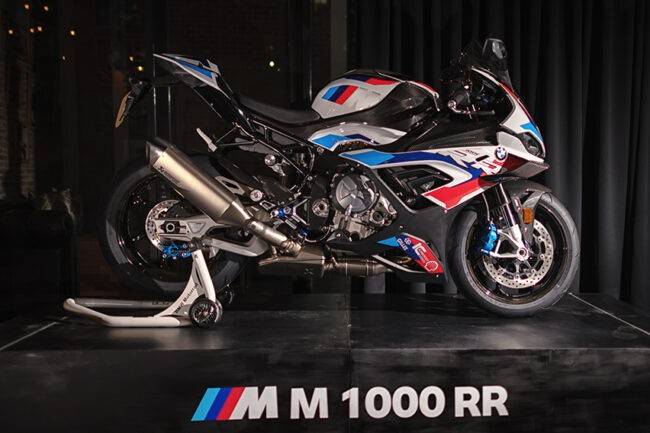 Superbike BMW M 1000 RR


"Developed directly from the WSBK M-philosophic race track which means performance and emotion, the focus is on performance. This is not a limited unit, if consumers want the unit can still be ordered with a period of 4 to 6 months," he said at the launch of the M 1000 RR in Jakarta.
The bike that comes with a sportier look is a high-performance motorcycle in the BMW Global lineup. If you don't know, the M 1000 RR is the first M model from BMW Motorrad based on the 2020 S 1000 RR production. The development of M RR itself follows the success of the M Series which has started since the end of 2018.

Bmw M 1000 RR created from the highest series of M products is immersed in carbon material in some of its components. The front is equipped with special wings (winglets) and is claimed to support aerodynamics when driven at high speeds.
BMW M 1000 RR Runway Kitchen

In terms of engine, the BMW M 1000 RR is armed with an engine from a 999 cc 4-cylinder base, DOHC with BMW Shift Cam. His bore x stroke concoction was 80 mm x 49.7 mm with a machine compression ratio of 13.5:1. Then with the engine configuration, this motor is able to pump a maximum power of 156 kW or equivalent to 212 horsepower at 14,500 rpm and peak torque of 113 Nm at 11,000 rpm.
BMW Motorrad said the engine sector was heavily revised to lead to racing sport specifications. The manufacturer claims, this superbike is able to be shaken up to a top speed of 306 kilometers per hour.

Technically speaking, the engine revision is in the combustion chamber that now uses a 2 ring piston made by mahle manufacturer. Connecting rods components are also changed which are now made of titanium with a longer size but still light.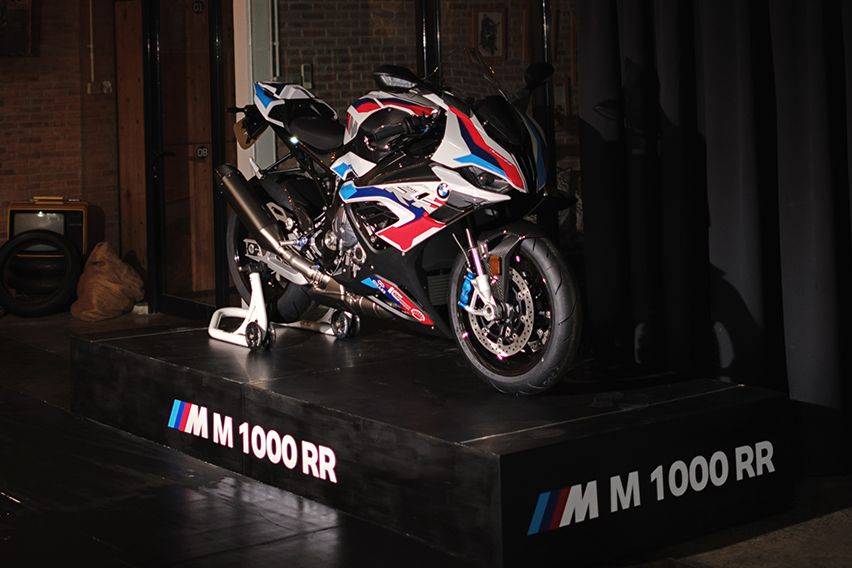 Superbike BMW M 1000 RR


Then embedded rocker arm with slimmer dimensions, intake ports that are fully designed with new channel geometry, as well as optimization on camshaft and intake area. Well, from the change of it all, the new M 1000 RR engine is claimed to be much more powerful than the regular 1000 RR power train.
BMW M 1000 RR Features

As a motorcycle created with high specifications, the BMW M 1000 RR is equipped with a myriad of advanced electronic features to support the preoccupation of driving its riders. Let it be easier, below is the summary.

Quickshifter (up & down)
Launch Control Mode
Hill Star Control Pro
Upside-down Pro Floater
Brake 'M'
6.5-inch TFT Instrument Panel
Riding Mode
Dynamic Traction Control
ABS
And other components made by BMW M.