Eiger Adventure as an Indonesian outdoor lifestyle brand collaborates with the legendary motorcycle brand, Royal Enfield.
The partnership of the two gave birth to exclusive riding products in the form of apparel and motorcycle riding equipment. All collections presented are included in the Eiger Riding product line and consist of 21 items.
This collaboration is one of Eiger's main business strategies in 2022. One of the goals of partnering with Royal Enfield, which is to give a new touch to the Eiger Riding product and provide a different driving experience to the Eigerian - a designation for users and users of Eiger products.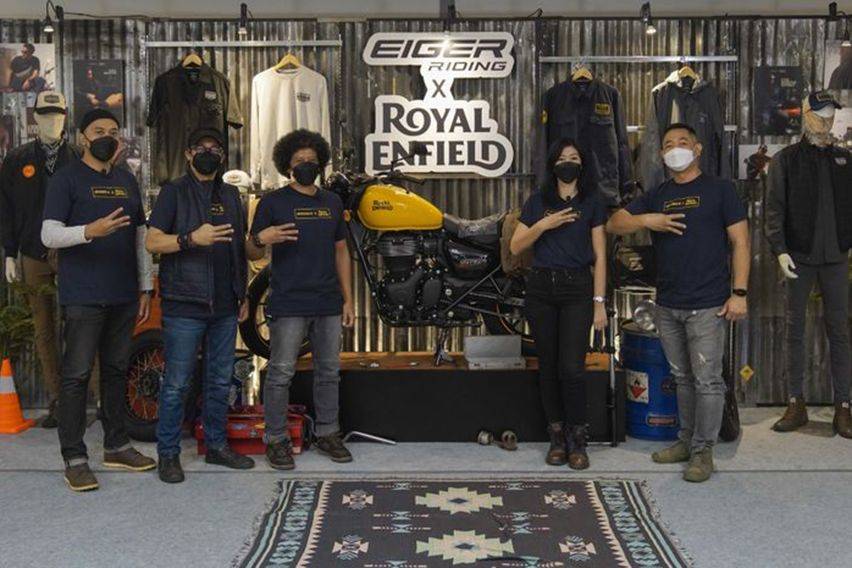 Eiger Adventure collaborates with Royal Enfield, launches exclusive riding product


"This collection marks Eiger Adventure's first collaboration with an international brand. We are delighted that Royal Enfield can support us on this journey. The Eiger and Royal Enfield have a variety in common. One of them, both brands have a long history and expertise in their respective fields, so this cooperation is expected to prove consistency and existence in the midst of market developments," said Harimula Muharam, General Manager of Product, Research and Development Eiger Adventure at a virtual product launch on Monday (14/2).
Royal Enfield, Indonesia is one of the most important markets in the Asia Pacific region. Therefore, Royal Enfield continues to strengthen its existence, either with the launch of motorcycles, expansion of range, or offering new motorcycle apparel and accessories.

According to Royal Enfield's HEAD OF APAC Business, Vimal Sumbly, the launch of the exclusive and premium apparel collection with Eiger is the embodiment of its mission in providing the best driving experience for customers.
"We believe this collaboration in the future can improve the driving experience that suits their lifestyle. This collection is deliberately designed to attract the attention of all riders, whether novice riders who want the best protection, or old riders who want to express themselves in the value brought by the Eiger and Royal Enfield," vimal explained.
The result of this collaboration created 21 kinds of riding apparel products to support the lifestyle of Royal Enfield owners in particular and generally bikers in Indonesia. EIGER x Royal Enfield consists of bandanas, shirts, vests, pants to side bags that can be installed on the motorcycle. Royal Enfield's three flagship motorcycles, the Meteor, Classic, and Interceptor, were the main inspirations in the development of this collection.

EIGER x Royal Enfield apparel can be obtained at the flagship store EIGER Adventure in Indonesia, some EIGER Adventure stores or eigeradventure.com website. The price offered starts from Rp 99 thousand to Rp 899 thousand.
For information, Eiger Adventure has been established since 1989 and is known for its range of outdoor equipment products. Eiger is here to meet a variety of adventure needs in tropical climates, from hills, rivers, beaches, to mountainous regions. But since 2016, it presents a new line called Eiger Riding. Contains all the needs of motorcyclists.

Royal Enfield is known as a legendary brand that designs tough and comfortable motorcycles to ride on all terrains since 1901. Royal Enfield maintains its heritage in making simple and harmonious classic motorcycles, blending traditional craftsmanship and modern technology, to create a true motorcycling experience.