Yamaha Indonesia officially sells a sophisticated retro-style scooter. Yes, he is a Yamaha Fazzio Blue Core Hybrid Connected which is offered with prices starting at IDR 21.7 million and the most expensive being IDR 22 million OTR Jakarta.
This model was specially developed to present a new driving style trend and can meet the character and lifestyle of consumers.
Although he is a new segment and a pioneer in its class, other Yamaha scooter lines are still interesting to own. They are also worthy of being selected to be used as daily vehicles. Especially for those who belong to the entry level class. The model also varies. Here's an alternative scooter that has a price below Fazzio.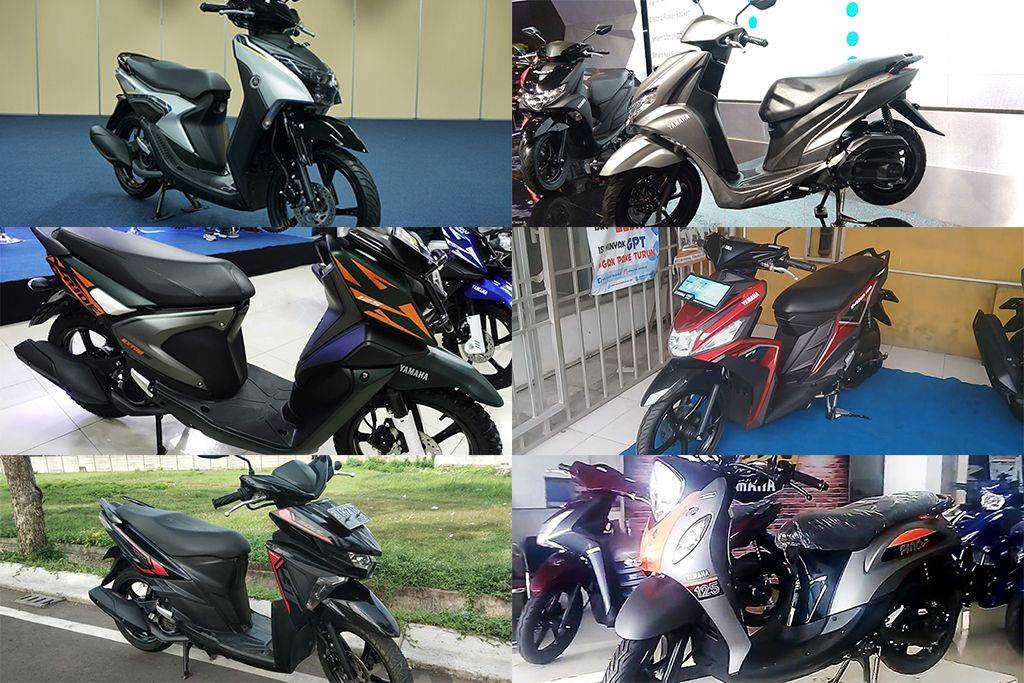 Cheaper than the Fazzio Hybrid-Connected, this is an alternative to Yamaha scooters for daily use
Yamaha Gear 125

The first choice is the Yamaha Gear 125. It has two types, namely the S Version and the Standard Version. Both have a much cheaper price than the Fazzio Hybrid-Connected. Sold for IDR 17,950 million for the S Version and IDR 17.2 million for the standard version.

It offers a variety of features that are very useful for daily use. Mainly a spacious flat deck and storage space under the chairs, can be used to put jackets, gloves or other small objects. Then it has a double hook, making it easier to carry more items and can be folded when not in use.

There is also an additional shelf on the left side which is quite large and deep, and can even store a medium-sized water bottle. There is a gadget charging socket available, but consumers have to buy a connector. Honey, the place is open. If you want a neat cover, Yamaha offers a cover accessory. So it is safer when putting things.
Especially for the highest variant or S, the Stop & Start System (SSS) feature is embedded. If the condition is active (on position), then the machine will automatically turn off when the motor is idle for 3-5 seconds. The ignition device is located on the right handlebar. Quite helpful in terms of fuel efficiency. Then a remote Answer Back System is given, helping to find the motorbike in the parking lot.

The mechanical heart of the Gear 125 is 124.96 cc, SOHC, single cylinder, 4 stroke with air cooling and Blue Core Fuel Injection technology. The power and torque produced are 9.38 hp at 8,000 rpm and 9.5 Nm at 5,500 rpm, respectively. The power is quite qualified to be used by anyone for daily activities.
For the safety of users who sometimes forget to raise the side standard, a stand side switch is provided. So, the engine does not start when it is still in the down position. Then there is a Smart lock that can maintain the motor's position when on an incline. All Mio variants are actually already equipped with this device, and have become a standard feature that must be present in entry-level scooters.
Yamaha FreeGo

The next alternative is Yamaha FreeGo. It has three variants, namely the standard type, S Version and S-ABS Version. But there are only two versions that have a price below Fazzio, namely the standard and the S Version. Both are priced at Rp. 19,750 million, and Rp. 21,290 million OTR DKI Jakarta.

For the S version, there is a smart key feature. Riders no longer need to take out/insert keys. Made compact by only pocketing the remote. The tool is already loaded with the immobilizer module and the Answer back system.

Another feature that is no less interesting is the digital instrument panel. Adopting a sophisticated screen and small in shape, only 6 x 4 cm. Blue background and equipped with "Multi Information Display" (MID). Also equipped with spacious luggage. Its capacity reaches 25 liters, the same as that of the old NMax. Riders can store their belongings such as full face helmets or bags, jackets, shoes and basketballs.

Then FreeGo uses LED Headlight. Riders also don't have to worry about losing power, because they are equipped with an electric power socket. It is located above the key house. However, there is no compartment to put a smartphone

Then there is the Smart Front Refuel. Refueling is quite practical because the filling tank hole is in the front position. The gas tank has a capacity of 4.2 liters, and is protected by a steel plate. For SSS technology (Stop & Start System) only available in type S and S ABS. As for the features attached to all versions, there are SMG, smart lock, and side stand switch.

The engine used is 125 cc Blue Core air-cooled with 52.4 mm piston and 57.4 mm stroke, compression ratio of 9.5:1. It claims a maximum power of 9.3 hp at 8,000 rpm and 9.5 Nm of torque at 5,500 rpm.
Yamaha X-Ride

The manufacturer also gives an option with an adventurous-looking scooter, namely the X-Ride. He is priced at Rp. 19.190 million on the road (OTR) in Jakarta. This urban scooter is also supported by features that can accommodate daily use. There is an Answer back system, hazard lights, sub tank suspension, stand side switches, and Forged & Diasil.

The engine uses Bluecore technology with a volume of 125 cc. Maximum power is 9.3 hp at 8,000 rpm and 9.6 Nm of torque at 5,500 rpm. For the price, it is currently priced at Rp. 18,690 million on the road in DKI Jakarta.

In addition, this adventure-style scooter is also equipped with sub tank suspension, tubeless tires and wide handlebars. The headlights are LED with daytime running light (DRL).
Yamaha Mio Series

Yamaha Mio Series consists of M3 125 AKS SSS (Rp 17,270 million), M3 125 standard (Rp 16,950 million), S-Smart (Rp 16,915 million) and Mio Z (Rp 15.8 million) OTR DKI Jakarta. The tuning fork manufacturer's legendary scooter family is distinguished by its design and features.

All Mio variants are easy to drive by anyone and are suitable for everyday use. Have dimensions not too big. The design specifications are also able to provide steady stability when maneuvering on winding roads.

For the M3 Series type, the difference is only in the features. The highest is the Advance Key System (AKS) which is integrated with the Answer Back System. That's to make it easier for owners to find the location of the motorbike while in the parking lot. Plus the Stop & Start System (SSS) which is useful for turning off the engine automatically when it stops for more than 5 seconds. To restart the engine, simply turn the gas lever.

While other Mio get a multifunctional key house. One access for three functions: ignition key to start the motor, lock the motor and open the trunk. Of course with a magnetic hole cover to make it safer from the crime of theft.

The Mio M3 Series fuel tank capacity is 4.2 liters and the trunk is quite spacious and spacious for an entry level scooter. It can be used to put a jacket, gloves or other small things, but it doesn't fit a helmet. While for Mio S the volume of space under the seat reaches 10.2 liters, so it is very functional to accommodate luggage. All of them feature an Eco Indicator, smart stand side switch, rear brake lever lock (Smart Lock) that can hold the motorbike when it stops on an incline or descent.

Mio series adopts a 125 cc engine with Blue Core technology. The pacemaker is capable of spewing out a maximum power of 9 hp at 8,000 rpm and a torque of 9.6 Nm at 5,500 rpm. They are known to be responsive and have economical fuel consumption. Even on its official website, Yamaha dares to claim that the Mio M3 is 50 percent more efficient than the 2008 Mio carburetor. So it is suitable as a vehicle to accompany daily activities.
Yamaha Fino Series

Next from the Yamaha retro scooter family, namely the Fino Series. It is offered with three different types, consisting of; Sporty, Premium and the most expensive is Grande. The prices offered are different, Sporty and Premium Rp 19,340 million, while the highest variant, Rp 20,500 million OTR Jakarta. This 125 cc injection engine motorcycle targets female and male consumers who like modern retro designs.

All Fino variants have the same body, slim and easy to ride. Using the design concept of "S-Shape" with a touch of elegant style. All three are only distinguished from the graphic design and features.

According to the specification data, all the same. Equipped with a single-cylinder 125 cc SOHC engine equipped with Blue Core technology. Capable of blowing 9.5 hp of power at 8,000 rpm and 9.6 Nm of torque at 5,500 rpm. Formulated with a bore configuration of 52.4 mm x stroke 57.4 mm. The responsive engine is optimized with an air cooling system (Air Cooled). Embedded with Forged & Diasil Cylinder, so the motor cooling is better, reduces noise, is durable and not easy to wear. To start the engine, there are two choices of starters, there are electric & kick starters.

For its features there are Smart Stand Side Switch, Smart Lock System, and Advance Key System (AKS). Under the seat there is a 4.2 liter fuel reservoir and 8.7 liter trunk. Using 14 inch wheels wrapped in wide tread tubeless tires. The size is 80/80 front, 100/70 rear.

While the Grande type is given LED Headlight and Stop & Start System (SSS). The LED technology definitely makes the lighting brighter. While SSS, allows the engine to turn off automatically when the motor stops for more than 5 seconds. And it comes back on just by turning the gas lever. That way fuel consumption becomes better.
Yamaha Soul GT Series

Then there is the All New Soul GT Series. It has two different types, namely AKS SSS and AKS. Advance Key System (AKS) functions to increase security to minimize theft. It has answer back technology, making it easier for owners to find their vehicle in the parking lot. While the function of SSS is to make the engine turn off automatically when it stops, and turn it back on just by turning the gas lever.

For the lower type, it is priced at Rp. 17.3 million and 17.8 million OTR DKI Jakarta for the expensive version. Although there are differences in features, both carry the same engine. With a capacity of 125 cc SOHC cooled liquid with a fuel injection combustion system and using Bluecore technology. His single-cylinder engine is capable of producing a peak torque of 9.6 Nm at 5,500 rpm and a maximum power of 9.5 hp at 8,000 rpm.

Other features include a 14 liter trunk, LED headlight, eco indicator, smart lock, side stand switch and forged & diasil.