BMW Motorrad Indonesia officially sells the BMW M 1000 RR motorcycle with a fantastic price tag of Rp. 1.6 billion off the road on Wednesday (16/2). His presence then challenged the old player, the Honda CBR 1000RR-R SP, which first launched in the country in August 2020.
Talking about the selling price, the BMW M 1000 RR is much more expensive than the Honda CBR 1000RR-R SP. Honda's full fairing sport bike as of February 2022 was sold for Rp.1.118 billion or Rp.642 million cheaper. We calculate the price difference after the official price of the M 1000 RR is added by 10 percent to make it OTR status.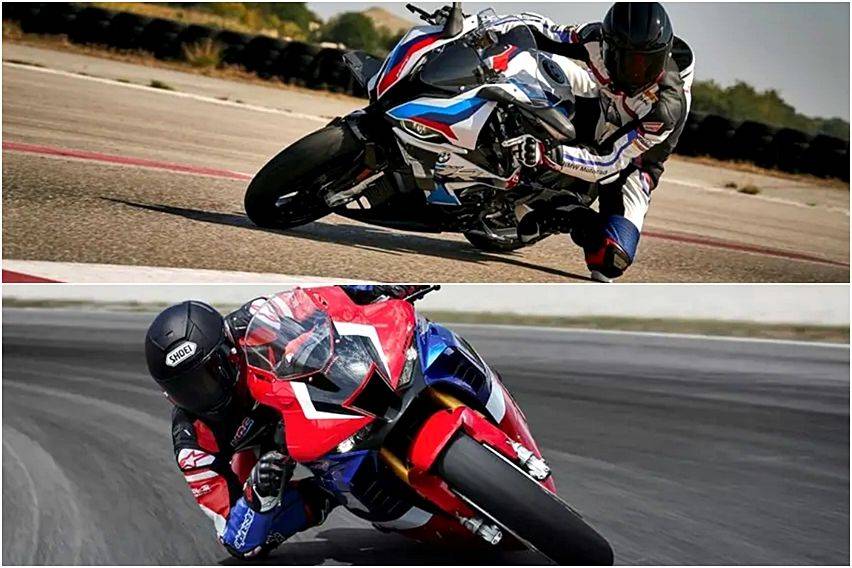 BMW M 1000 RR vs Honda CBR 1000RR-R SP

Although the dowry is very high, in fact the interest from these two motorbikes is very positive. One unit of the BMW M 1000 RR has been purchased by consumers, and the Honda CBR 1000 RR-R SP has also sent units to several consumers.
For those of you who are bourgeois and have plans to buy one of them but are still confused about which one is the most worthy to buy, in this article we will help explain the data from each manufacturer. Let's start this duel.
Design

Before going into the discussion of specifications and features, it's incomplete if you don't explore the design that is carried. Both motors are built with very exotic visuals. But it needs to be underlined, the matter of design is back to each other's tastes, we just help align it.
Starting from the BMW M 1000 RR first. The base is taken from the S 1000 R but by the M Division various changes have been made so that it looks much more sporty like the M2, M3, and M4 series cars.

Overall, the visuals are similar to the S 1000 RR but there are some exclusive details with the embedded M code. Starting from the rider bench, M striping graphics, the use of carbon fiber, Akrapovic exhaust, M brake calipers, to the application of winglets on the front.
While the Honda CBR 1000RR-R SP is also no less about design. He carries the aggressive visuals and aerodynamics typical of a supersport motorbike from a Japanese manufacturer. To increase stability when lauched at high speed, winglet components are also available which simultaneously maximizes its appearance. From the front, sides, to the stern, the visuals are presented very aggressively. Honda said, this motorbike is a representation of the Honda RC213V racing motorbike in the MotoGP event.
Machine Fight

This issue is also very interesting to discuss, both motorbikes were born with a focus on performance and speed. Okay, let's start with the BMW M 1000RR first.

The engine construction is still taken from the S 1000 RR, but the M division has revised it so that the engine output is more powerful. From the technical data, this motorbike carries a cubication of 999 cc 4-cylinder, DOHC with BMW Shift Cam.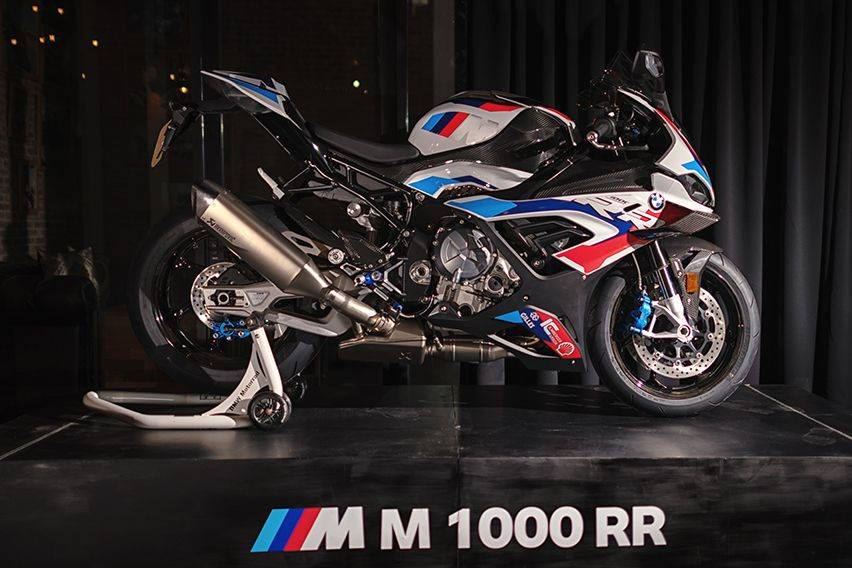 BMW M 1000 RR


The bore x stroke is 80 mm x 49.7 mm with an engine compression ratio of 13.5:1. Then with this engine configuration, this motor is capable of producing a maximum power of 156 kW or the equivalent of 212 horsepower at 14,500 rpm and a peak torque of 113 Nm at 11,000 rpm.
The revision is in the combustion chamber which now uses a 2 ring piston made by the Mahle manufacturer. Connecting rods components have also been changed, which are now made of titanium, which is longer but still lighter.

Then pinned rocker arm with slimmer dimensions, intake ports that are completely designed with new channel geometry, and optimization of the camshaft and intake area. Well, from all the changes, the new M 1000 RR engine is claimed to be much more powerful than the regular S 1000 RR power train.
The manufacturer claims that this bike was developed from the BMW superbike construction in the World Superbike (WSBK) and British Superbike Championship (BSB) events. The M 1000 RR can accelerate to a top speed of 306 kilometers per hour.

Honda CBR 1000 RR-R SP is no less about engine performance, the manufacturer designed it from MotoGP technology. Behind the pharynx lies a 999.9 cc DOHC inline 4-cylinder engine with a bore x stroke configuration of 81 mm x 48.5 mm identical to the RCV213V.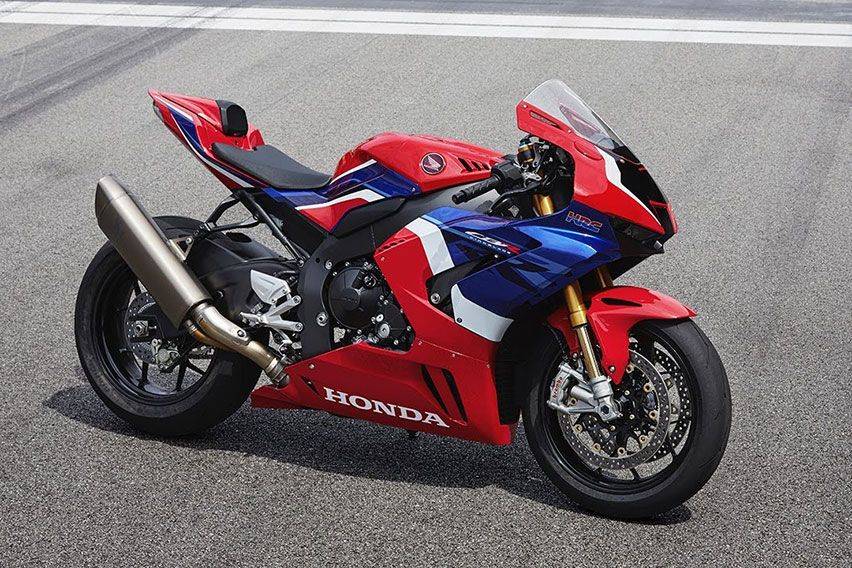 Honda CBR1000RR-R
Maximum power is capable of touching 214.5 horsepower at 14,500 rpm and peak torque of up to 113 Nm at 12,500 rpm. Several mechanical heart components were also revised, such as the pistons which are now made of special Diamond Like Carbon (DLC) materials and Connecting rods made of titanium.

Another technology in this superbike is the Built-in Bottom Bypass, a cooling water circulation system that flows directly from the radiator right to the main component "water jacket". Then, there is also the New Multi-point Piston Jet, a technology that is able to spray cooling lubricant on the piston from various directions. Its job is to maintain the piston temperature and reduce excess friction. From various sources, the top speed of the Honda CBR 1000 RR-R SP is able to penetrate up to 299 kilometers per hour. The difference is thin from the BMW 1000 RR.
Frame and Legs

The BMW M 1000 RR is fitted with a new chassis based on the RR model, with a 'bridge' frame in the middle made of aluminum. This chassis is so harmoniously combined with the front shock of the Marzocchi 45 mm upside-down model that is optimized for function.
While at the rear, there is a blue suspension and Full Floater Pro kinematics. The main focus of this chassis design is to achieve the best lap times on the race track. Both wheels are paired with 17-inch cast wheels. Where the front wheels are pinned with tires measuring 120 per 17 and 200 per 55 at the rear.

The Honda CBR 1000 RR-R SP packs the latest chassis also made of aluminum which has a lighter weight. The front suspension uses Ohlins suspension with an upside down 45 mm model which can also be optimized. The rear silencer is also equipped with a monoshock, also by Ohlins. Both wheels use 17-inch alloy wheels with tire dimensions of 120 per 70 at the front and 200 per 55 at the rear. Yep identical to the design of the BMW M 1000 RR.
Dimensions and Weight

Dimensions and weight also affect performance on asphalt. The BMW M 1000 RR has a total length of 1,997 mm, a height of 1,197 mm (without mirrors), and a width (without mirrors) of 848 mm. While the seat height is 832 mm with a total weight of 192 kilograms.
Then the Honda CBR 1000 RR-R SP has a length of 2,100 mm, a width of 745 mm, and a height of 1,140 mm. The seat height is 830 mm with a total weight of 201 kilograms. This means that the BMW M 1000 R in terms of weight is relatively lighter.
Features

With a translucent price of over Rp. 1 billion, the completeness of features and driving support should not be missed. So, to make it easier for you to compare the technology in each motorbike, we describe it as below:
BMW M 1000 RR

Quickshifter (up & down)
Full LED light
Traction Control
Launch Control Mode
Hill Star Control Pro
Pro Floater upside-down
Brake 'M'
6.5 inch TFT Instrument Panel
Riding Mode
Dynamic Traction Control
ABS (Anti-Lock Braking System)
M GPS laptrigger.
Honda CBR 1000 RR-R SP
Inertial Measurement Unit (IMU) 6-Axis
Full LED light
Honda Electronic Steering Damper (HESD)
Riding Mode
Honda Selectable Torque Control (HSTC)
Wheelie Control
Rear Lift Control
Start Mode
Assist & Slipper Clutch
Quick Shifter
Conclusion

Ended up in the conclusion, which one to choose? Of course, if you consider the price offered by the Honda CBR 1000 RR-R SP, it is much cheaper, especially in terms of features and engines, it is not inferior to the BMW M 1000 RR. This motorbike was also used in the WSBK event and competed fiercely with the M 1000 RR. Yes, you will save Rp. 642 million for modification costs or you can also buy 1 unit of a new car, the new Toyota Fortuner 2.8 GR Sport Automatic Diesel variant.

But if you want to have a motorbike with more powerful specifications, the BMW M 1000 RR is the right choice. Owning it has its own pride because it was formulated by the M division of BMW's sports car. From a visual perspective, proposing to the M variant is also more prestigious because several components are distinguished from the regular S 1000 RR variant. The choice is now yours!