As predicted, PT Astra Honda Motor (AHM) released a brand-new product from the Vario family. Yes, the All New Honda Vario 160 which carries a machine similar to the PCX160 is officially launched.
The price only increased slightly from the Vario 150. AHM markets the All New Honda Vario 160 at an on the road (OTR) price for DKI Jakarta Rp. 25.800.000,- for the CBS type. While the all new Vario 160 with ABS brakes is given a tag of IDR 28.5 million.
All New Honda Vario 160
AHM President Director Keiichi Yasuda said the various design innovations, technologies and features developed made the All New Honda Vario 160 the dream motorbike for scooter enthusiasts who wanted a high-performance motorcycle with a larger and more sophisticated design.

"Various embedding of advanced features and technology equipped with the latest 160 cc engine with 4 valves ESP + and premium sporty design on the All New Honda Vario 160, we believe will provide a more enjoyable everyday driving experience," said Yasuda in his remarks Wednesday (2/2). /2022).
Vario 160 design changes to be bigger with sporty lines. The use of tubeless tires front 100/80-14 and rear 120/70-14 plus a combination of burnt titanium alloy wheels on the ABS type.
The feature now comes with the Honda Smart Key System which is equipped with an alarm and answer back system. The ABS type is equipped with safety features such as the Antilock-Braking System (ABS) and the rear position brake device is equipped with a rear disc brake.
The USB charger type A feature is also present to facilitate charging needs. The LED feature is present as well as a full digital panel that displays a variety of information.

New Honda Vario 160 carries the latest generation engine with a capacity of 160 cc 4 valve ESP +, liquid cooled, which is able to reduce friction and produce maximum power up to 11.3 kW @ 8500 rpm with peak torque of 13.8 Nm @ 7000 rpm.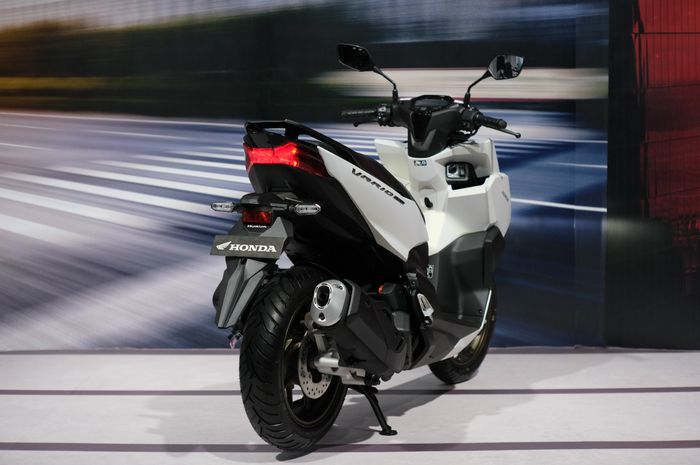 All New Honda Vario 160
The All New Honda Vario 160 comes with the application of eSAF (enhanced Smart Architecture Frame) technology to make this premium sporty scooter even more agile and easy to drive. This model is claimed to have a fuel efficiency of 46.9 km / liter. The test is carried out by activating the environmentally friendly feature Idling stop system with the EURO 3 WMTC (World-wide Motorcycle Test Cycle) test method.

The All New Honda Vario 160 is marketed with 2 types, namely CBS and ABS. For the CBS type, there are Active Black, Grande Matte Black, and Grande Matte Red colors. As for the ABS type, there are Active Black, Grande Matte Black, and Grande White colors. The ABS type has wheels with burnt titanium color and a touch of the Vario emblem which increasingly gives a more premium impression