All New Vario 160 becomes honda's latest product that comes in early 2022. This product answers the needs of premium scooters with a powered engine that becomes the dream of the motorcycle rider segment for the daily.
The most obvious change is the size of the engine which is now getting bigger, which is 156.9 cc. The motor that uses the new eSP+ technology produces 15.4 ps of power at 8,500 rpm and 13.8 Nm of torque at 7,000 rpm.

"Various embedding features and advanced technology equipped with the latest 160cc engine with 4 eSP+ valves and premium sporty design on the All New Honda Vario 160, we believe will provide a more enjoyable daily driving experience," said President Director of PT Astra Honda Motor (AHM) Keiichi Yasuda in his speech at the launch of the All New Honda Vario 160, Wednesday (2/2/2022).
Playing in the motorcycle market with many rivals, Honda also targets this Vario 160 with a considerable number. This is in light of the overall change offer of this latest Vario product makes Honda confident in targeting sales. "Our target for Vario 160 is about 450,000 units a year," AHM Director of Markting Tetsuya Komine said on the same occasion.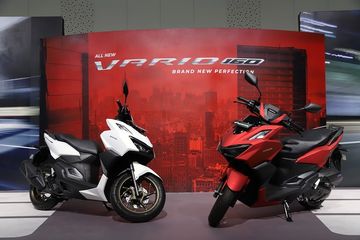 All New Vario 160
Thomas Wijaya, Marketing Director of AHM revealed, the presence of Vario 160 is expected to provide stimulus to the two-wheeled market in Indonesia, especially the skutik segment. According to Thomas, current market conditions can not be separated from the pandemic situation that is still rolling with the presence of a new variant of Omicron that is now spreading in Indonesia.

"We look forward to returning to the health factor. In a sense, this pandemic is under control of course mobility becomes very awake. There is maintained mobility, meaning the economy is moving and can grow so that the market also recovers including demand," thomas said.
In addition, Honda itself targets to lift sales of 4 million to 4.2 million units in 2022. The two-wheel market forecast this year is around 5.1 million to 5.3 or 5.4 million units. This figure alone is still far from the market before the pandemic which can reach 6 million units per year.
All New Honda Vario 160


The Vario 160 comes with a larger body size with a firm line character that makes it look premium. The use of tubeless tires with a wide tread that is 100/80-14 in front and 120/70-14 at the back with a combination of burnt titanium rims makes it look more sporty.
Some safety and security features are present in the Vario 160 such as the Honda Smart Key System which is equipped with an alarm and answer back system. In the ABS type comes ABS braking and rear brake devices with discs.

For convenience, there is a USB type A charger on the left storage console. On the right comes also a storage console that is enough to store a drink bottle.
The modern side comes from the use of LED technology for the front and back. The modern impression comes from the digital meter panel screen that provides information about speedometer, mileage, fuel, Smart Key indicator, digital clock, fuel consumption, battery voltage indicator, oil change, trip meter, ISS indicator and ABS. The luggage is 18 liters which is enough to store a variety of daily driving needs.

All New Honda Vario 160 comes with the application of eSAF frame technology (enhanced Smart Architecture Frame) making this sporty premium scooter more agile and easy to drive. The weight of this frame became 11.7 kilograms from the previous 12.8 kilograms in the Vario 150 model.
All New Honda Vario 160 is marketed with 2 types namely CBS and ABS. For the CBS type there are Active Black, Grande Matte Black, and Grande Matte Red colors. As for the ABS type, there are Active Black, Grande Matte Black, and Grande White colors. Abs type has alloy wheels with burnt titanium color and a touch of Vario emblem that increasingly gives a more premium impression.

AHM markets the All New Honda Vario 160 at an on the road (OTR) price of DKI Jakarta Rp25.8 million, - for CBS type and Rp28,500,000,- for ABS type.