PT Yamaha Indonesia Motor Manufacturing (YIMM) again offers the latest products by launching Fazzio Hybrid Connected some time ago. In total, the tuning fork now has 14 portfolios of motorcycles offered to the public.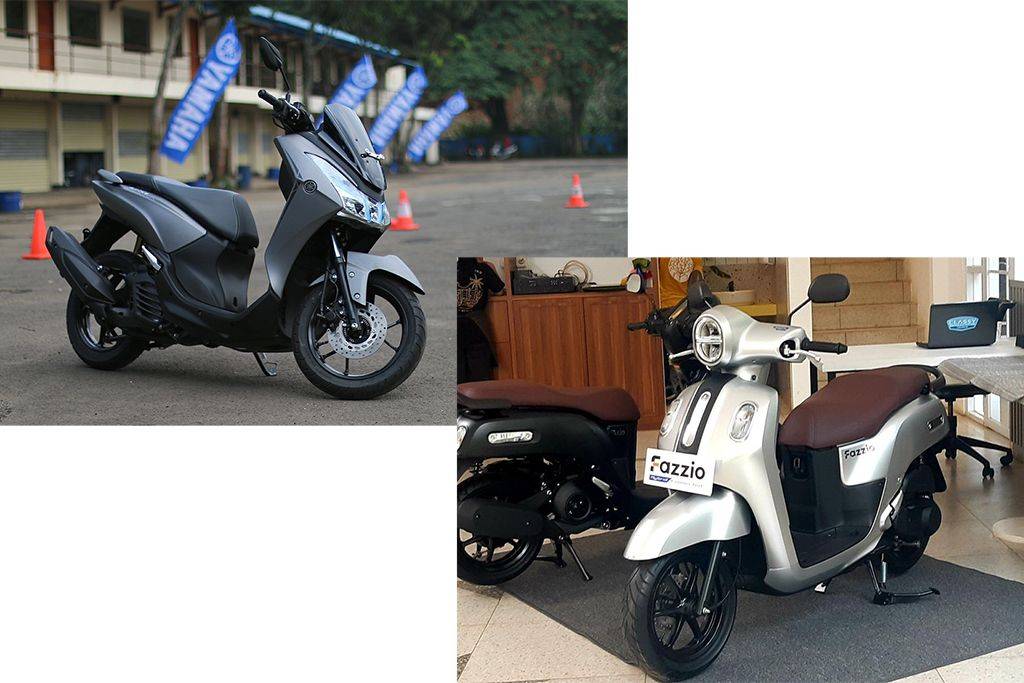 Fazzio claims YIMM as a completely new product, bringing new designs and technologies to compete in the market. It becomes interesting if we compare with his brother Yamaha Lexi, with a difference of Rp 510 thousand approximately who is the most complete?

Before entering the core of the discussion, Yamaha Fazzio Hybrid connected was released to the market with a price tag of Rp 21.7 million to Rp 22 million OTR Jakarta. While Lexi is offered in 3 options ranging from Rp 22.21 million to Rp 27.81 million OTR. Well in this article we will look at the cheapest variant of both.
Design

In consumer segmentation, actually these two motors have different targets. The Fazzio is in the regular skutik category from Yamaha, while Lexi is positioned as an option in the maxi segment of NMax, Aerox, and XMax.
In terms of design both Fazzio and Lexi are equally interesting, this problem actually goes back to consumer taste. Fazzio was born as a skutik with a modern classic look, while Lexi is hatched as a matik maxi that offers comfort and elegant visuals.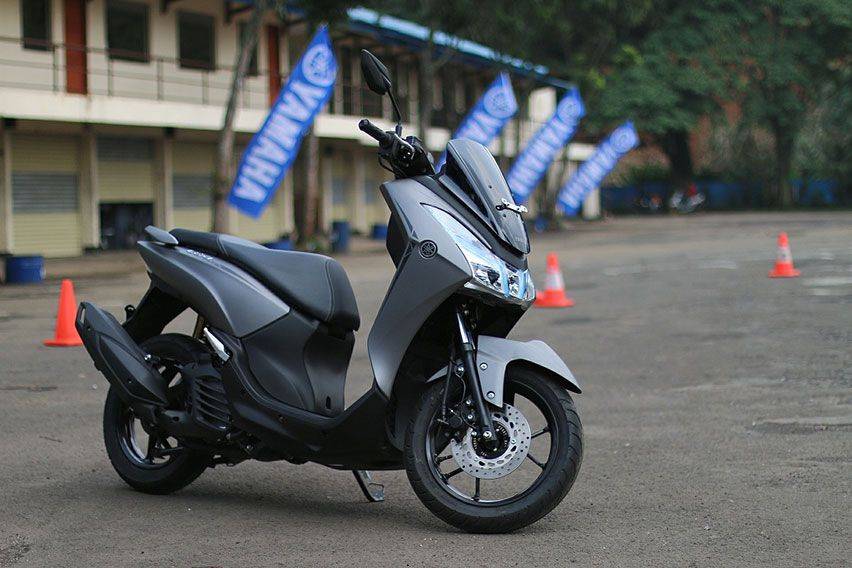 Alluding to the look of the Fazzio, this matik comes with an 'out of the box' design from the habits of other Yamaha products. You could say there is an element of stroke of italian motorcycles like Vespa. It can be seen from the shape of the headlights and front body that carries the tie component aka front tie. But for the middle body to the stern, the design becomes all-boxing that is at first glance similar to the look of the Yamaha QBIX.
While Lexi carries the DNA of a Yamaha bongsor stick and at the same time becomes a variant with the lowest engine cubication in her family. In general, visually this matik resembles NMax, the curve of the body is dominated by a rounded shape with a line pull to the stern of the back. If examined have a wide front body, the side body is slightly enlarged, the handlebars are high and relaxed, and the footrest evenly accommodates the rider's legs.
Specifications

In the mechanical heart, both have a completely different mixture and output. In this case, although Fazzio is equipped with light hybrid technology can not outperform the Lexi.

From the data revealed by YIMM, Fazzio is equipped with a 125 cc, 1-cylinder engine, SOHC, liquid cooling, and has been injected. On paper it has a maximum power of 8.3 horsepower at 6,500 rpm and a peak torque of 10.6 Nm at 4,500 rpm. The engine is mated to Blue Core Hybrid plus Smart Motor Generator (SMG) technology whose function is to provide additional power for the first 3 seconds when the gas lever is rotated, while also maximizing its fuel efficiency.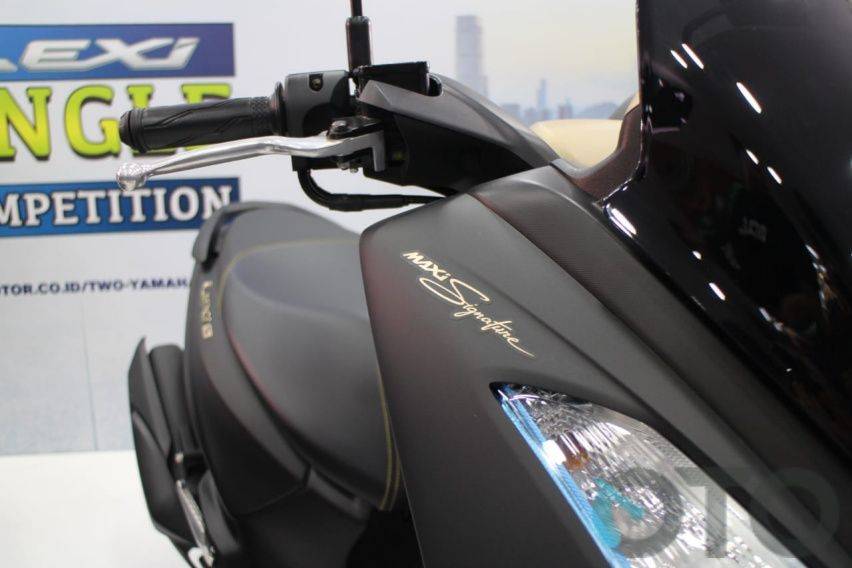 While Yamaha Lexi is armed with a more performing engine although not yet ducked hybrid technology. It packs a 4-stroke SOHC, 1-cylinder engine, liquid coolant, and injection mixer that promises 11.7 horsepower at 8,000 rpm and 11.3 Nm of torque at 7,000 rpm. Yamaha Lexi engine already uses Blue Core technology with variable valve actuation (VVA) support.

This VVA has the task of regulating valve openings, the purpose of which is to adjust the fuel supply to the combustion chamber. As a result, the power is evenly distributed throughout the engine rotation but still economical fuel consumption. Oh yes, Lexi has also been equipped with SMG as in Fazzio.
Feature

You need to know the cheapest Fazzio trim is equipped with a full digital meter panel, electric power socket, keyless & answer back system, hazard lights, stop start system, LED lights in front, double hook, SMG, smart lock, to side stand switch.

The price difference in Fazzio is only allocated to color choices only. Fazzio Neo as the cheapest type has a glossy color and Lux as the most expensive model is melted with matte kelir aka doff.
While the standard Lexi or the cheapest variant for Rp 22.21 million features led headlights, power sockets, wide-dimensional tires, full digital meter panels, hazard lights, SMG, side stand switch, smart lock, and stop start system. Unfortunately for the cheapest variant is not yet equipped with a keyless &answer back system as in Fazzio.
Dimension

Lexi became the 'bontot' child in the Yamaha Maxi. This bike is designed compact but focuses on driving comfort with footrest space that can be adjusted by the rider.

Based on the data, the standard Yamaha Lexi has a length of 1,970, a width of 720 mm, a height of 1,135 mm with a wheelbase of 1,350 mm. The ground clearance plays at 13 mm, 785 mm high, and fill weight at 112 kg.
Furthermore, the skutik uses an underbone frame, telescopic fork front suspension, double suspension at the rear, and swing arm unit as its swing arm. Well for the total capacity of the fuel tank can down gasoline up to 4.2 liters

While fazzio as a new product has a compact dimension as well. It has a length of 1,820 mm, a width of 685 mm, and a height of 1,125 mm. The wheelbase is 1,280 mm, the ground clearance is 135 mm, the seat height is 750 mm, the content weight is at 95 kg, and the fuel capacity is greater at 5.1 liters.

Furthermore, this matik uses an underbone frame, telescopic front suspension and a single suspension at the rear.
Accommodation

This section is no less important when you determine a motorcycle that can support daily activities. Okay straight away, Fazzio with smaller dimensions turned out to be smarter to maximize accommodation.

He has a main trunk of 17.8 liters that can be used to put 1 half-face helmet. Once the helmet comes in there is still room to store luggage such as raincoats or jackets, gloves, and others.
In front there is a closed console that can be used to store smartphones. Then on the right there is a special room to store drinking bottles, which if not used for tumblers can be used to carry other items. Don't forget, Fazzio also has a double hook feature that can carry more goods and is safe.

What about Lexi? The main trunk under the seat is smaller at only 12.8 liters and cannot be used to store helmets. The accommodation in front is also not as large as fazzio.
Choose which one?

With all the data presented above, then which is more feasible to be moved? If the reason you buy a motorcycle for the need to be able to carry goods and have a larger volume of fuel tanks Fazzio is the right choice.

Especially with hybrid technology and the new design it brings to make this bike more attractive to have. Yes, the visuals are fresher, the novelty, and certainly not much on the streets.

Meanwhile, if the need for extra comfort, Yamaha Lexi has more capital here. Caste he also falls into the maxi category that offers an elegant design, gambot body, and qualified legs. Congratulations on deciding!