When we hear the word Jeep, what is imagined in our minds is a tough car, macho and a whiz in bulldozing offroad tracks. Jeep seems to be an idiom for those who like to adventure in the wild with 4x4 vehicles.
It can't be denied. The company, founded in 1945, has this reputation. The brand, which is now under the Stelantis umbrella, is known for its reputation as a 4-wheel drive car with incredible toughness. That toughness is what makes Jeep imaged as an off-road and touring vehicle that is identical to those who have an adventurous spirit.
Jeep Gladiator
Lately the variety of TYPES of SUVs makes the choice also more and more. Various SUV characters come with designs, technologies, and capabilities that adjust the needs of various consumers as well. About ten years back, even the mention of an SUV could already be owned by a hatchback that was only made taller and given additional body panels to provide extra protection.
The market and consumer desires may grow. But for a true SUV manufacturer like Jeep, there is a unique and different way to offer a car that can fulfill many activities. Indeed, if you look at the current Line up of Jeep models, there are already compact dimension models and affordable prices, for those who may not need full SUV capabilities. Just look at models like the Jeep Renegade or Compass that tend to be developed into concrete jungle SUVs.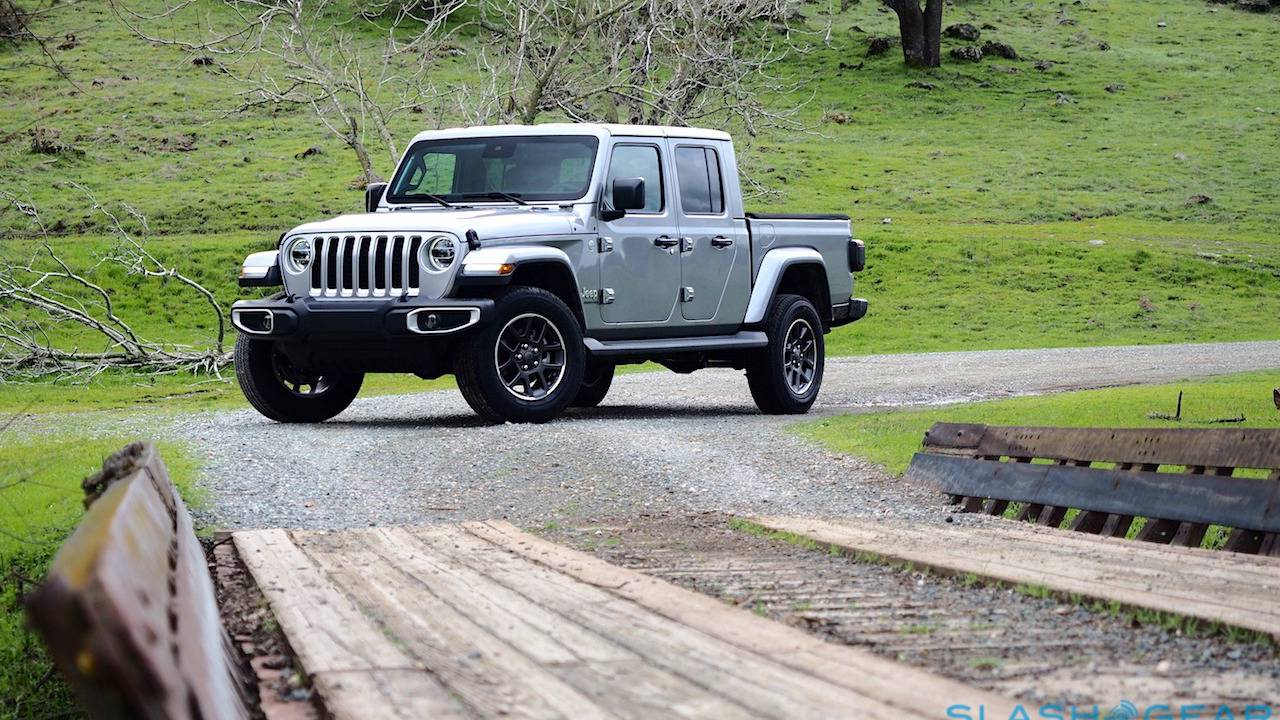 Jeep Gladiator
Another case if you look at the Jeep Wrangler Gladiator, a double cabin that has extra dimensions compared to the regular Wrangler double cabin. You could say this Gladiator is a variant of the Wrangler that maximally combines the needs of utility, practicality, attention-stealing style, as well as offroad abilities that need not be doubted. Because it's basically a Jeep Wrangler.
In dimensions this car is already significantly longer than the Wrangler Long Wheelbase. The overall length reaches 5.5 meters more, exactly 5,539 mm, compared to the Wrangler 5 doors along 4,785 mm. The Gladiator's wheelbase also swelled to 3,487 mm, nearly half a meter compared to the Wrangler Long Wheelbase. So you could say that this Gladiator is a Wrangler Long-Long Wheelbase. Just imagine, this car is also longer than the Mercedes-Benz S-Class long wheelbase.
In Indonesia, the Wrangler Gladiator launches with Rubicon trim, which is the highest option for the base of the oldest models from Jeep. Debuted in January 2021, Gladiator carries a variant of the 3.6-liter, non turbo, 285 hp Pentastar V6 engine, which still relies on a conventional automatic transmission aka torque converter system in this car.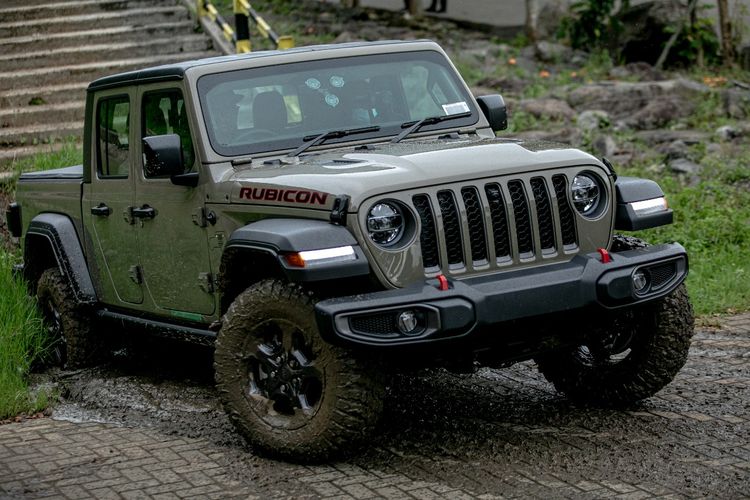 Jeep Gladiator
Curious about the giant and long design like this limousine, we also tried gladiator which is now marketed by PT DAS Indonesia as the official distributor of Jeep in the country. We want to know what this car is used as a daily mobility partner. Not only that, the performance invited dirty-dirt alias playing offroad is also something we want to prove in the test drive this time.
City Cruiser

Looking at its anatomy, Jeep designed the Wrangler Gladiator as an all-terrain service vehicle with greater transport capabilities. The wheels alone are wrapped with MT (mud terrain) type tires, which need not be doubted performance to scratch the ground and mud.

But looking at the current automotive market conditions, more and more people are buying expensive high-performance SUVs to use in the city. Therefore, we want to feel also how to be a capital poser who only uses Gladiator on asphalt roads and maybe move from one mall to another.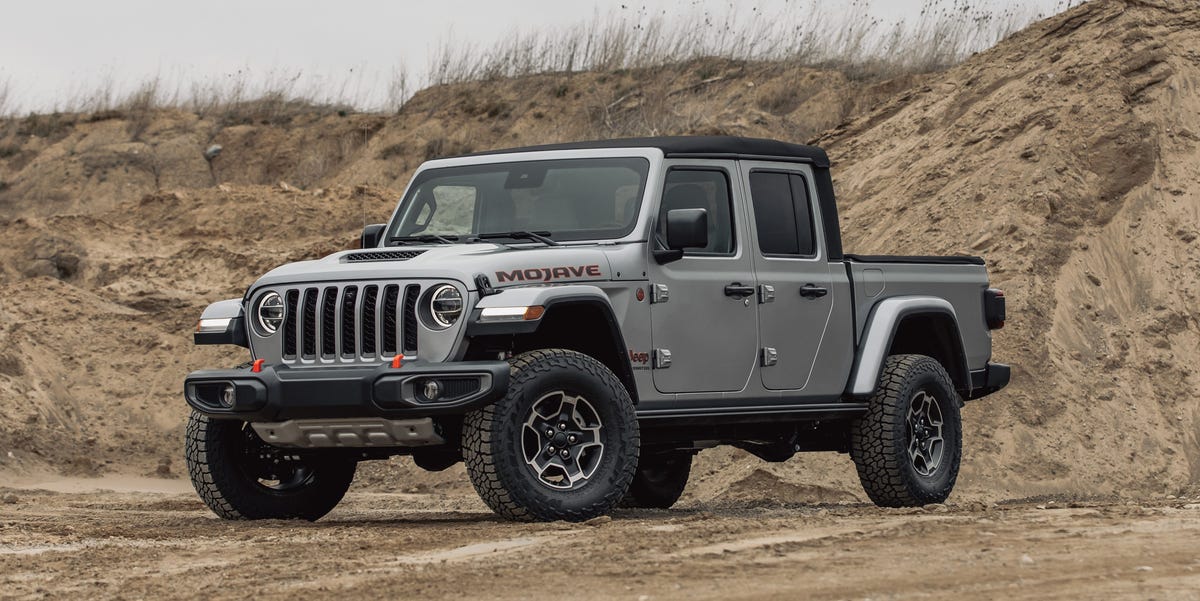 Jeep Gladiator
With a length of more than 5 meters, the Jeep Gladiator is tricky enough to drive in the city. Especially if you take it across a rather narrow residential area with a small corner corner. Then considering the position of the front wheel that is very advanced to have a short approach angle, it needs adaptation to get used to inviting it to swerve on the streets in the city.
Long wheelbase and extra large tub becomes a challenge to invite Gladiator to become a city cruiser, especially when in the parking area of the mall or office. The end of the tub or rear bumper that is far enough from the rear wheel axis must be admittedly quite troublesome to park backwards. If successful, it is also with the condition of the bonnet position jutting more forward than other cars in the parking building. Yes at least Gladiator can be more visible and still steal the attention even if it's just silence.
Fortunately this car is still fairly normal height, not increasing more than the regular Wrangler. So to bring it into a parking building with low ceilings is no more troublesome than the length. Moreover, as a true SUV from birth, a high sitting position also facilitates the execution of maneuvers from behind the wheel.
Jeep Gladiator
With the V6 engine, the output for leisurely driving is linear. Not so explosive when the gas pedal is stepped on, although the torque is more than 350 Nm. The pace is polite enough to drive casually in the middle of dense city traffic like Jakarta. The conventional automatic transmission also feels still smooth to change gears driven casually. Indeed, if at the beginning of the acceleration of gear shift is fairly late, until it touches 2,000 rpm and makes the engine quite roar.
While still in a stationary state, the steering wheel feels heavy rotated, a consequence of the large dimensions of the wheels and tires. But if you have driven the weight from the steering wheel immediately lost, like a modern SUV or a regular car, so inviting Gladiator to devour the track in the city is not tiring.

Oh yes, speaking of dimensions, driving this car in inner-city traffic must also be considered the width. Because the shape of the fender that is wider than the base body also needs precision calculations, at least so as not to nudge other road users such as motorists. In addition, this factor also needs to be considered when going to park backwards, both in the parking lot and in your own home.
With a tall ground clearance, exactly 283 mm, so bulldozing damaged asphalt is not a big thing. It's like a human straddling a pebble. Then even though it is high, the suspension is also not too soft, feels firm and steadily reduces the body roll that usually occurs in SUVs. The character of this suspension makes it more comfortable when invited to pass quite fast on the motorway.
And speaking of on the motorway, this Jeep Gladiator is like I said it feels like a mainstream modern SUV in general. Stay comfortable and steady to drive. The most important thing to note is the steering wheel that is not developed as impressively as a sports car, there are conditions we must quickly correct the steering wheel even though it goes straight. Then although mt tires produce noise that is quite noisy, the sound is not so disturbing into the cabin. This means that the insulation given by Jeep deserves a thumbs up.
Offroad

Incomplete feels already with jeep Wrangler but does not invite him to step on the offroad terrain that becomes his natural habitat. Moreover, as a standard Wrangler is available transfer case to move from 2WD mode to 4H and 4L. There are even some supporting features that will make playing offroad easier and more practical in this car.

The offroad field we chose is the Pagedangan track which is located in bsd area, South Tangerang. This area with a stretch of red soil and some muddy sections presents a track that is representative enough to prove the performance of the Wrangler Gladiator, although not yet to extreme levels. Especially with already equipped with MT type tires, meaning playing on artificial offroad tracks in this city should not be a difficult challenge.
Straight away the track steps back and back, steep climbs and mud become the target of testing. Before that, the drive system was moved to 4H mode aka 4WD with a high gear ratio. With this 4H mode although linear, torque to be used uphill can be quickly devolved by simply playing the gas pedal. Because itself on a fairly wide track, so maneuvering to turn around does not feel bothered even though Gladiators along it.
Actually more curious is the extent of the articulation or distance of the suspension when bulldozing offroad roads. So in the asymmetrical obstacles of the row, we try how the chassis. Although long and wide, it's easy for this obstacle we go through. With different wheel positions in front and back or right and left, gladiators can still stand in fairly flat conditions. It feels firm on the asphalt, the suspension is very flexible on contours like this.
The scorching weather conditions during testing make the red dirt track quite hard, so it is not so difficult. Then some steep climb obstacles become the next target. With a very short overhang, so it's very easy to start going uphill at a sizable angle. Even without having to go into 4L mode, pentastar engine torque is still very capable of being invited uphill. Just play the momentum and set the pressure on the gas pedal.
Satisfied with successfully devouring these climbs, we try to pass from the opposite direction that is downhill. With the same mode, going through a steep descent is enough to hold the speed with the brake pedal so as not to slide freely. Looking at the slope indicator in Off Road Pages, the angle of this derivative is already at 23 degrees. We tried again down in this steepness, but by trying hill descent control that can only be active when in 4L mode. With this feature, the drivetrain automatically holds the wheel when it goes on steep descents instead of brakes.
Curiosity arises when you see some parts of the track that are flooded. Wrangler Gladiator we directly directed to a puddle that looks quite deep. Surely the base is soft enough to be mud. We are confident enough to devour the puddle with 4H mode. Sure enough, although the depth is up to half the tire, to go through it is enough to go constantly and play the steering wheel rotation in order to get traction. This is one of the advantages of MT tires used.
Starting from a shallow puddle of mud to quite deep, many times we libas without obstacles. Even the diff-lock feature is completely untouched, which can be activated when it needs optimal traction through the same right and left wheel rotations. There is a diff-lock activation option only for the front wheel, rear wheel, or all at once to all wheels.

The need to play offroad accommodated quite complete by Jeep on this car. All supporting information can be accessed through Off Road Pages which show tilt angle indicators, drivetrain mode, as well as temperature and oil pressure. All of that can be accessed through Uconnect which is integrated into Jeep's built-in infotainment. But with its such large dimensions, Jeep does not provide a 360-degree camera that can facilitate visibility in extreme terrain. The camera is only behind and in the front.
It's clear that the Wrangler Gladiator is an offroad vehicle that has no doubt about its capabilities and specifications. Its longer dimensions, mainly because an enlarged tub provides a higher utility value. And to wade through the streets of the city, this car can very steal the attention, especially if dirty by the mud used offroad. This jeep can be an option if the latest Mercedes-Benz G-Class is considered too expensive and the Land Rover Defender is less dashing.