Mitsubishi is preparing the latest model of the Triton. Yep, a fully camouflaged double cabin pickup was caught on camera. Obviously a car that was undergoing testing.
The location is also quite extreme around the North Pole. Coinciding also still winter, is the right moment in all-terrain car testing and weather.
From the looks of it it is easy to recognize. It is clear the face shape and body of the Mitsubishi L200 or Triton as we know it today, aka known as test mule. But it is easy to believe also, if this will be the forerunner of the sixth generation. According to Carscoops search, the test unit is likely testing a new chassis. Because it can be recognized from the wheelbase is longer than usual.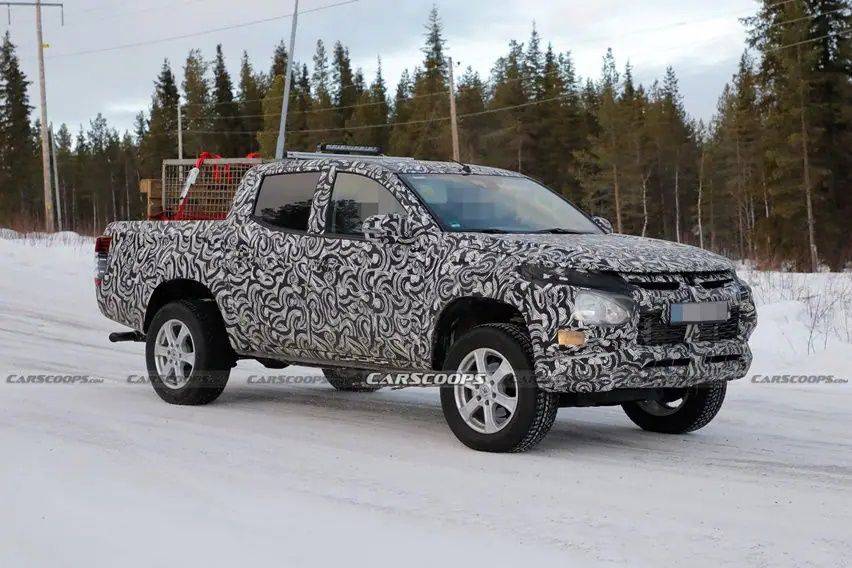 New Generation Mitsubishi Triton tests at North Pole
In other words, it could be that later Triton this latest model will not get a change of appearance. The body and other parts can still borrow the model now. It's still a mystery how it will look. But there is one oddity that can be analyzed. The headlights are uniquely shaped. If further examined it turns out to be using mirages. It could be a sign of his headlamp position later. Describes the continuation of Mitsubishi's Dynamic Shield design language.

The rest remains the same as Triton today, including interior arrangements. So we can't further assess the changes that will occur. One thing comes from the rear wheel. The distance extends to adjust the new chassis to be used. Due to being included in an alliance with Renault and Nissan, it is likely an effort also in cutting the cost of intermerek development.

The potential of uniting triton, Nissan Navara and Renault Alaskan in one construction is growing. But the project is still going on for quite some time. Triton is likely to debut later this year. Navara next year. They have to accept a tough challenge from the new Ford Ranger.
Regarding attendance, Mitsubishi Triton 2023 is rumored to be launched next year and no later than 2024.
It's time for regeneration

Mitsubishi Triton in Indonesia has been around since generation three. Its existence has been around for almost 20 years. The fifth generation triton is now getting older. First came out in 2015 and underwent a radical facelift in 2019. His face changed completely following the latest Dynamic Shield design developments. The engine also switched to a 2.4-liter VGT 4N15 unit such as the Pajero Sport. But the transmission is only 6-speed, not 8-speed.

Triton's safety features are quite complete. It has Forward Collition Mitigation System (FCM), Blins Sport Warning (BSW), Rear Cross Traffic Alert (RCTA), Ultrasonic misacceleration Mitigation System (UMS), Active Stability & Traction Control (ASTC), Hill Start Assist (HSA), Hill Descent Control (HDC), ABS & EBD, Rear Camera, Auto Door Lock by Speed Sensing, Auto-dimming Rearview Mirror, Keyless Operation System and Immobilizer.
It is now sold in CBU status from Thailand. The assembly is still centered in Laem Chabang, in addition to catalao, Brazil. There are 6 variants sold. For Double Cabin is divided into Ultimate A/T 4x4, Exceed M/T 4x4 and GLS M/T 4x4 variants. While Single Cabin consists of HDX M /T 4x4 and GLX M / T 4x2. Hdx type is still powered by the old 4D56 engine. About the price, Triton is sold from Rp 271.65 million to Rp 489.5 million.