www.informationautomotive.com - Adventure Touring motorcycle model is being loved by the world community, not least Indonesia. Because this iron horse can roam all terrains. Not only is it comfortable to use on urban tracks, but it can also pass through rocky and sandy roads.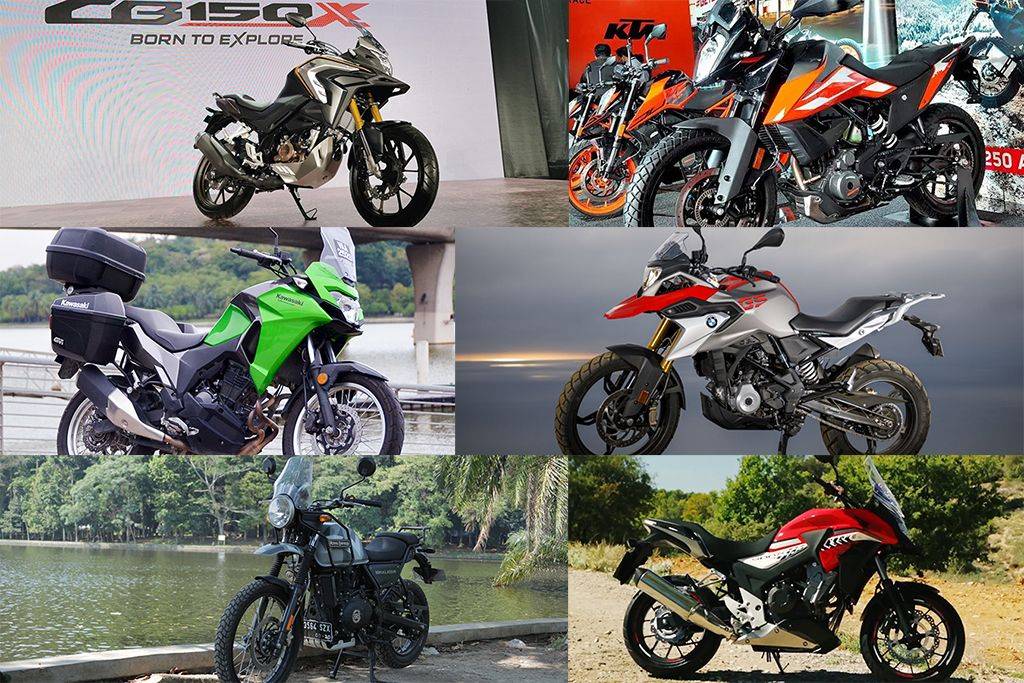 Motorcycle Adventure Touring
For some people who have a hobby of touring, having an adventure motorcycle seems to be a dream. This condition is what makes some manufacturers launch scrap metal horses. Here we want to provide recommendations for Adventure Touring motorcycles from small to mid-range engines. Here's the list.
1. Honda CB150X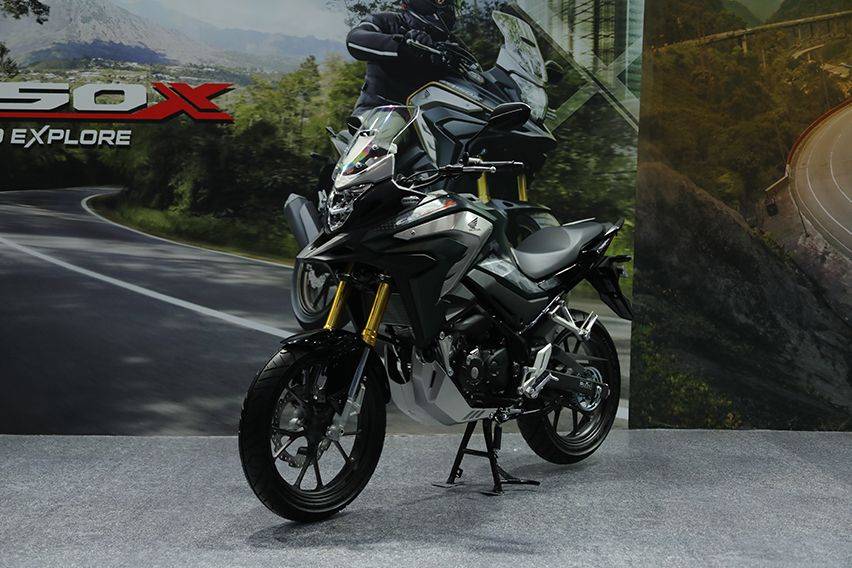 Honda CB150X

It is the first 150 cc motor sport adventure touring in Indonesia. Carrying the CB-Series moniker, the CB150X specification is similar to its brothers CB150R Streetfire and CBR150. In adventure touring classes, he became the smallest variant. But the manufacturer still equips it with some touring supporting components. For the price, he is priced at Rp 32,950,000 (OTR Jakarta) for the standard variant and Rp 33,450,000 (OTR Jakarta) for the SE variant.
Honda CB150X is equipped with a 150 cc engine capacity, DOHC, 4 valves, liquid-cooled. Spec diameter x step 57.3 mm x 57,843 mm. The engine has a compression ratio of 11.3:1 and uses a 6-speed manual transmission type. It is capable of producing 15.4 hp at 9,000 rpm and a maximum torque of 13.8 Nm at 7,000 rpm.

He was equipped with some details to be tough for the way. There is a windscreen as a wind tebeng, then under the headlights there is a typical "duck beak" adventure motor, as well as a wide handlebar and quite high. All are given so that the rider can be comfortable when driving in the city or touring.
The panelmeter is full digital displaying various information including gear position, average fuel consumption A &B, instant fuel consumption, and timer.

The upside down front suspension is similar to the CB150R, the difference is that it is 30 mm longer than its naked version brother with a main distance of 150 mm. The lowest distance with the ground is 180 mm. But the circumference of the rear front rim is the same as 17 inches, the front uses 100/80 tires and the rear is 130/70.
2. Kawasaki Versys-X 250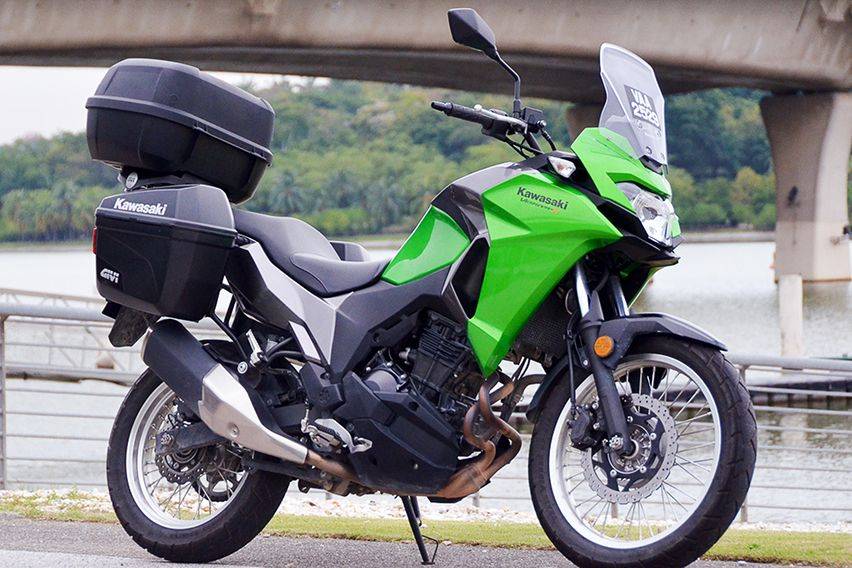 Kawasaki Versys X 250

This old bike from Kawasaki is classified as an old player. This model is a pioneer in the 250 cc motor sport adventure class in the Indonesian market. This iron horse is presented for riders who like to adventure and conquer challenges in all terrains, both on paved roads, muddy and rocky soil. Currently he is priced at Rp 68.9 million OTR Jakarta.

As a car, it looks tall. Supporting components to be comfortable when taken on long roads are also available. Like a wide seat and made multilevel. The back is equipped with brackets for the installation of the box. The front suspension of the telescopic model is long, the backbone frame, a combination of 19-inch rims at the front, and 17 inches at the back.
Make the kitchen runway Kawasaki Versys X 250 carrying a 249 cc, 2-silider, liquid-cooled engine, DOHC. The engine is capable of powering up to 34 Hp at 11,500 rpm and 21.7 Nm of torque at 10,000 rpm.
3. KTM 250 Adventure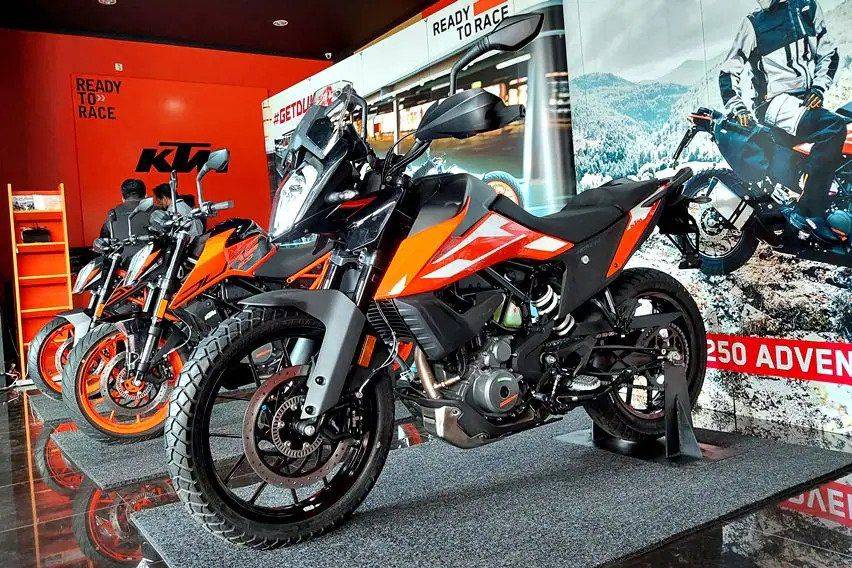 KTM 250 Adventure

He is a newcomer to the adventure touring segment, especially in the 250cc class. It was released in Indonesia in November 2021. Even so, its presence adds an option for people who want a harvested motorcycle at a more affordable price. He was auctioned rp 79 million (OTR Jadetabek).

Related to specifications, KTM 250 Adventure is equipped with a 248.8 cc engine, 1-cylinder, DOHC, 4 valves, liquid cooling, and injection-powered. On paper, the motor is able to spew maximum power up to 29.5 horsepower and peak torque up to 24 Nm. The power is channeled through a 6-speed clutch manual transmission.
The features and technology, KTM 250 Adventure is equipped with a full digital LCD panelmeter that displays a variety of important information from the vehicle. Furthermore, it has been pinned assist and slipper clutch, ABS offroad, traction control, and riding modes that can be adjusted to the wishes of the rider.

As for the construction of the legs, this bike already uses upside down suspension in front which is then combined with monoshock suspension on the back.
4. BMW G310GS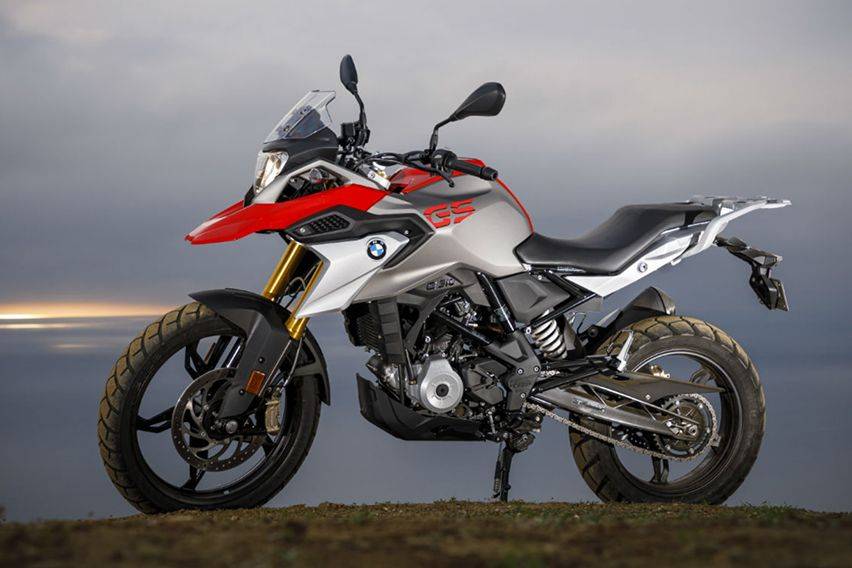 BMW G310GS

The birth of the BMW G310GS in Indonesia cemented the German manufacturer in the entry-level adventure motorcycle market. This iron horse has a modern design. And the most important thing is that this bike is easy to ride and very suitable with the posture of Indonesian riders. Currently he is sold Rp 133 million (Standard) and Rp 142 million (Adventure) off the road.

The BMW G310 GS has a tall posture. The attraction is visible on the front. His trademark uses a bird beak-style fairing model typical of the GS series and a small windshield above the headlights. Then on the back is designed tapered so as to give a sporty look. You could say this bike carries the DNA that the BMW G1200GS has.
For mechanical heart carrying a 313 cc engine, DOHC, 1-cylinder, 4 valves, two overhead chamshaft, cooled liquid. It has been adjusted to euro 4 emission standards that are able to produce a maximum power of 34 Hp at 9,500 rpm and peak torque of 28 Nm at 7,500 rpm. It is capable of traveling up to a speed of 143 km /h.
Make supporting its reliability in various road terrains, paired with an upside down suspension with a diameter of 41 mm on the front, and the rear uses a monoshock suspension that can be adjusted preload level as needed. Equipped with 19-inch alloy rims for the front with tires measuring 110/80. While the back is 17 inches wrapped in round leather 150/70.

The braking system uses a 300 mm diameter disc brake clamped 4 radial caliper pistons in front and the rear uses a 240 mm single piston. Manariknya, also equipped with anti-lock braking system (ABS) feature and can be disabled so that braking more freely in difficult terrain.
5. KTM 390 Adventure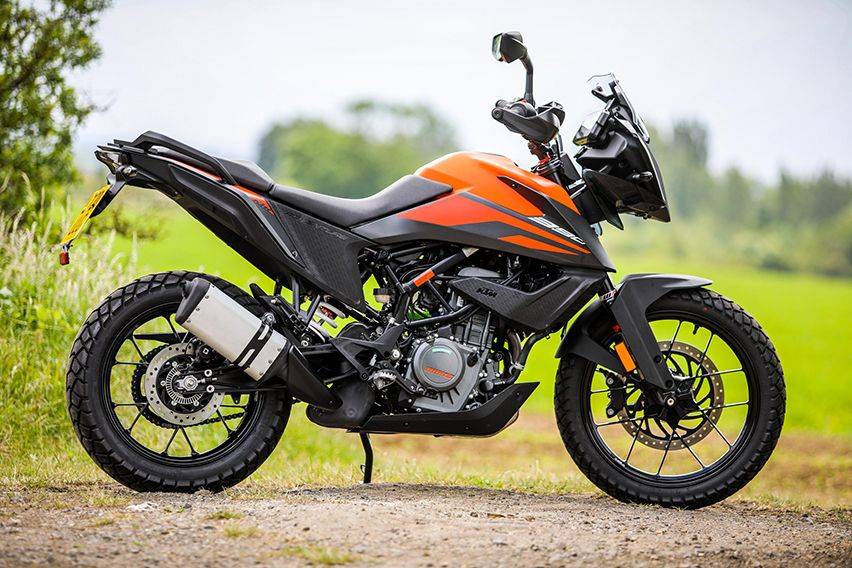 KTM 390 Adventure

KTM Indonesia officially marketed 390 Adventure since August 2020. This model is arguably for riders who want to level up, especially in the adventure motorcycle segment. The capacity of the machine that is responsible is one of the attractions. Not only can be invited to adventure or touring, but also comfortable to use daily. Currently he is dilego Rp 139 million OTR Jakarta.

Carrying a long wheel design and high ground clearance, and the weight is only 158 kg. He is claimed to be able to cross the road on road and off road armed with suspension travel reaches 170 mm at the front and 177 mm at the back.
The features are Traction Control, Quick Shifter up and down active at 3,000 - 4,000 rpm, KTM My Ride (bluetooth connection between mobile phone and TFT Speedometer for calling, music, and navigation map), and slipper clutch. Create security when bulldozing roads on and off road itself is equipped with dual channel ABS (Cornering and Off Road).

It carries a 4-valve single-cylinder configuration, a 373.2 cc DOHC, with an output of 43 hp at 9,500 rpm and a peak torque of 37 Nm at 7,000 rpm. The power is mated to a 6-speed manual transmission.
6. Royal Enfield Himalayan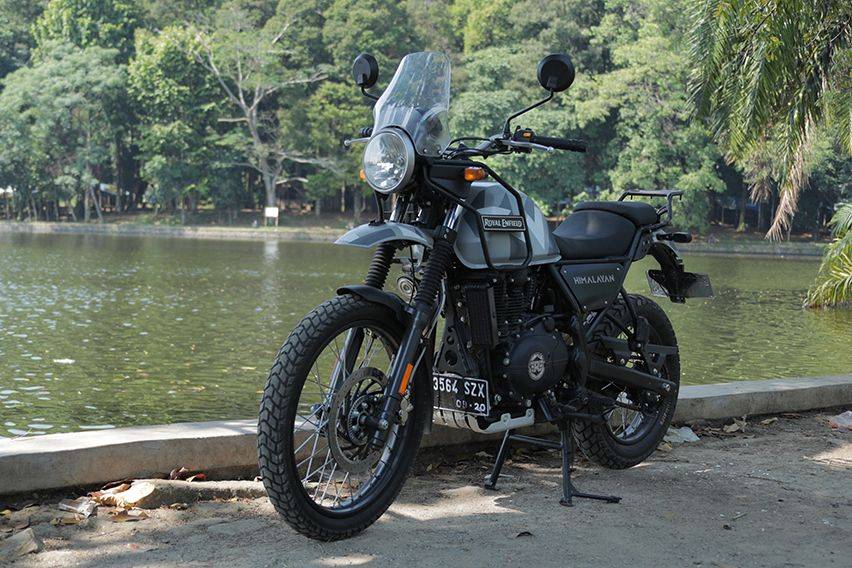 Royal Enfield Himalayan

Of the various adventure touring models in Indonesia, only Royal Enfield has a classic design product. The use of a round headlamp in front becomes a characteristic of old-fashioned old motorcycles. The light is also created from conventional bulb lights. Currently Himalayan is sold for Rp 122.7 million on the road.
There was a protector on the side of the gas tank, making him look dashing. In addition, it is equipped with windshields and round mirrors. Round instrument panels combined with digital panels. The speedometer part is still analog, but underneath it is a digital pointer.

Make comfort when touring, he uses a fused model seat but the back is made high. The back is equipped with a small shelf to carry goods. The side is also provided a hole if you want to add a pannier or side bag.

The front legs use 21-inch rims of 90/90 tires and 17-inch rears clad 120/90. The front suspension has a main distance of 220 mm, while the rear is 180 mm.
The RE Himalayan uses a 411 cc single cylinder 4-stroke SOHC engine. It produces 24.5 Hp at 6,500 rpm and 32 Nm of torque at 4,250 rpm. Mated 5-speed transmission.
7. Honda CB500X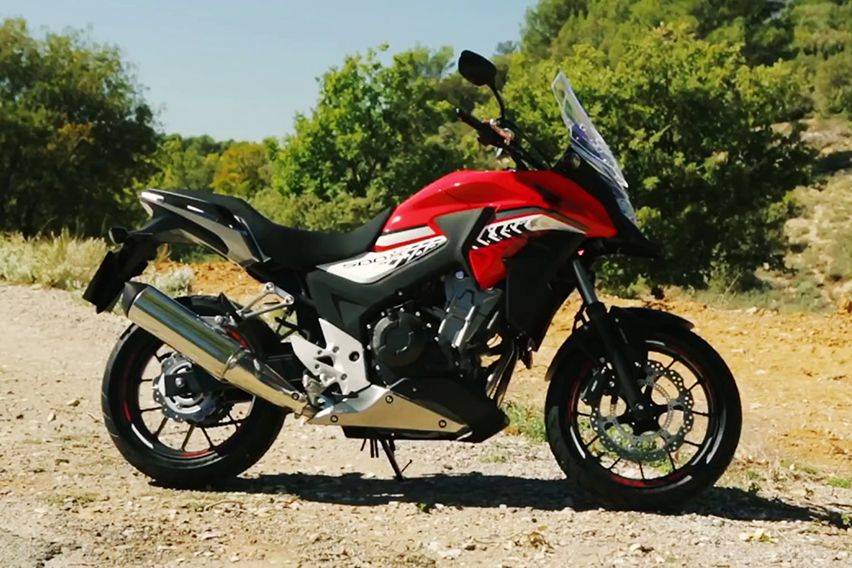 Honda CB500X

The adventure touring segment in the next middle class is the Honda CB500X. This old motor comes with a look and a variety of advanced features. The impression of a cruising iron horse is seen from a larger front fender and the use of 19-inch tires that provide comfort when touring. Make the price in the price of Rp 192.124.000 OTR DKI Jakarta

The headlight design is given a touch on the LED point pattern, while the taillight is designed to accentuate the aggressive side when driving. The 17.7 liter fuel tank provides further cruising capability with fuel consumption of 26.8 km / liter using WMTC (World Motorcycle Test Cycle) mode.
The engine is 500cc, DOHC, 8-valve parallel twin, liquid-cooled, producing 49.6 Hp at 8,500 rpm with 44.6 Nm of torque at 6,500 rpm. It is claimed to provide the perfect balance between performance and dimensions.

Honda's best-selling big bike also features Assist/ Slipper Clutch, ABS, double wavy disc brake on the front wheels and the use of 41 mm inverted telescopic front suspension.

which serves to prevent the rear tire slippage caused by the engine brake when the gear decreases to the extreme. Through the application of this feature, riders can also feel the operation of a much lighter clutch.