When the Gaikindo Indonesia International Auto Show (GIIAS) in November 2021, the name Honda Vario 160 was allegedly strong at that time. But it wasn't the Vario that was released but the new CB150X.
The latest news about this matik is again heard, according to information that we can estimate all new Vario will be launched in late January or in early February 2022.
The information came from one of the company's workers who was appointed Astra Honda Motor (AHM) as a supplier of one part of the Vario 160. The source, who did not want to be identified, said the latest Vario had entered the mass production line even though the quantity was still small.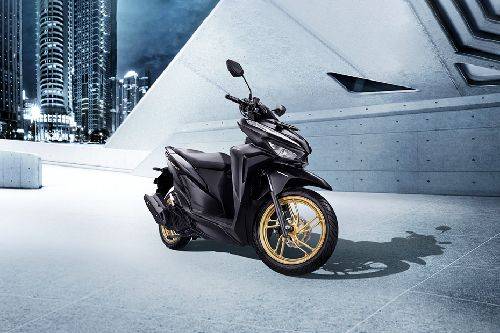 Honda Vario 160

"I produced one of the parts of the Vario 160. It should be in the near future between January or February already released. The information from AHM but for the exact date is still completely secret, there has been no join trial different from the PCX 160 that has been released before the launch.
The company has been supplying Vario 160 components to AHM, the number is not mentioned but according to him it has been delivered in sufficient quantities. "His form is still kept secret. Even from its tier 1 vendor AHM has not been able to draw how vario 160 looks," he said.
News Vario will carry a 160 cc engine sticking out shortly from the launch of the PCX 160 in early February last year. PCX is now equipped with a 4-valve configuration engine that improves performance. As is known, these two motors do share an engine platform that distinguishes it certainly in the display, leg sector, and chassis.

AHM also had time to provide a grid if one day the opportunity for Vario to use a new 160 cc engine with technology identical to PCX could happen. AHM Marketing Director Thomas Wijaya said the possibility of a 160-engined Vario is quite large. But as usual, Thomas was not willing to confirm it.
"It is not closed if we are going to another type (Vario and ADV). But back again, it's in line with what consumers need and what we can learn from the research we've done," Thomas said.
If Vario Uses a 160 cc Engine

Let's imagine if later Vario properly injected a 160 cc engine with the latest 4 valve configuration pcx. The output generated from the new engine could have been more gahar.

The analysis is based on the weight of each motor. The Honda PCX 160 for the non ABS variant has an empty weight of 131 kilograms, while the Vario 160 has an empty weight of 112 kilograms. The difference in weight and the new engine is what makes the new generation Vario can be more maximal about performance.
Another possibility is that the Honda Vario 160 will use a new chassis construction that is more compact and erodes its weight. This was also done PCX 160, using the support of the new engine and successfully cut its weight up to 760 grams.

For information, the new engine in the PCX 160 has an exact cubication of 156.9 cc with a maximum power of 15.8 horsepower at 8,500 rpm and peak torque at 14.7 Nm at 6,500 rpm engine displacement. If juxtaposed with the old generation, it means that there is an increase of about 3.4 horsepower and torque up 1.9 Nm.
So we just wait for a surprise from AHM about Vario, but it feels like Indonesia will be the first country to launch it. Some neighboring countries such as Thailand or Vietnam are also massively talking about its presence.