www.informationautomotive.com - Slowly and surely, 2021 shows the national automotive industry is starting to rise. A year earlier, car sales declined dramatically due to the impact of the Covid-19 storm in 2020. Based on data from Gaikindo (Indonesian Motor Vehicle Industry Association), car sales in 2020 were recorded at only 523,027 units. Whereas a year earlier car sales exceeded 1,030,126 units.
This year during January to November 2021, car sales have reached 790,524 units or an increase of 66.5 percent compared to the same period last year. The numbers are quite encouraging to many in the industry.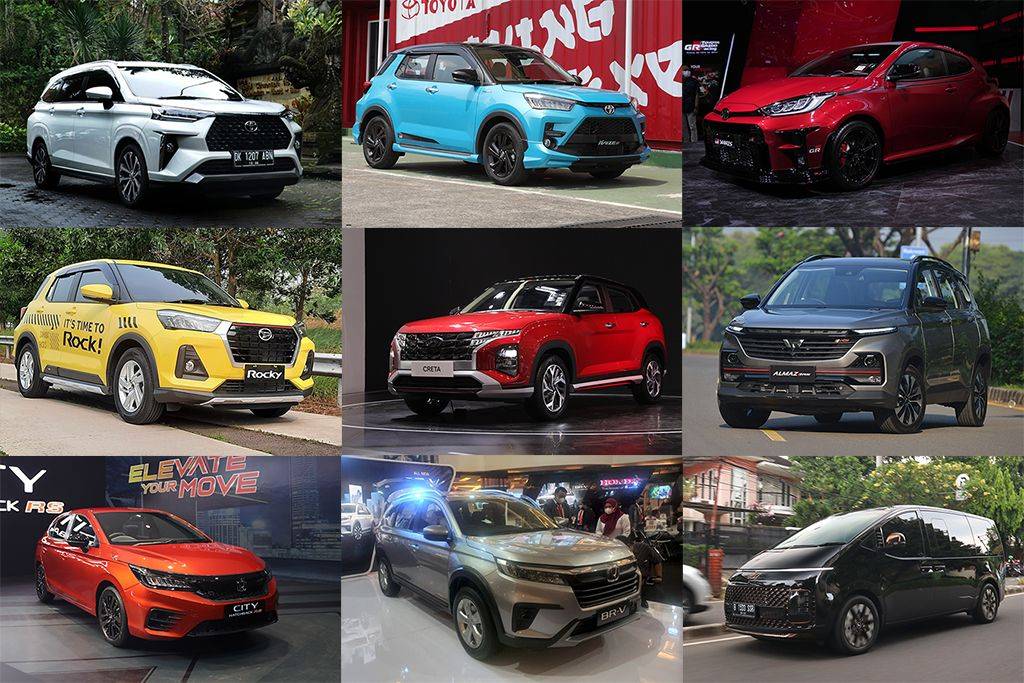 10 New Cars That Went Viral Throughout 2021


Many factors are driving the increase in car sales throughout 2021. Starting from PPnBM incentives to the re-implementation of international automotive exhibitions, GIIAS (Gaikindo Indonesia International Auto Show). But one of the factors that is no less important, the presence of a number of new cars.
This year's new car isn't just any car. Instead, the cars are popular with a fairly large number of sales so far. There is a car that is viral because the name has memories that imprint on the hearts of many Indonesian consumers. Some are also popular because of the advanced technology they do. Here we break down the most popular new cars of 2021.
1. Toyota Avanza and Veloz

Toyota Avanza and Veloz are coming at the end of the year. First shown to the public at GIIAS 2021, Toyota Avanza and Veloz are the most anticipated cars in Indonesia. The reason is simple, the update is thorough. Starting from the exterior, interior to toyota safety sense safety features. Veloz is offered in three types namely Veloz MT, Veloz Q CVT, and Veloz Q CVT TSS. Avanza, which is now separated from Veloz, is offered with 1.3L and 1.5L engines priced from Rp 206 million to Rp 264 million for the top variant with TSS.
Both the Toyota Avanza and Veloz both come with different drive systems than before. If previously both used a rear-wheel drive system (RWD), now Avanza and Veloz use a front-wheel drive system. Conventional 4-speed automatic transmission has previously been replaced with a more modern one, CVT (Continuous Variable transmission).
2. Daihatsu Xenia

Like its twin, the Toyota Avanza, Daihatsu Xenia also changed completely compared to before. The cheapest variant of the new Xenia is priced at Rp 190 million with a choice of 1.3 liter manual transmission engine. The top variant with 1.5L CVT ADS engine is offered at a price of Rp 244 million. Some interesting features include collision warning function, hill start assist, pedal misoperation control, leading vehicle departure warning, lane departure warning and lane departure prevention. Although it has been equipped with advanced safety features, but unfortunately Daihatsu Xenia has not received cruise control features.
3. Honda BR-V

The latest generation BR-V was introduced in 2021 as a seven-passenger SPORT Utility Vehicle model with Honda Sensing safety features and adaptive cruise control. This model is not sold in 2021 and will only be officially delivered to consumers in 2022. The engine is like the City Hatchback which is 1.5 liters powered by 121 PS. Honda BR-V is offered with a manual transmission and CVT which is priced from Rp 275 million to Rp 339 million.
Honda BR-V was popular because Honda first introduced it in concept form. While still using the name Honda N7X Concept, this car was exhibited at the Honda Dream Café and even had time to be paraded to several other cities in Indonesia.
4. Hyundai Creta

This car closes a new product line launched by Hyundai throughout 2021. This compact SUV is Hyundai's first product produced in Indonesia. The design and features are quite sophisticated such as the presence of Bluelink features to vehicle bookings that can be tailored to the consumer's wishes.

Hyundai Creta uses a 1.5 liter engine with a maximum power of 115 PS paired with a manual transmission and CVT. The safety features are quite complete such as the presence of lane following and keeping assist, rear cross traffic alert and blind spot collision avoidance assist. Creta is offered in several variants, namely Active, Trend, Style and the highest Prime with a price tag ranging from Rp 279 million to Rp 399 million.
5. Toyota Raize

Present in early May 2021, Raize became a completely new product from Toyota Indonesia. Raize is offered in six variants namely 1.0 Turbo GR Sport CVT TSS, 1.0 Turbo GR Sport CVT, 1.0 Turbo G CVT, 1.0 Turbo G M /T, and variants of 1.2 G CVT and 1.2 G M / T that are present later. It is also the first time a Toyota model has been offered with a turbo engine, CVT transmission and also features Toyota Safety Sense. Currently Raize is offered in several variants with a price tag ranging from Rp 202 million to Rp 266 million. Raize is included in products that are subject to PPnBM waivers.

This car became popular because it is a twin of the Daihatsu Rocky, a vehicle that has a fairly close relationship with the legendary model Daihatsu Taft Rocky in the 1980s and 1990s.
6. Daihatsu Rocky

Toyota Raize twin products are indeed developed and produced entirely by Daihatsu. Coming with the DNGA platform, Rocky offers a different design but with features similar to its twin. Offered in two engine options, namely 1.0 liter turbo and 1.2 liter non-turbo, Rocky has two transmission options, manual and automatic CVT. Model 1.2L is offered from Rp 178 million to Rp 215 million while the 1.0L turbo model is offered from Rp 215 million to Rp 239 million. Like Raize, Rocky also gets PPnBM facilities.

Daihatsu Rocky is popular because its name is related to the name of one of Daihatsu's products that is quite close to Indonesian consumers, namely Daihatsu Taft Rocky which was sold in Indonesia in the 1980s to 1990s.
7. Toyota GR Yaris

Toyota GR Yaris became popular because it was sold limited. The first allocation was 127 units and sold out immediately. Gr Yaris is presented with the performance of Toyota Yaris race car that went down in the WRC (World Rally Championship) with a 1,600 cc engine, 3-cylinder turbocharger with 4WD drive. The initial price tag of around Rp 800 million is now in the used car market of Rp 1 billion more.
8. Honda City Hatchback RS

Honda City Hatchback is popular not only because it has a tempting design, but also because this car replaces the Honda Jazz which is no longer sold in Indonesia. In addition, it also has a feature advantage. City hatchback still uses a 1.5 liter engine with 121 PS power and 145 Nm of torque. This model is offered in two variants namely manual transmission for Rp 292 million and CVT for Rp 302 million. Interestingly, during 2021, the Honda City hatchback is included in the list of PPnBM waiver recipients.
9. Wuling Almaz RS

Wuling Almaz RS became Wuling's most popular product during 2021. Almaz RS is an advanced product with a new feature called Wuling Interconnected Smart Ecosystem (WISE) consisting of Adaptive Cruise Control (ACC), Bend Cruise Control (BCC), Lane Keeping Assist (LKA), Lane Departure Warning (LDW), Traffic Jam Assistance (TJA), to Intelligent Cruise Assistance (ICA). Almaz RS was introduced in early 2021, this SUV also presents Wuling Indonesian Command (WIND) features to WISE innovation, consisting of Advanced Driving Assistant System (ADAS) and Internet of Vehicle (IoV). Almaz RS comes with two variants, namely 7 passengers and 5 passengers. The price is priced from Rp 340 million to Rp 354 million.
10. Hyundai Staria

Hyundai Staria launches in August 2021. Offering a futuristic design form, this sliding door MPV is offered in a choice of seven seats and nine seats. Hyundai Staria has large dimensions, more than five meters long, making the cabin space on the inside so attractive. The engine uses the same engine as palisade and is equipped with a variety of semi-autonomous safety features including lane keeping assist and lane following assist.

Expected to be the opponent of Luxury MPV Toyota Alphard, Hyundai Staria is offered at a price of Rp 888 million for the 9-passenger model and Rp 1.02 billion for the 7-passenger variant.