Beat scooter is still a mainstay of Astra Honda Motor (AHM) in the lower segment. It became the best-selling manufacturer in Indonesia. It is sold in three different variants, CBS, CBS-ISS and Street.
The cheapest, CBS without ISS (Idling Stop System) with an offer of Rp16,815,000. Even without the ISS feature, it still appeals to those who want to save a little.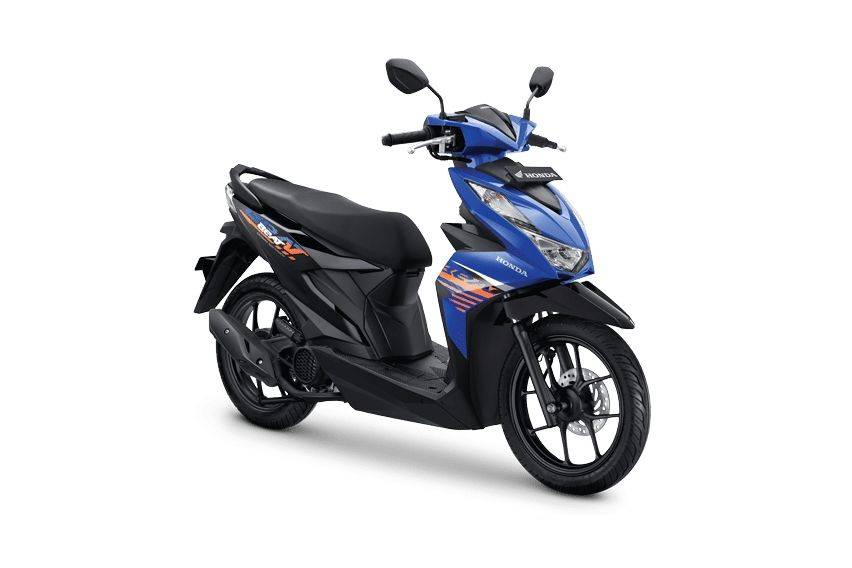 Honda Beat CBS Price Cheapest Rp16 Million, Interesting to Move
Interesting Kelir Options

The colours and stripes on the Beat herd were refreshed last July. Cbs' cheapest variant was also revised. This glossy color variant still has four options, all based on black for the rear body. Consumers can choose between Hard Rock Black, Dance White Black, Techno Blue Black and Funk Red Black.

In addition to the different colors and strips, there is no difference in design between beat CBS and more expensive. Rims, seats and more are exactly the same.


Compact Dimensions

Very compact size is one of the advantages of Beat. Beat dimensions 1,877 x 669 x 1,074 mm (PxLxT), seat height 740 mm and wheelbase 1,256 mm. The size provision is suitable for most Indonesians, even still very friendly for female riders.
Thanks to its size also beat like agile to control. Moreover, it is supported by a new frame that is more sturdy and stable. The use of eSAF (enhanced smart architecture frame) with new technology supports Beat more proficient in its speed and movement. Plus, the empty weight is only 89 kg.


Machine

It's no secret that Beat has an economical value. It certainly means the fuel consumption. The new generation eSP (enhanced smart power) engine can give a figure of up to 60.6 km / liter. Based on the results of internal testing of the ECE R40 method. Imagine, with a fully loaded tank of 4.2 liters can cover a distance of more than 250 km. Of course it will be different in everyday use in the real world. But it can give an idea of the iritnya beat sticks.
The 110 cc SOHC engine claims to be more responsive than the older generation. One reason, the piston diameter is 47 mm and the step length is 63.1 mm and the compression is 10:1. Because the character of overstroke makes the initial pull responsive. Maximum power output of 8.89 hp at 7,500 rpm with the highest torque of 9.3 Nm at 5,500 rpm. Even without the help of the ISS, it can still get the most economical results from what Beat CBS offers.
Full Features

Although the last variant, Beat CBS has a completeness that is not much different from the more expensive option. The main difference is only from the availability of power charger sockets, starting from CBS-ISS. The rest is the same, including led headlights that are power efficient and durable.

The meter panel is a combination of digital and analog. Displays the speedometer, odometer and fuel indicator. Equipped with ECO indicators for more fuel efficient driving results. As a sweetener, the blue background color of the meter panel.
Secure key shutter is present to secure from theft. Equipped with an integrated seat opener that makes it practical. Without having to unplug the key, you can access luggage that has a capacity of 12 liters. It is enough to store many essential objects of a driving buddy.

Not to forget the CBS (combi brake system) feature, combining braking between the front brake with the help of the rear brake. It is safer and more practical to use. While the left brake lever is pinned lock. It can be functioned like a parking brake on a car and is very useful for example stopping at an incline or descent.
Conclusion

Honda Beat CBS is the cheapest. Indeed, just add Rp700 thousand can get Beat with ISS features and charger sockets. But as a cheap segment, that differentiation comes in the count. Not to mention the choice of kelir. The glossy look is more appealing to a number of people. So the Honda Beat CBS remains interesting as a choice.