The development of Hyundai's business in Indonesia was also followed by Andalan Motor. As a nationally renowned automotive dealer company, Andalan Motor began 2022 by inaugurating the opening of Hyundai's seventh dealer, hyundai Mampang, Jakarta. This shows the optimism of Motor's flagship towards Hyundai's prospects in Indonesia.
Previously, Andalan Motor has opened Hyundai Sholeh Iskandar dealers in Bogor City, Hyundai City Store (Pondok Indah Mall 3), Hyundai Pancoran (South Jakarta), Hyundai Sawah Besar (Central Jakarta), and Hyundai Leuwipanjang (Bandung). In the future, Andalan will continue to add Hyundai dealers, following the development of products from Hyundai Indonesia.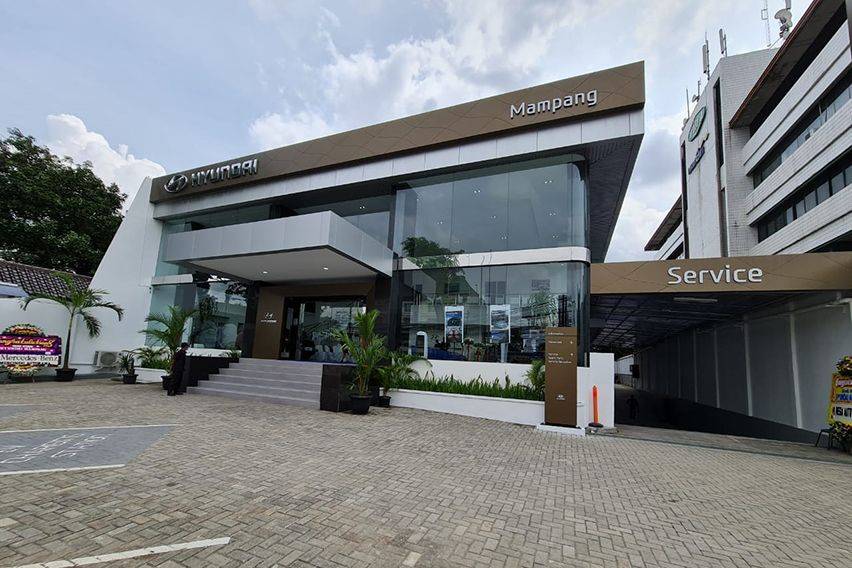 Expand Network, Mainstay Motor Inaugurates Flagship Showroom Hyundai Mampang
Hyundai Mampang is located at Jalan Warung Buncit Raya No.203, Mampang, Jakarta. The area of this dealer's land reaches 1,800 square meters, while the building area reaches 2,500 m2, consisting of four floors and one basement.
Hyundai Mampang carries the concept of 3S or sales, service, and spare parts. At this dealership, there are six units of cars on display and eight service bays. Hyundai Mampang is hyundai's flagship flagship showroom and conforms to the full standards of Hyundai Indonesia. Other facilities include two electric vehicle charging stations, a coffeeshop lounge, and Hyundai's spare parts hub.

Managing Director of Andalan Motor Raynaldi Setiawan explained, his party chose Mampang as the location of Hyundai dealers because this area includes the center of Jakarta. In addition, through this dealer, Andalan wants to reach more fleet consumers, because it is close to the office area.
Raynaldi said, the opening of this dealership also aims to respond to the presence of a number of new Hyundai products, including pure electric car Ioniq 5 and multipurpose vehicle (MPV) segment B. So far, MPV B is one of the best-selling car segments in Indonesia.
Creta Sales

"So far, the sales of Hyundai's dealer network are quite good. This is supported by the presence of Creta SUV," Raynaldi said on the sidelines of the opening of Hyundai Mampang, Thursday (1/27/2022).

Despite being Hyundai's latest product for the Indonesian market, creta's welcome is quite good. Present for the first time at the GIIAS 2021 automotive exhibition in November last year, the SUV produced by Hyundai Cikarang factory continues to get booking letters.

This condition is quite interesting. This is because Hyundai itself only produced Creta in February 2022 which means that since it was shown in November, the public only judged Creta from the news in the media. It is recognized by Makmur, COO of PT Hyundai Motors Indonesia.
At the exhibition we get 670s SPK, late December 1,200 spk. Just two days ago it was now above 1,700 SPK. It continues to increase when there are no display and test drive units. This is a testament to indonesian consumers' confidence in Hyundai's first product in Indonesia. We appreciate the people who believe in Hyundai who previously probably knew Hyundai is a premium CBU product," said Makmur on the sidelines of the Hyundai Creta test drive event in Bali, Wednesday (1/26/2022).
Well, along with the opening of Hyundai Mampang, various promos have been prepared. From Creta free booking until the end of January 2022, then free service, and some interesting rewards.

Previously, PT Hyundai Motor Manufacturing Indonesia (HMMI) has started mass production of Creta at Cikarang plant, Bekasi, West Java, January 2022. In addition to Creta, the plant, which invested $1.5 billion, will produce electric cars and BPV.