www.informationautomotive.com - Vespa 946 Christian Dior is already on display in several vespa dealer networks, including premium dealers Motoplex 4 Brand. Since its release in June 2020, there has been no news about the official entry of the motorcycle into Indonesia. Well, some Vespa workshops and Instagram accounts that cooperate through General Importers (IU) first put this luxury Vespa into the country with a fantastic price of touching Rp 950 million to Rp 1.35 billion.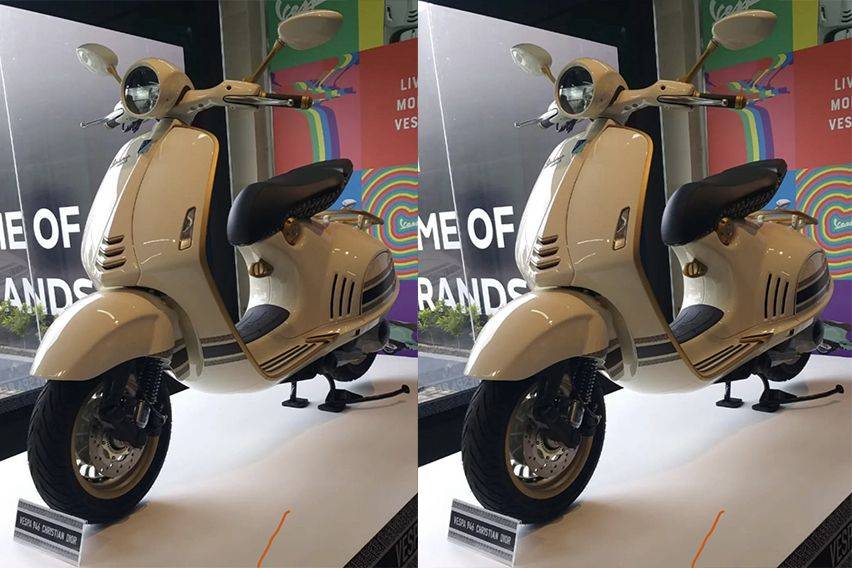 Vespa 946 Christian Dior Officially Sold in Indonesia, The Price Is Much Cheaper Than IU
But now the unit can be ordered through dealers with cheaper price. Information from Vespa salespeople in the Bali area said, the unit had only arrived yesterday and had sold 1 unit. While the allocation of the number of vehicles in the dealership is only 2 units. "There is only one more unit, the price is Rp 475 million OTR in Bali," said Wiraniaga.
For those of you who want to have a Vespa 946 Christian Dior the purchase scheme is unusual. The system buys this motor, said the salesperson must pass the bundling scheme. Well, the bundling process in question is that prospective Vespa Dior consumers must first buy Aprilia or Moto Guzzi products.

"The purchase was used by AMG (Aprilia/Moto Guzzi) bundling. So you have to buy Aprilia or Moto Guzzi first," he said.

The price is much cheaper than IU, but consumers are required to buy Aprilia or Moto Guzzi products. So how much money should be spent to get a Vespa 946 Dior through the purchase of an official APM?
The Price Is Almost the Same But Can Be 2 Units

As per the conditions to redeem vespa 946 Dior consumers must first buy Aprilia or Moto Guzzi products. We take the example of the Moto Guzzi V7 III Stone which is the cheapest model in the Indonesian market. The price is Rp 475 million OTR, then you have to spend Rp 950 million and 2 premium Italian motorcycles will land in your garage.
What is Vespa 946 Christian Dior?

With the bundling coded purchase process, implicitly this motor is indeed a special product. But what is the hell offered from this product?
Ceo of Immsi Group and Piaggio's Chief of Product and Marketing Strategy, Michele Colaninno, said the bike was the first collaboration between Vespa and Dior. The birth of the special edition Vespa 946 represents the legacy designs of the two brands.

"The birth of vespa 946 celebrates the anniversary and honors the heritage of both our brands. As before, we have been through a dark time and now we are joining forces to share the joie de vivre through a combination of style and skill," he said in a statement in June last year.
Vespa 946 itself debuted at EICMA Milan 2012 and launched in 2013. Christian Dior's version was designed by Maria Grazia Chiuri, creative director for womenswear at Dior. Scooters produced in Italy still maintain the design language of the look with luxurious graceful curves.

Dior details are mounted on the saddle, where the top casing is decorated with Dior Oblique motifs designed by Marc Bohan in 1967. Motifs are also installed on luggage racks and helmets to give an exclusive impression. The look is more eye catchy thanks to the selection of beige white, which is slightly decorated with gold accents on the list frame and tank cap.
The pacemaker packs a 150cc engine, 4 valves, a single cylinder, air conditioning, and injection-assisted. Vespa claims, this bike can reach a top speed of up to 96 km / h. As for the dimensions, Vespa 946 Christian Dior has a width of 736.6 mm, a length of 1,778, a wheelbase of 1,397 mm, and a seat height to a surface of 805 mm. While for the feature is equipped with LED lights, 2-channel ABS braking, and ASR traction control.

Previously, Piaggio Indonesia has also brought Vespa 946 edition RED and Vespa 946 Armani. Most likely the Christian Dior model will be marketed on a limited basis in the domestic market. You interested?