www.informationautomotive.com - In the world of modification, the desire to appear different and more attractive is the initial reason to make changes to your favorite car. Including for sports sedan cars that actually already have attractive display capital. Still the desire to more "stand out" made the decision to modify the vehicle.
This is also done by Hendra Wijaya in changing his beloved Honda Civic Turbo. The goal is to make the sedan look fresher even though the standard form is sporty.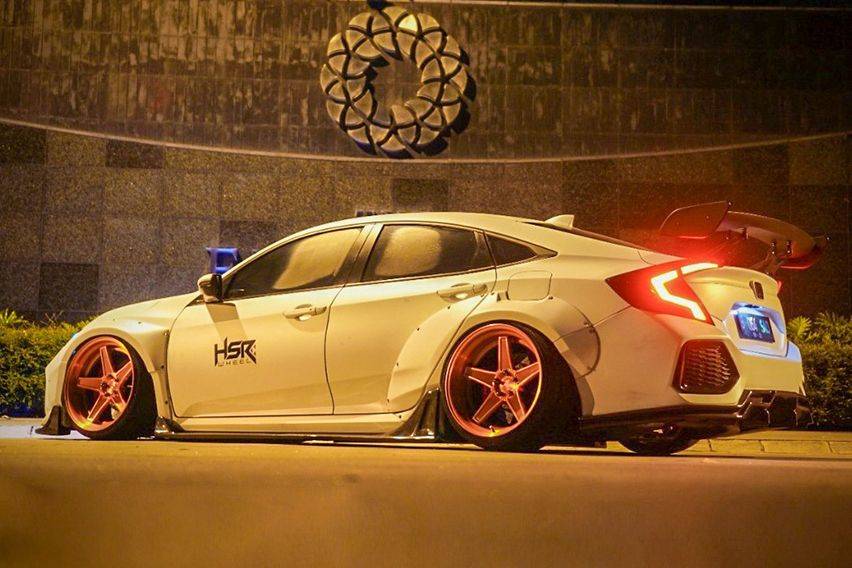 Modification of Hoda Civic, Custom Itself Let It Be More Handsome


"This car actually looks standard already good, but because it wants to look different and more handsome, then some changes need to be done," said Hendra.
In the leg sector such as rims, suspension and big brake kit (BBK) are also changed to maximize driving safety. Hendra also conducted an ECU Remap to improve the performance of the 1.5 Turbo Civic engine although there is no information on how much power increases are generated. It also adds bodikit, as well as carbon fiber in some parts.

Most attractively, this Civic Turbo gets an additional bodikit with a large air hole in the hood present striking. The back there is a large spoiler that makes the look of this sedan very sporty.
"My bodykit is custom itself, suspension uses AirBFT air suspension, exhaust uses ORD, BBK uses HSR. For the legs, the rim uses HSR Forged which can be customized to adjust the desire and shape of the car, "said Hendra.
Further about the custom rim, HSR which is a domestic rim manufacturer, opens the opportunity for car owners to have rims with their own designs and colors. Reservations can be made at HSR including for sizes that make the car look more attractive.
Some of these changes make Hendra feel quite satisfied with the results obtained on his favorite car. Although it does not divulge how much capital is out to modify this sedan, in the future the desire to make changes still remains.

"The look is okay, the legs are safe, the suspension is comfortable, the performance is upgraded. It's satisfied but if asked there is an additional plan of modification there must be. For now gt 01 is comfortable for daily. Maybe in the future we modify the interior, "said Hendra.