Yamaha launched an update model for its big matik heroes, namely TMAX 2022 and TMAX Tech. This motorcycle is only present for the European market and found major changes in the design, frame, construction of the legs, and the addition of advanced features.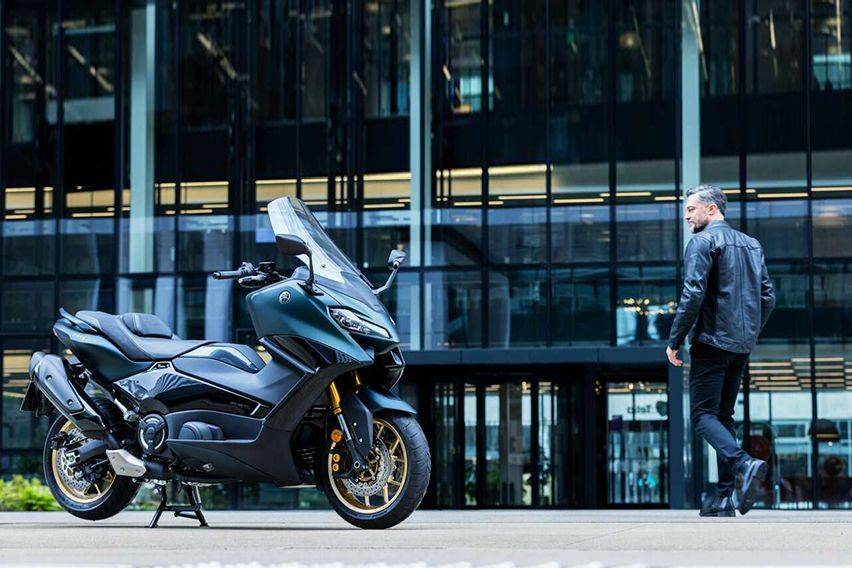 New Yamaha TMAX 2022
Quoting Visordown, Yamaha TMAX was born since 2001 ago and continues to get a positive response from consumers in Europe, even being ranked as the best-selling sports scooter for two decades. The effort to revise TMAX by the manufacturer is the right step to continue to provide a premium experience for its lovers.

Let's talk about the design change, broadly speaking the sporty and aggressive DNA of TMAX is still present. As an update effort, now he uses a new lamp model that looks sharper and attractive. There are also two airways located under both headlights to reduce wind pressure when traveling at high speeds.
While for the chassis is also claimed to use a new construction made of aluminum. In addition to being lighter, the use of this type of frame has an effect on the handling of the motor that is getting better.

Explained if the new chassis also revises the driving position to be slightly more advanced. This makes the rider have an ideal position, ergonomic, and still relaxed even though the bike is driven at high speed or invited to corners.
Next there is a revision in the windscreen section whose layout is slightly more upright. As a result of performance to dispel the wind will be maximal whose purpose is also about the preoccupation of driving.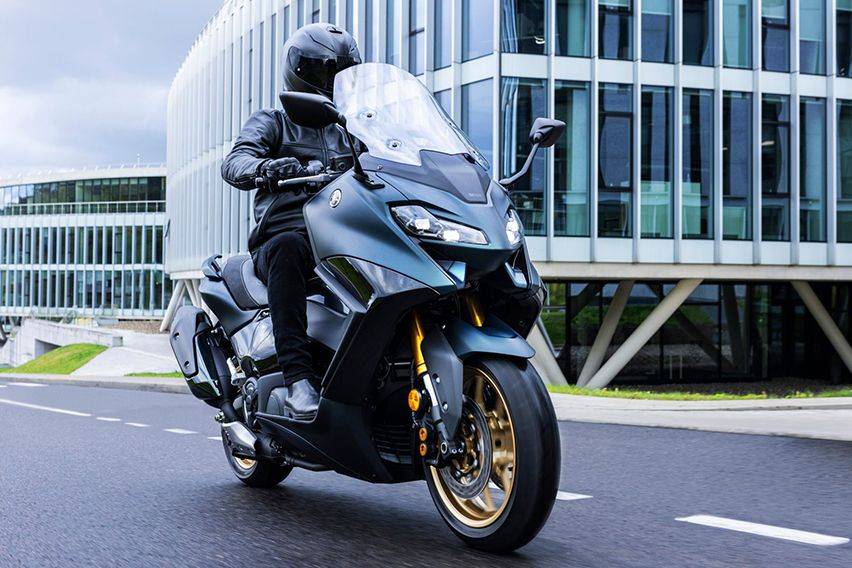 New Yamaha TMAX 2022
Then in the legs there was also a significant revision. Yamaha TMAX 2022 found new 10-inch Spin Forged alloy wheels that are lighter. Both alloy wheels have been wrapped by tires made by Bridgestone battlax SC2 model, this type of tire has become the standard TMAX old model.

For the front suspension still uses upside down measuring 41 mm. Explained if there are changes to the suspension settings that affect agility and improve radam style in various road terrains. The front suspension was combined with the monoshock horizontal type linkage rear suspension.
Speaking of features, both TMAX TMAX Tech Max 2022 is equipped with modern technology and features. For example, there is an instrument panel with a 7-inch TFT model that can be connected to a smartphone, as well as Garmin GPS connections via Bluetooth, WiFi, and USB. Everything is controlled with the joystick settings on the left handlebar.

The rest of the previous features such as electric adjustable windcree to D-Mode are still in the yamaha TMAX edition of the update.
Yamaha TMAX 2022 Pacemaker

Unfortunately for pacemakers, manufacturers prefer to use the same engine. TMAX 2022 is equipped with a 530 cc DOHC engine, 2-cylinder, 8 valves, liquid coolant, and injection mixer. On paper, it has a maximum power of 57 horsepower and peak torque of up to 55.7 Nm.

In this 2022 refresh edition, Yamaha TMAX comes with 3 color options, namely Yellow, Icon Blue, and Sword Grey. As for TMAX Tech is provided in 2 kelir options, namely Dark Petrol and Power Grey.
Until now there is no official benderol from the latest Yamaha TMAX. The information, the price of the motorcycle will be revealed in mid-2022 which is first sold for the European market. Nevertheless, this big matik dowry is estimated to be around 12 thousand Pounds or Rp 229 million.

Interesting to wait for the presence of the New Yamaha TMAX 2022 edition for the country's market. As is known, Yamaha Indonesia Motor Manufacturing (YIMM) made the TMAC DX530 as a portfolio of premium motorcycles with large engines to date.